LOOK: Chef Sau Del Rosario Opens Café Fleur In Poblacion
Pampanga's most charming restaurant is now in Manila! Here's what you should know
When Chef Sau del Rosario opened Café Fleur in Poblacion, Makati, he gave us more than a charming new space to dine in, and access to his much-loved pastries and dishes. Café Fleur is a bright spot of hope in pandemic-hit Manila, and an inspiration to look forward to brighter, better days ahead. We say: what a great way to start the new year.
The original Café Fleur opened in Angeles City, Pampanga back in 2016 as part of a three-restaurant concept (the other two were Leh-leh, a Thai restaurant, and a modern Kapampangan concept called Babo). I remember my very first visit to that first Café Fleur, when Chef Sau explained that he'd named it after his mother and grandmother, who were both passionate about food and flowers. Also, "I wanted to do something Kapampangan with a little French touch," he explained. This charming café was a popular destination for hungry travelers, but then the pandemic hit.
While under quarantine, Sau found himself alone much of the time. He found solace in the kitchen where he began to cook more and more of his mom's recipes. "I grew up with these dishes, so cooking (and eating) them always made me feel good," he says. He also began baking, taking inspiration from popular Pinoy classic desserts, which he gave tongue-in-cheek names. So egg pie became Heg Fye, and was soon joined by Vuco Fye, and the famous Vananah Tsokolate Cake.
His culinary nostalgia has found an outlet on the menu of the new Café Fleur. Here is where you'll find his beloved panaderia items like Tsokolate Heg Fye and Vuco Fye. You'll also get to enjoy an eclectic menu of dishes inspired by his childhood favorites, and some international classics, all cooked and served with the signature flair we've come to expect from Chef Sau. If you'd like a glimpse of his menu offerings, click through the gallery below.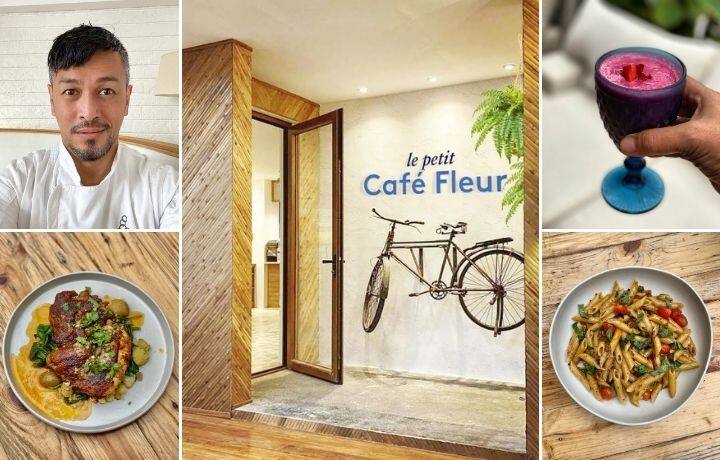 le petit cafe
le petit cafe
Café Fleur has a welcoming dining space that can easily seat 20 socially distant guests, plus a semi-al fresco area with a sunroof. You can book the entire venue for private dinners, and Chef Sau will be only too happy to help make your menu special.
Best of all, Café Fleur is just the first of two branches that will be opening in Makati this year. We're looking forward to the opening of Bistro Fleur where the chef promises to serve even more of his Kapampangan dishes that we so sorely miss.