Trust Us, This Vegan Burger And Pizza Taste Just As Great Without The Meat
Sweet Ecstasy and Crosta Pizza are serving up new vegan-friendly comfort food favorites via Beyond Meat, the world's hottest meat alternative solution
Imagine an honest "meat" product that is great tasting, of great quality, and good for you, for the animals, and for the planet. Now, imagine that same "meat" in your favorite comfort food dish, with flavor and quality intact. Guess what? In 2019, this "meat" is no longer a pipe dream but a magical reality.
Not a lot of people know that I used to be vegan (or, strict vegetarian) for a good chunk of years. But I've long thrown in the towel in favor of "the real stuff," which I admit just tastes so much more, well, real. Flavor, quality, and convenience were big factors in turning un-vegan; I wanted to eat "normal" again and I've never really looked back. That is, until now.
To eat vegan is not what it used to be. These days, technology and demand (from a more self-aware consumer) have made it possible to have a plant-based meat solution that ticks off so many boxes: human health, climate change, constraints on natural resources, and of course, animal welfare. The year 2019 is undoubtedly a huge year for meat alternatives, most notably Beyond Meat, a California-based company that has created a delicious, plant-based solution that can save the planet by making going meat free a whole lot easier.
Since the arrival of Beyond Meat in the Philippines, select restaurants and hotels have been exploring new, inventive ways to use the product. This growing list includes Grand Hyatt, Makati Shangri-La, Marriott, Discovery Primea, Discovery Shores, Green Bar, and more. Over the weekend, we hit up two new spots—Sweet Ecstasy and Crosta Pizzeria—to meet this (Beyond) Meat for ourselves and to dig into their delicious vegan offerings.
Beyond Ecstasy Burger at Sweet Ecstasy
You have likely already tried one of the items from Sweet Ecstasy's burger-focused menu, knowing that they deliver in flavor and freshness every single time. It is no surprise then that they would create a veg burger that doesn't fall short of its meatier counterpart in the form of the Beyond Ecstasy Burger.
Taking a bite out of this burger could leave you second-guessing if they served you the vegetarian burger or not—and that's a good thing. Using Beyond Meat, Sweet Ecstasy has built a completely vegan burger that tastes almost like their famous cheeseburger. "It's about getting to do our burger a vegan way," explains co-founder/owner Al Galang. "Instead of toasting the buns in butter, we use olive oil. Our buns are vegan, as long as there is no egg wash, so we ask our supplier to give us a batch that doesn't have that. And the ecstasy sauce, which was the greatest challenge as it is a condiment that has mayo as a base, and so we had to make mayo that wasn't mayo." They did this by using silken tofu as a base.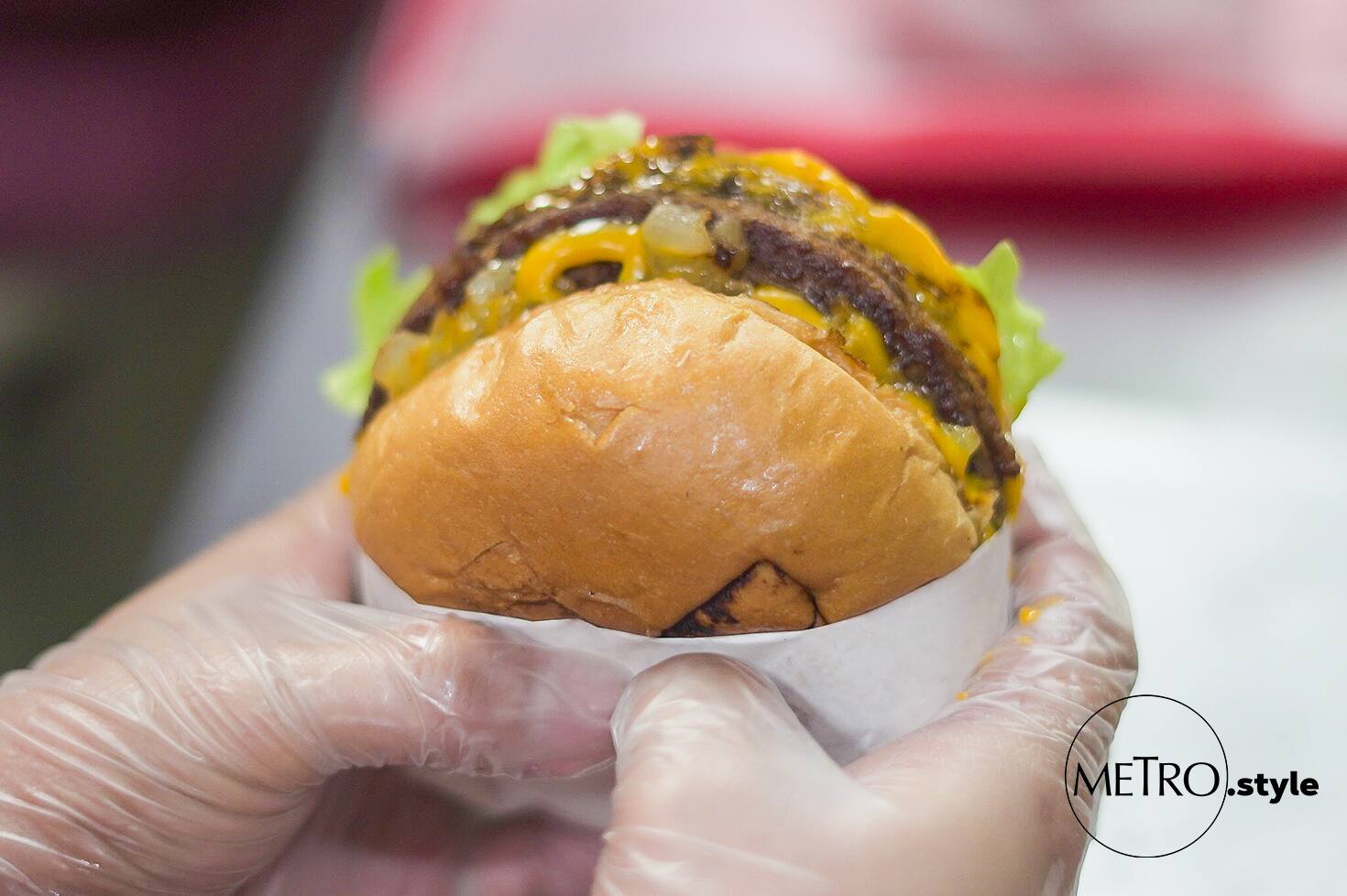 The product? A burger that both vegans and meat lovers can enjoy. "What we have now is a burger that looks like what we have on the menu. It fits the identity and it fits a particular standard of quality of ingredient," Galang says. Using the same philosophy as the rest of Sweet Ecstasy's burgers, the Beyond Ecstasy Burger is one that strikes a balance and definitely hits the spot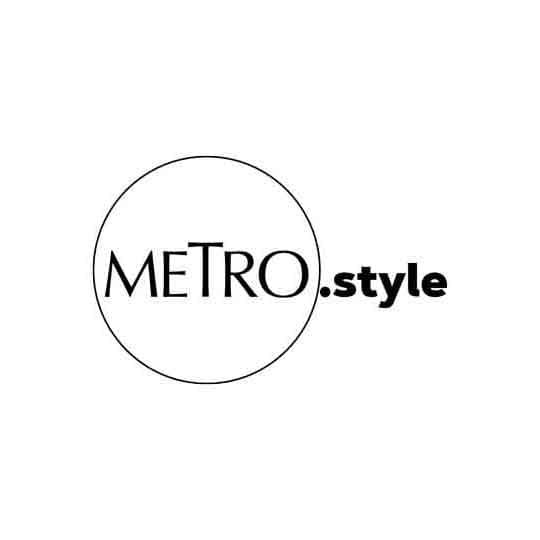 Beyond Ecstacy Burger | Pat Buenaobra
Sweet Ecstasy's Jupiter Street outlet is expanding its vegan-friendly offerings in the form of (vegan) loaded sweet potato fries and kombucha drinks. "There's no war here when it comes to food," he says. "People who eat real beef burgers and vegans, or those somewhere in between, will be able to eat alongside each other and it will be the opposite of offending each other. There can be that individual respect for each other."
The Beyond Ecstasy Burger is exclusively available at Sweet Ecstasy, Jupiter Street corner Asteroid Street, Makati City, IG @sweetxmanila
Meatless Lover from Crosta Pizzeria
At Crosta, crust is king. In fact, the crust is completely the reason why owner Ingga Cabangon Chua loves her pizza so much. "In my family, my dad would cut the crust off the whole pizza and eat the crust first, eating only the middle part! We were always so addicted to pizzas that would have an interesting crust. So we wanted to create a pizza that reflects the taste we wanted in the crust specifically," she says. Enter Crosta's sourdough crusts—light and airy in texture, bubbled up just right.
On the menu are several vegan and non-vegan options that are broken up into sections based on sauces used. All utilize the sourdough, as they most certainly should, and feature fresh, high-quality ingredients all throughout. While this pizza spot has always served up well-loved vegan alternatives, with the addition of Beyond Meat as a handpicked supplier, they bring something equal parts fresh and familiar to the table, namely their take on a Manager's Pizza.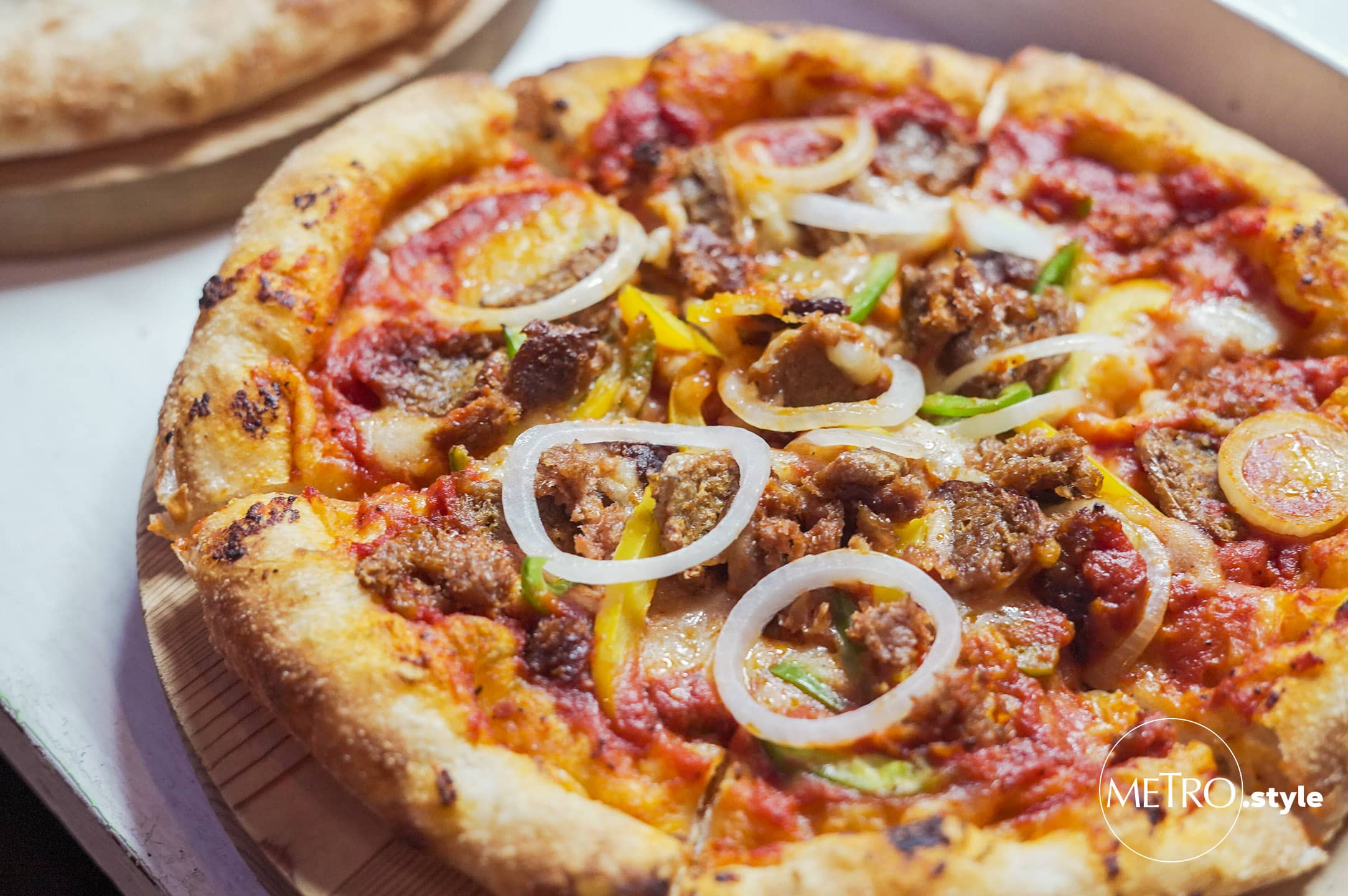 Featuring Beyond Meat's sausage and patty, cashew-based mozzarella from vegan cheese brand In A Nutshell, bell peppers, and onions, the Meatless Lover is everything you would expect from a meat lover's pizza without any actual animal meat. "We pre-cook the Beyond Meat beforehand so when we put the pie in the oven, it's just kind of charring and finishing off," Ingga shares. The end result is a flavorful pizza that is pretty close to the real thing in every single bite.
"We've had it since June 19 and so far the reception has been really good. People are surprised with this quality of a meat alternative because for the longest time, you would be limited to mushrooms or some sort of legume that you could use and make into a patty or meat substitute." Their lineup of vegan-friendly pizzas—including favorites Vegan Shroomed Out and Vegan Basic Bitch—tap a market that isn't necessarily vegan. "We want to promote the vegan pizzas to non-vegan people, as well. People who may just want to try alternatives out there or perhaps have allergies, such as people who are lactose intolerant or are a bit more health-conscious because they have a high BP or high cholesterol from eating too much meat." With Beyond Meat, Crosta makes it even easier for meat eaters to go vegan, as they continue to expand their vegan pizza menu.
The Meatless Lover pizza is available at Crosta Pizzeria, The Social on Ebro, 5770 Ebro Street, Poblacion, Makati City, IG @crostapizzeria