Dumpling Lovers Belong In Li Li, Home To One Of The Best Dim Sum Buffets
There are six words to make the Li Li dim sum lunch buffet experience even better—all you can eat at P1,088.
When it comes to good food, sometimes, choosing just one item on the menu can be an impossibility—especially when everything from starters to dessert make your taste buds wiggle in hot anticipation!
The culinary talents at New World Manila Bay's Chinese restaurant Li Li, a traditional dining destination that specializes in Cantonese favorites, know exactly what this means and so, deliver an offer you can't resist: an all you can eat dim sum buffet that's home to over 30 creations both sweet and savory, hot and cold, fried and steamed!
It truly is one of the best experiences for the diner who has a love affair with Chinese classics and insists on variety at the table; you get both for P1,088, and overall a lunch you'll love to re-create with friends and family.
We at Metro.Style were fortunate enough to have sampled many of Li Li's best selling dim sum items and as a treat for you, we're sharing our top picks to ensure that you don't miss out on them in your next visit.
Keep reading to learn more about what we loved best and scroll through the gallery to learn more about Li Li's best dim sum offerings!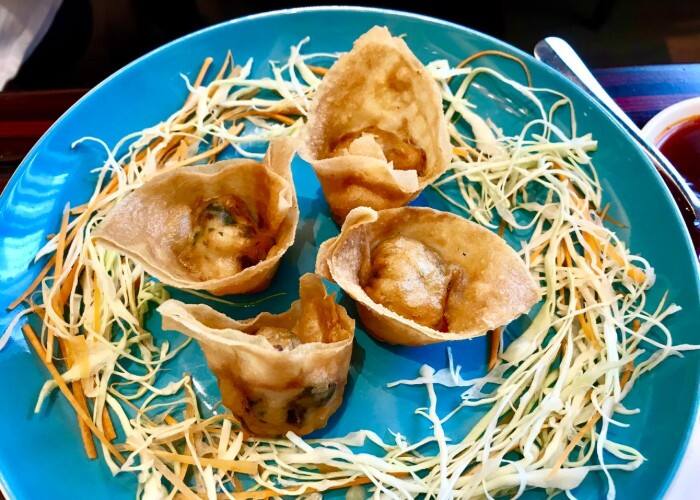 Stars of the starters
While you might want to jump into the main events the moment you sit down for your meal, don't forget that there are equally impressive starters to begin your lunch with. Comprised of hot and cold items that successfully stimulate appetites, Li Li's dim sum lunch starter selection is simple but definitely worth exploring. However, all three of us seemed to be head over heels for the chilled bean curd skin in sesame and chili oil, specifically!
Metro.Style art director Butchie Peña:
"I enjoyed the chilled bean curd skin mostly and almost finished the plate serving. It was totally new to me, and I loved it!"
Metro.Style food editor Nana Ozaeta:
"I love this dish. It's light and refreshing with just a touch of flavor thanks to the chili oil. If you're not crazy about those rubbery jellyfish strips that you find in a traditional Chinese cold cuts platter, then the bean curd is a nice alternative, with less of that rubbery texture, but still with a bit of bite to it."


Metro.Style wrtier Sara de los Reyes:
"I was all about the chilled bean curd skin, because I'm a big tofu fan as is! What I loved about this dish is how it introduces Filipino diners to a Chinese staple in a totally new way and makes such a humble ingredient so exciting. Take note though that it might be an acquired taste for those who prefer hot appetizers, but you can't have it any other way, in my opinion; the subtlety of its sesame oil topped off with a drizzle barely-there chili oil make a lot of sense when paired with a cold base. And given the lightness of bean curd's flavor itself, it makes an awesome 'vessel' for those who are heavy on sauces and dips. Mix and match with your own condiment concoction and you're ready to go!"
Steamed favorites
And now, ladies and gents, what you've been waiting for: the steamed dumpling picks, a.k.a. the kings and queens of dim sum dining! You'll be happy to know that Li Li has over 30 dim sum items to choose from (most of which are steamed items), and for seafood lovers, here's a little extra for you: almost all of them are hand-crafted with the live seafood Li Li is famous for.
Butchie's choice: Steamed dumpling wolfberry with scallop and fish roe
"I'm not much of a dim sum fan, but I really like a good, well-made dim-sum. At Li Li, we had 14 selections out of their 30 delicious handcrafted, all-you-can-eat dim sum creations. [It was] my first time to try the steamed wolfberry, scallop and fish roe dumpling. One bite, and we all looked at each other (and agreed) that it was so good! It was the best for me."


Nana's choice:

Steamed shrimp and crab meat dumpling

and steamed dumpling wolfberry
"I'm pretty easy when it comes to dim sum. If it has shrimp in it, I usually like it. The steamed shrimp and crab meat dumpling in particular is no exception, but mention has to be made of the nice, fatty crab meat on top that gives it an extra indulgent kick. The best dim sum is usually all about that thin, delicate wrapper and rich, generous filling. If the wrapper is too fragile, or the filling too much, the dumpling breaks apart. This scallop dumpling exemplifies that precarious balance between rich and delicate, with the scallop almost busting out of its soft wrapper, and it delivers that flavor bomb in one perfect bite."


Sara's choice: Steamed dumpling wolfberry with scallop and fish roe and "Har Gao" steamed shrimp dumpling
"I love seafood, and at Li Li, it's not only their a la carte menu items that get the fresh seafood treatment, but their dim sum, too! Hence, it was impossible not to pick two of their seafood dumplings as my top choices: the scallop with fish roe dumpling that was a more adventurous combo, and the 'Har Gao' shrimp dumplings as an all-time favorite crowd pleaser. Both were exceptional in terms of freshness and taste; neither was too complicated, both the the right serving size, and both satisfyingly distinct. I can't emphasize enough how enjoyable it was to bite into these babies and feel the firmness of the shrimp and scallop, then savor the push and pull of sweetness and saltiness. The best part? Very little dipping sauce is required as they're more than tasty enough on their own. Trust me. You're going to want to enjoy them au naturel."
Fried picks
If you didn't already know, dim sum extends to fried items, too, and really, they deserve their time in the spotlight. However, health buffs need not be put off by the fact that oil is used to cook them (as opposed to a healthier steaming method) as the ingredients used by Li Li's chefs are guaranteed premium and fresh; no compromises when it comes to quality here, and quantity is carefully calculated so as not to overwhelm diners. Li Li's fried dim sum will hit the spot sans giving you reason to worry about the numbers on the scale—we promise!
Butchie's choice: Deep fried taro puff
"The deep fried taro puff. It was made more flavorful with beef and black pepper."
Nana's choice: "Hong Kong style" fried shrimp wonton
"I love shrimp dim sum and anything fried, so it's a no brainer that this crispy shrimp wonton does the trick. Reminiscent of familiar Pinoy-style pinsec prito (fried pork wontons usually folded in triangles), these feel a bit more refined with its more complex shape and shrimp and mushroom filling."
Sara's choice: Deep fried taro puff
"I don't think I've ever dined with people in a restaurant that served Chinese dim sum who looked for deep fried taro puff. However, the overlooked delicacy happens to be a favorite of mine that I order every chance I get and at Li Li, it didn't disappoint. Admittedly, their version was different from what I was used to, but that's not to say that I didn't enjoy it all the same. I'm much more familiar with all-veggie taro puffs filled with a variety of mushrooms, while theirs were stuffed with a bit of minced beef and black pepper. It looks intimidating, but worry not; taro in itself is a very friendly flavor that isn't too exotic, and its beef filling certainly gives it manageable personality and body. Have fun with its texture, too. Its outermost layer is crispy and flaky, its taro layer thick and sticky (much like warm, mashed potato), and its innermost layer chewy with yummy bits of premium beef."
Sweet(est) sensations


We all know that a meal isn't complete without sweets to end! So you guessed it, at Li Li, their dim sum experience doesn't start and end with savory items, but surprises you with unusual sweet picks, too.
Butchie's choice: Red bean buchi
"The buchi balls were a good palate cleanser to take. They're even better paired with the sweet purple [taro] soup with tapioca [balls]."
Nana's choice:
"How to enjoy your favorite chocolate in dim sum form? Simply fill a mochi ball with melted chocolate then coat with crushed peanuts, and you've got a no-brainer choco-peanut dessert that makes the grade."
Sara's choice: Brown chocolate dumpling with peanut
"My vote definitely goes to the warm chocolate dumpling coated with crushed peanuts. It's so reminiscent of chocnut flavors from childhood that it'll be such a trip of nostalgia for those who get to sample this. Another thing I liked about this dessert was that it was warm! It was almost a pastry in mochi-like form which I particularly liked, and its fragrant chocolate filling definitely added to its appeal. As for how it tastes, don't expect it to rival the sweetness of a chocolate bar. It's filling much more natural-tasting than that, and its peanut coating is likewise just as free of overt sweetness. Pair it with a warm cup of tea and it'll make a great palate cleanser at the end of a flavorful meal."
Li Li is located on the 5th Floor of New World Manila Bay Hotel, 1588 Pedro Gil St, Malate, Manila, 1004 Metro Manila and can be contacted through 252 6888.
Photos by Butchie Peña