SPECIAL: Dine Under The Stars At This Romantic, Limited-Time-Only Location
The dreamiest way to celebrate Valentine's Day
Are you ready to bust out all your romance moves this coming Valentine's Day?
Let Katherine's Café help you pull off the ultimate Valentine's Day dinner date with their special Dine Under The Stars promotion ongoing at their Ayala Malls Manila Bay branch.
Katherine's Café has been a popular brunch destination, their interiors a bright and cozy place to enjoy classic international and Filipino dishes. They're serving homecooked meals made extra special, like their delicious local fare like Nana's beef tapa and Vigan longanisa, and their all-day breakfast choices like buttermilk pancakes, eggs benedict, or corned beef hash.
In celebration of the Love Month, however, they're stepping out from their homecooked vibe to deliver something extra swanky for couples who are looking for a romantic experience. Ergo, Dine Under The Stars—a set menu for two, which can be enjoyed quite literally under the stars at Ayala Malls Manila Bay's open area.
"This love month, we would like to give couples a chance to go on a date in the city that's safe yet still a dreamy dining experience," says Abby Borja, marketing director of Katherine's Café. "Though there have been some developments, the pandemic is still in our midst. Mental health is still at risk since we feel isolated and far from the normal lives we were used to. I know a lot of couples have been wanting to get out of the house even for a while to unwind without compromising the safety of the household, so we thought to take advantage of the beautiful weather and offer something nice for our customers."
"Katherine's Cafe's brand mission is to 'make memories with you' and to celebrate each milestone in a place that feels like the comfort of home, but with excellent service and beautiful aesthetics," adds Abby.
Indeed, Dine Under The Stars fits the bill quite nicely, offering a delectable set menu amidst a well-curated al fresco setup.
For P2,500, you get a 4-course meal for two, drinks, and a dainty dried flowers bouquet.
Browse through the gallery below for a look at the full menu and some insights from Metro.style's first-hand experience of Katherine's Café's Dine Under The Stars.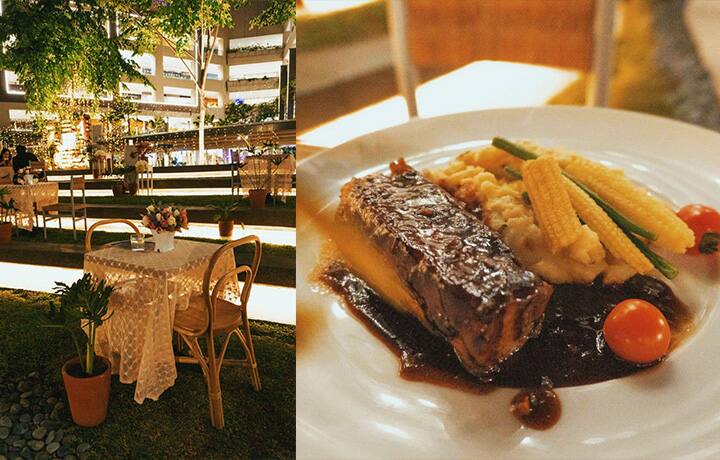 Dinner Date
Dinner Date
Dine Under the Stars is available until February 28, 2021 at Katherine's Cafe, North Ayala Malls Manila Bay. Call (02) 7946-6133.

Photographs by Jovi Figueroa