Everybody Comes To Mario's
If the walls could talk, what would they say?
It all began with a text message. "I have many anecdotes of Mario's," it promised, adding: "nothing incriminating, of course. In keeping with our discreet policy." It was only ten minutes before lunch with Fil Benitez, the manager of Mario's Restaurant along Morato, and it promised to be very interesting.
That there are anecdotes about Mario's is no surprise. Now on its fourth decade, the restaurant is one of the oldest along Morato. It opened in 1981, at the time one of the only two restaurants in the area, before Timog-Morato became Quezon City's dining and entertainment center. So it's only natural that Mario's has seen its share of all the goings-on that pepper human life. Births and marriages have been celebrated here, love affairs conducted and broken off. Trysts and business deals, all going on as usual under its roof.
In fact, this branch of Mario's is the newer one. The first and original branch in Baguio will be celebrating it's 50th anniversary this year. It opened in 1971 as a hole-in-the-wall place on the upper side of Session Road, just across the famous Patria de Baguio, and was immediately a great hit with the holiday crowd. People adored its classic offerings like steak a la pobre or the Caesar's salad tossed tableside. It was so popular that owners Mario and Nenuca Benitez decided to open a second branch in Quezon City.
Even after forty years, Mario's in Morato appears to have changed very little. New and interesting items are occasionally added to its menu, like Chilean Seabass or Broiled Salmon in Pesto Hollandaise. But the classics are still served and are as good as they ever were. I wouldn't hesitate recommending the Filet Mignon or the Steak and Shrimp Orientale. And don't even try to skip dessert: the Mango Jubilee is delightful, and so is their apple pie a la mode. On the whole, the place has retained its charm, a cozy and classy ambience where you can always find the kind of timeless comfort food that you will always crave.
Unbeknownst to many, however, Mario's has also evolved into its own enclave, where people hang out to do business, get a scoop on gossip or an edge on the competition. Like the fabled Rick's from the movie Casablanca, everyone's here at some point in time. And they're up to something, from business meetings and negotiations to secret deals and assignations.
"It's a good thing these walls are not like the Facebook wall," quips Fil. So much is going on all the time. For instance this actor, a famous one, who likes to take his girlfriends to dine at one of the private rooms on the second floor. Then one day, his wife hears about it. As she enters the front door, his bodyguards are rushing upstairs to warn him. So by the time the missus was stalking up the stairs, he had been hurried out the back exit and to safety.
Does this happen often? I ask. Not so much, but often enough for the restaurant to take the precaution of planting shrubs to hide the back exit from view… and to build an even more discreet third exit. Just in case.
It's not always so dramatic, Fil tells me. Celebrities love to hold their film launches at Mario's, and it's not just because of the place's proximity to ABS-CBN or GMA. "They say it's swerte to launch a movie from here," says Fil. In fact, Boy Abunda used to say he liked signing his contracts at Mario's; he said it brought him luck. "Maybe it's the fortune tree," says Fil. They planted a fortune tree soon after opening the restaurant forty years ago. It stands near the entrance and has bloomed only twice in all these years. Each time it bloomed, says Fil, the restaurant's fortunes went through a revival. "I can't explain it either," says Fil, "but there it is."
Apparently, love and politics mix at Mario's, too. "Teofisto Guingona once told my dad that many decisions were arrived at in Mario's," says Fil. "Decisions that helped in some way to change the course of our nation's history." Intrigued, I whisper, "So how many coup d'etats have been planned here? Do you know?"
But he only winks at me over his Oysters Rockefeller. Yes, Mario's keeps its secrets.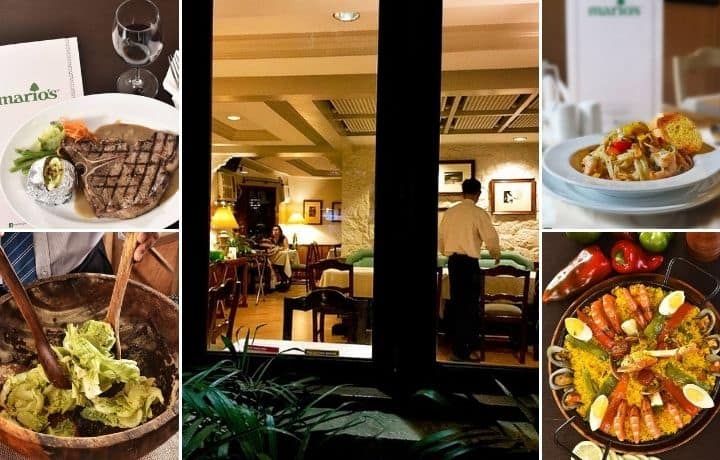 Dine the Mario's way
Dine the Mario's way
Mario's Restaurant Baguio 16 Upper Session Rd. Ext., Baguio City 2600, Philippines (074) 442.4241
Mario's Restaurant Tomas Morato 191 Tomas Morato Ave. corner Scout Gandia, Quezon City, Philippines (02) 372.0360 (02) 415.3887
Originally published in FOOD Magazine, July 2011