Experience A Luxurious Italian Meal At La Piazza
The stunning restaurant in Okada offers gourmet Italian fare and a memorable time
Counting down the days to your trip to Italy but already craving a seriously delicious Italian meal? Treat yourself at the restaurant that embodies what la dolce vita truly means—La Piazza at Okada Manila!
The stunning restaurant boasts of eye-catching interior design that immediately catches your attention the moment you step in. The first part of the restaurant, the Trattoria, features barrel tables, cocktail seats, and a bar that allows you to enjoy a casual setting, perfect for some oven-cooked pizza, appetizers, freshly made focaccia, and a drink of choice.
Just a few steps in and you'll find yourself at the Ristorante, featuring floor to ceiling windows that boast of the jaw-dropping view of Okada's The Fountain. Get immediately transported to a luxurious dining experience in the midst of beautiful interiors, with sophisticated accents, crystal chandeliers, marble floors, and plush seating. We say book one of the tables that line the walls, perfect for date night.
The restaurant features a complete Italian menu, from antipasti (appetizers), pasta, zuppe (soup), secondi (mains), dalla griglia (grill), pizzeria, and pasticceria (dessert). You can come with a hungry stomach and expect to be fully satisfied with their mouth-watering array of offerings. Thinking of celebrating a special occasion at the Piazza? Pair your dinner off with their impressive lineup of premium and sought-after wines.
Don't wait—treat yourself to a luxurious Italian experience at La Piazza today. The restaurant is open from Wednesdays to Mondays, from 5 pm to 11 pm. Swipe through the gallery below to see more of their scrumptious offerings: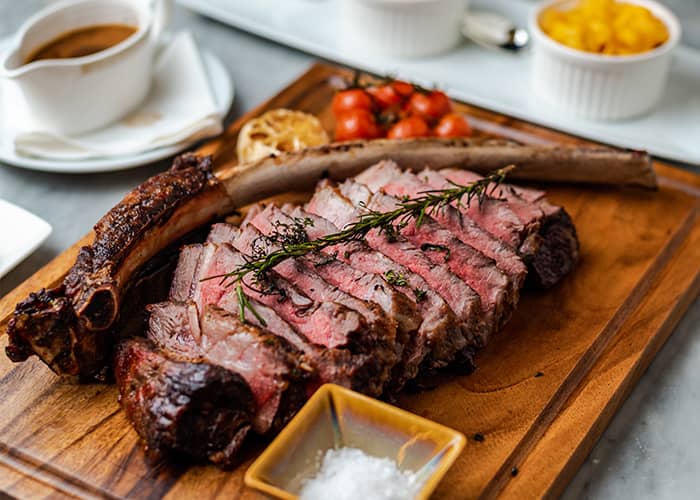 La Piazza
La Piazza
La Piazza is located at Okada Manila. For reservations, log on here.