18 Best Restaurants With Outdoor Dining In Manila
Shall we make a reservation?
As if it were not enough that COVID is a major health crisis, the pandemic has grown into a social crisis too. Families, friends, significant others, and even work mates have been going for months on end separated from each other. And with no gatherings, no endless kwentuhan and kumustahan, and barely any meaningful in-person interaction, then the act of celebrating good company over delicious food, once a cornerstone of Filipino life, has (hopefully just temporarily) disappeared.
We truly miss the freedom to be around each other and have a great meal together. Filipinos associate food with the best things in life—birthdays, long holidays, once-in-a-lifetime occasions—and this will never really change, not even by a year-long quarantine.
Thankfully, many of our favorite restaurants and watering holes have now reopened, beckoning customers back and allowing them to experience a little taste, so to speak, of pre-pandemic life.
This January, as we gear up for a whole new year ahead, we give you a list of 22 restaurants that have safely reopened and offer quarantine-friendly outdoor dining options. From Spanish tapas and Japanese fusion and Southeast Asian grub to Filipino Sunday brunch spots, these are our picks for the best restaurants around Metro Manila with al fresco dining!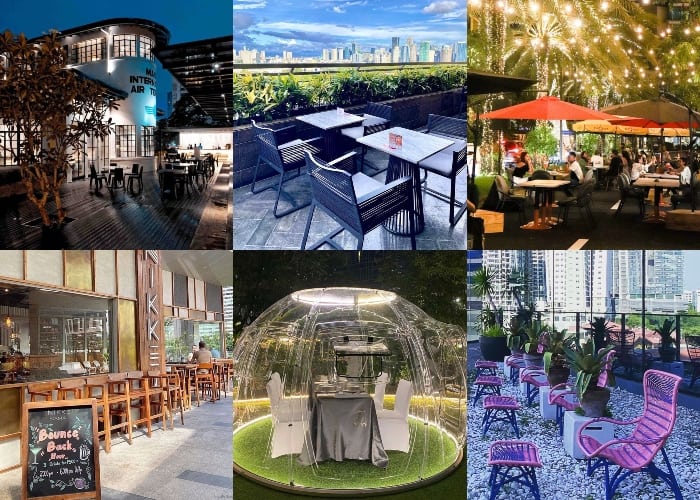 Outdoor Dining
Outdoor Dining
Opening images from @manila_house @sheratonmanila @thepeninsulamanila @powerplantmall @discoveryprimea @blackbirdatthenielsentower