A French Speakeasy With One-Of-A-Kind Wines In Makati
It's very brasserie with a Michelin touch!
Out of sight and in my mind. A new destination in Legazpi Village is hidden away like a speakeasy. Find it, and it will slowly reveal its fine dining DNA, with a menu created by Michelin-star trained chefs and one of the city's most impressive wine collections.
Behind the red doors
25 years ago, one of the hottest movies in theaters was , starring Val Kilmer. I loved the film; I loved the soundtrack even more. A quarter of a century on, it's a precise time capsule of the music of the era, and the songs have stayed relevant. One in particular ran through my mind as I descended into Somm's: "6 Underground" by Sneaker Pimps. It really should be on repeat in the elevator from the unassuming building lobby into the sexy revelations in the basement. What lies behind their red doors?
The first thing one sees is a wall of bottles, hundreds of fine wines. Impressive but not surprising when the proprietor is a WSET Level 4 certified sommelier. And somewhere on that 3,000 wine bottle wall is a two million peso vintage. But of course. As befits its name, wine is serious business at Somm's. And so is the food.
A young man in Robuchon's kitchen
Most people call him Raphael, but if you can pronounce it properly, do use his given name, Antoine. But say it properly: "ot-wan". His full name is Antoine Gries, and he started his career in the kitchen, like most young French interns, at the tender age of 14, in his native Paris. He started working in 3 Michelin-starred kitchens by the time he was 17, and for a long time, with none other than Joël Robuchon.
Eventually, Antoine discovered his true calling was to be a sommelier. By the time he was 22, he was the head somm of the restaurant he was assigned in, soon promoted to restaurant director, and eventually, Group Sommelier of Robuchon's restaurants.
A Northern song
Destiny. We never know where it will lead us, more so when it involves true love. In Antoine's case, destiny led him from Paris to Cauayan, Isabela. Imagine that. Long story short: French somm meets Filipina doctor on vacation in France, they fall in love, boy follows girl back to the far North of the Philippines, in the Cagayan Valley. But there was one problem: he arrived just as the world braced for the pandemic in early 2020.
But a chef does what a chef does best, even under the most unexpected conditions. Antoine helped his wife's family's restaurant pivot under the new normal, elevated the menu, added croissants and charcuterie, and realized that he could do the same back in Metro Manila once everything improved.
The story of the piano
The grand piano that takes center stage in Somm's has been there from the start. I still have no idea how it was moved there from street level, but it is a souvenir from the restaurant's previous incarnation as a private lounge. It's a stunning reminder, and a promise of the elegance that Somm's can, and does, deliver. It's rapidly become the choice venue for intimate dates and discreet meetings since it opened its doors on the last week of July.
And there's more than meets the eye. Somm's also has a delicatessen and a patisserie. Cold cuts and cheese, croissants and pain au chocolat are available. Do call ahead for your take home treats. But first, savor the modern French menu they serve, rooted in classical tradition.
"Bistronomy"
While it's not fine dining per se, dining at Somm's certainly is fine. It's bistro service combined with gastronomy, hence "bistronomy". That's apt. The menu prices won't break the bank as in an ultra high-end five star restaurant, but the value and quality offered more than exceeds the price points.
The main man in the kitchen is Head Chef Julien Sobolewski, who's responsible for the fine but not overly fancy dishes. It's all very brasserie, but with that Michelin touch. It's friendly too, the kind that won't intimidate, but rather encourage diners to delve deeper into French gastronomy.
I highly recommend the Egg's Nest and Onion Soup to start, and for mains, the New Zealand Salmon. An absolute must-try is the Pork Secreto Iberico. Oh, and do inquire about the Gold Leaf Super Prime Tomahawk if you really are in a festive mood. Carpe diem! Seize the day, seize the night! Somm's is a very worthy addition to our rejuvenated dining scene.
Pro tip: Street parking is easy after 7pm, but there are a few slots in the building's parking area.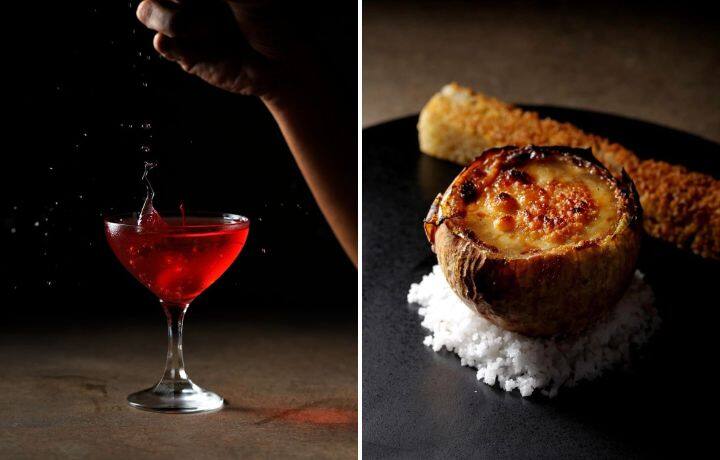 On The Menu
SWIPE LEFT OR RIGHT
TO NAVIGATE BETWEEN PAGES
French classic dishes made new
Address: Exchange Building, Bolanos corner Esteban Streets, Legazpi Village, Makati. Contact: (0945) 975-6772. IG: @somms_table | FB: @sommstable.ph.