Oori Korean Restaurant Is Back With Its Super Delicious Bibimbap And Samgyeopsal
They've got Korean fried chicken too
What with kpop, the Academy Award-winning film Parasite, and Netflix runaway hit Crash Landing On You, it's safe to say that we have fallen in love with all things Korean, and that includes their food! In Manila, there's a samgyeopsal joint in almost every street corner, and it's easy to see why it's become such a hit. It's hearty, shared with loved ones, often in unlimited servings, and it's a lot of fun. But sometimes, it can feel a little too casual. So we're so happy to hear that Oori Korean Restaurant has reopened at Sheraton Manila Hotel.
This upscale Korean restaurant is helmed by executive chef Kibum Park, a perfectionist whose homemade kimchi undergoes a five-day fermentation process, following a family recipe. He's devoted to good technique and freshest ingredients. You can be sure that your food will be delicious and authentic.
Oori is a two-concept restaurant, with a casual space called Bibimbap where you can go for quick bites and comfort food, while the section called Oori Grill is a more upscale version of samgyeopsal.
Health and hygiene protocols have been put in place to keep everyone safe, which you'll notice in the extra spacing between tables, transparent acrylic sheets to protect seated diners. You'll be glad to know that care is being taken to keep you safe.
Bibimbap by Oori
If you've come to dine in the elegant space called Bibimbap, you'll find a menu of — you guessed it — bibimbap variations, noodle bowls, and some street food selections.
Their take on the eponymous dish is unique. While most restaurants will present a rice bowl to you in a glorious mix, Oori serves a deconstructed bibimbap so you can tailor it according to your preference. Each bowl comes with a choice of side dishes. When you're done choosing, an egg cooked sous vide for 45 minutes is cracked over your bowl. Click through the gallery below to see the fun of a D.I.Y. bibimbap.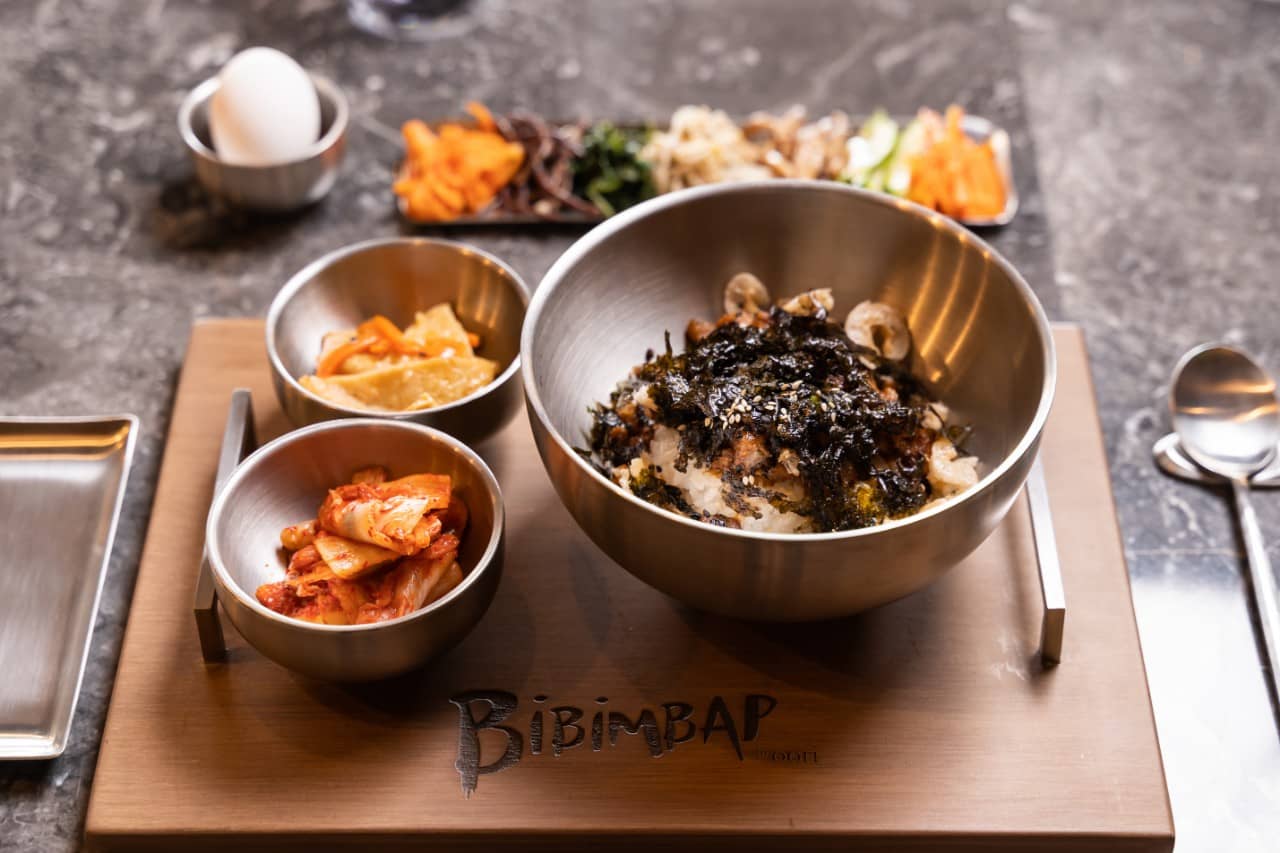 Bibimbap The Way You Like It
Bibimbap The Way You Like It
The classic Beef Bulgogi is a must-try, a baseline for all Korean dining experiences. A pleasant surprise comes in form of Sisig Bibimbap, a worthy fusion of Filipino and Korean flavors. It works effortlessly as a hybrid, representing the best of both cuisines.
Dakgangjung is Korean fried chicken in a sweet and spicy glaze. Though not as crispy as the Korean fried chicken that I'm used to, it certainly is saucier and did not at all disappoint in flavor.
Don't skip out on the Haemul Jeun (Seafood Korean pancake)! Imagine an almost-crispy omelet topped with mussels, prawn, squid, and onion leeks. The dish does not contain much heat but is heartwarming in its simplicity. However if you are longing for that signature Korean heat, it comes in a Kimchi variant. A purely veggie variant is also available.
Oori Grill
Oori Grill is all about the Korean grill experience that we Filipinos enjoy so much.
You are led into one of the private rooms, where sprawling yet elegantly designed grill tables await. Servers then enter with bowls of scorching hot coconut charcoal, which makes for better, cleaner grilling flavor.
While Bibimbap (the restaurant) offers two side dishes with your meal, at Oori Grill you are given all five ban chan available for the day, and in unlimited quantities. Plus, all the accoutrements of samgyeopsal: lettuce and a variety of dipping sauces.
Choose pork or beef (you get 150 grams per serving). While all other ingredients come directly from Korea, these are exceptions. They offer a selection of Duroc pork, imported from Spain, from pigs fed only on chestnuts. Meanwhile their beef selection ranges from rib variants to Mulwarra Wagyu Ribeye, all imported from Australia. You'll notice that the grills used will depend on which type of meat you ask for. Pork is grilled on a slightly domed pan, so its fat can drain on the sides. Beef is grilled on a flat, wire mesh to ensure that it cooks evenly throughout. Click through the gallery to see how easy (and mouthwatering) it is to grill.
Glorious Samgyeopsal
Glorious Samgyeopsal
I strongly urge you to look past the grilling menu and check out the other dishes, too. There are a few stellar stews that you might want to accompany your grilled meats. A standout is the Haemul Denjang Jiggae — a seafood stew in soybean paste. Hot in more ways than one, this is a comforting bisque of crab, mussels, prawn, and squid, made richer by delicious Korean flavors. It is your grandmother's hug in a bowl. Possibly best enjoyed on sick days, but why wait for that?
Mandu Jeongol is a hot and sour soup of pork, kimchi, plump dumplings, and glass noodles, a Korean tom yum, if you will.
Leave room for dessert! Bingsu is mostly shaved ice with toppings but it does take up space, you'll notice after several platefuls of grilled meats and veggies. They come in four flavors: Red Bean (with a healthy helping of matcha ice cream) — a traditional flavor; Fresh Mango — very refreshing, made with Guimaras mango; Fresh Mixed Fruits (everything else that isn't mango); and a very decadent Chocolate. Unlike others, Oori's Bingsu, is a mountain of generous toppings sitting on a base of fluffy milk snow: the milk itself is shaved, instead of milk poured over shaved ice. An excellent palate cleanser after all the rich flavors of your meal.
Are you hungry now? You can also enjoy Oori's dishes in the comfort of home. They have a special takeout menu available via FoodPanda, plus the dine-in menu can be ordered for takeout, except for the the raw meat for grilling.
Sheraton Manila Hotel, Andrews Avenue, Pasay. Oori is available for takeout or pickup via FoodPanda. You may also order at (0917) 822-3213 or (02) 7902-1808.
Photography by Daniel Soriano