The 15 Best Eats at Shangri-La's Gorgeous New Al Fresco Dining Spaces
What to order, how it's kept safe, and why you should definitely dine here
If you've really, really missed dining out, here's some great news for you. Shangri-La Plaza opened up not just one but three new open air dining areas so you can enjoy dining out as safely as possible.
Al Fresco at the Ledge is located at Level 6 Main Wing, is a lush garden setting with greenery and natural elements, as well as string and mood lights. It's perfect for intimate gatherings, small celebrations, or even meetings. The pretty backdrops are great for content creators looking for a new space to shoot.
The Balcony at Level 5 offers the same lush setting where you can relax and feel safe. The third area is Streetscape, located on the ground level — this space is a great place for some casual streetside dining reminiscent of our much-missed Friday nights out back when we had to physically show up at our day jobs.
A dedicated Shang Concierge is stationed at the Al Fresco at the Ledge to assist you in placing your food orders from your favorite restaurants within the mall. Both the Balcony at Level 5 and Al Fresco at the Ledge allow for meals to be ordered from nearby restaurants like Ikkoryu Fukuoka Ramen, Kettle, Southern Grind, Zao Vietnamese Bistro, Buffalo's Wings n' Things, Mesa, Pho Hoa, Cyma and more.
Naturally, safety is the most important concern. To ensure a safe and enjoyable dining experience at every touchpoint, Shang is implementing new Safe Dining Made Easy protocols that aim to lessen person-to-person interaction when you order your food. Here's how it works.
Once you're seated, you'll find menu cards with QR codes on your table. Scan the code of your preferred restaurant to see its digital menu. You can then conveniently order from any of the Shang restaurants. For added protection, you may also request for the food to be served in takeaway boxes, and for acrylic barriers to be installed on your table. Concierge or butler services will be on hand to smooth out other concerns so you can enjoy a pleasurable dining experience.
As a further safety measure, only the representative from your preferred restaurant can take your order and handle payment. All cards will be sanitized and placed inside a holder before they're handed back to you.
The outdoor dining spots observe the safety protocols mandated by the IATF, so you will be asked to observe proper social distancing measures, including sitting one seat apart from each other. Please wear your face shields and masks at all times and keep them in place when dealing with the restaurant representatives. Remove your masks and face shields only when you're about to eat.
Shang has some of the best restaurants in town, and we've really missed our favorite places, dishes and the relaxed, enjoyable experience that dining here always brings. If you're planning to visit but not sure on what to order, why not check out our 15 favorite dishes and take it from there.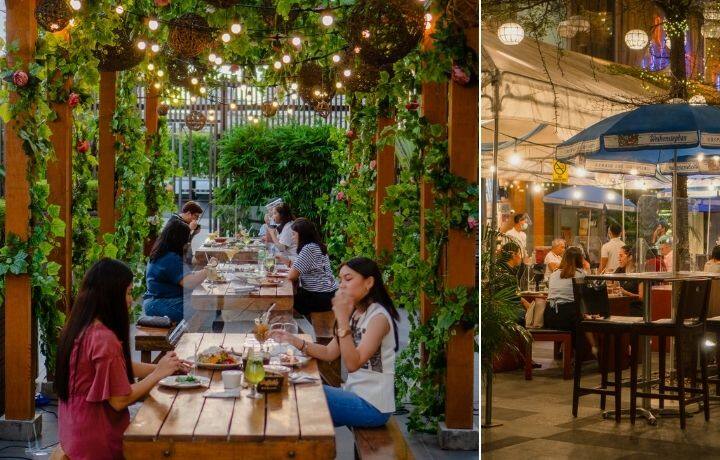 15 Favorite Dishes at Shangri-La Plaza
15 Favorite Dishes at Shangri-La Plaza