New Restaurant: Chef Tatung Gives Us Southeast Asian Flavors At Pandan Asian Cafe
Laksa, lechon Macao, binacol and sizzling bibingka are just some of the exciting finds on the menu
Pandan Asian Café is as refined and uncomplicated as its namesake, the pandan (Pandanus amaryllifolius), a staple of many Southeast Asian kitchens. At Chef Myke "Tatung" Sarthou's newest restaurant in Quezon City, pandan becomes a banner ingredient that represents the many interconnections shared between the Philippines and its neighbors.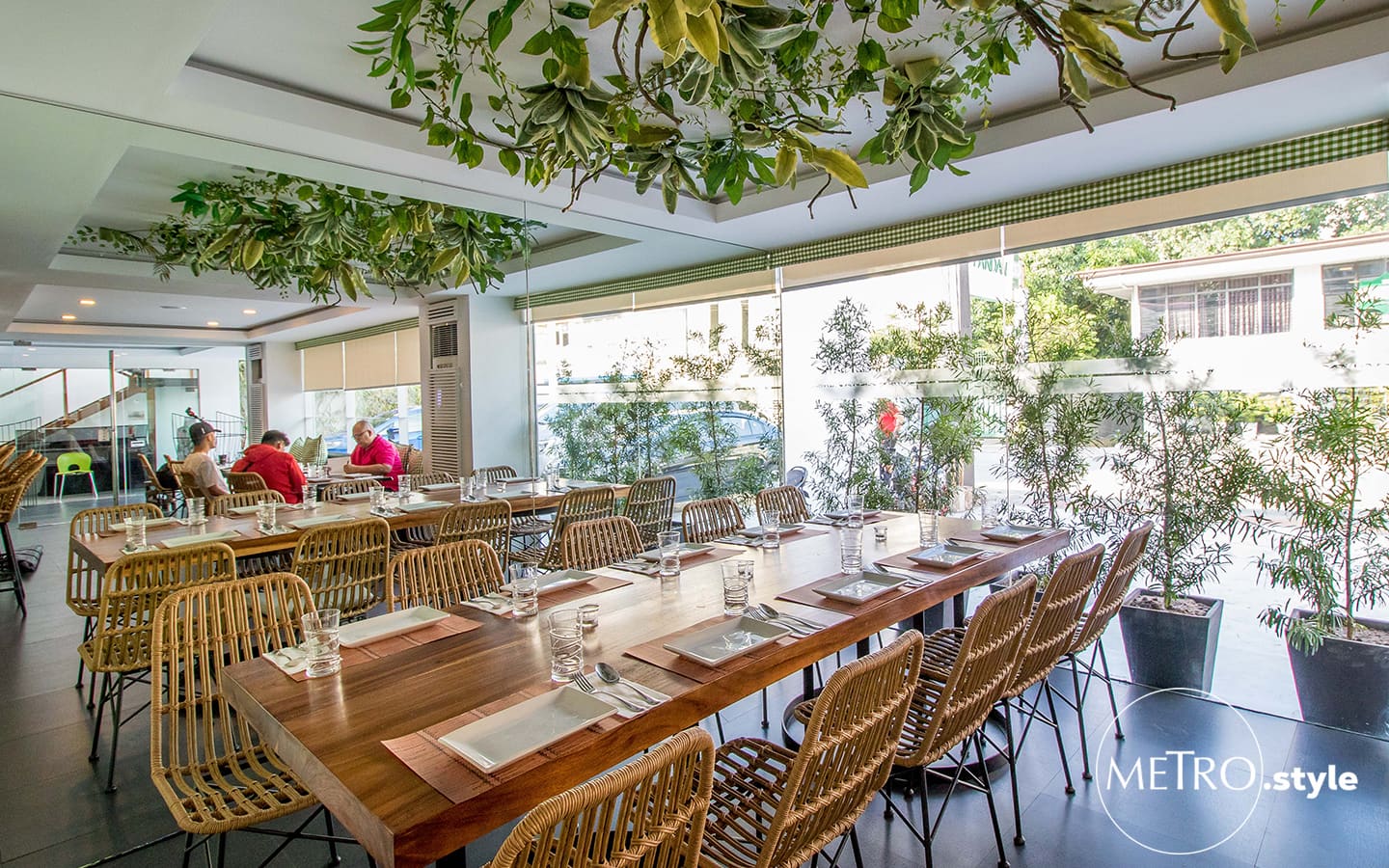 A casual, very Asian vibe at Pandan Asian Cafe | Paulo Valenzuela
Reminiscent of the aromas from home, the fragrant pandan leaves raise our Lola's sinaing and ginataan to the next level and add a gentle nudge of flavor to samalamig, puto, and buko pandan. For our Southeast Asian neighbors, it's an essential ingredient for making rice cakes and wrapping fried chicken. Chef Tatung consider it a worthy name for his latest culinary endeavor.
Well known for his ongoing research about Filipino food, his three cookbooks, his representation of the Philippines onstage at the 2017 Madrid Fusion in Madrid, and his various multimedia platforms, Chef Tatung makes his interest in Asian cuisine a reality through Pandan Asian Café. "It's a kind of cuisine na, secretly, gusto ko siyang matutunan," he reveals.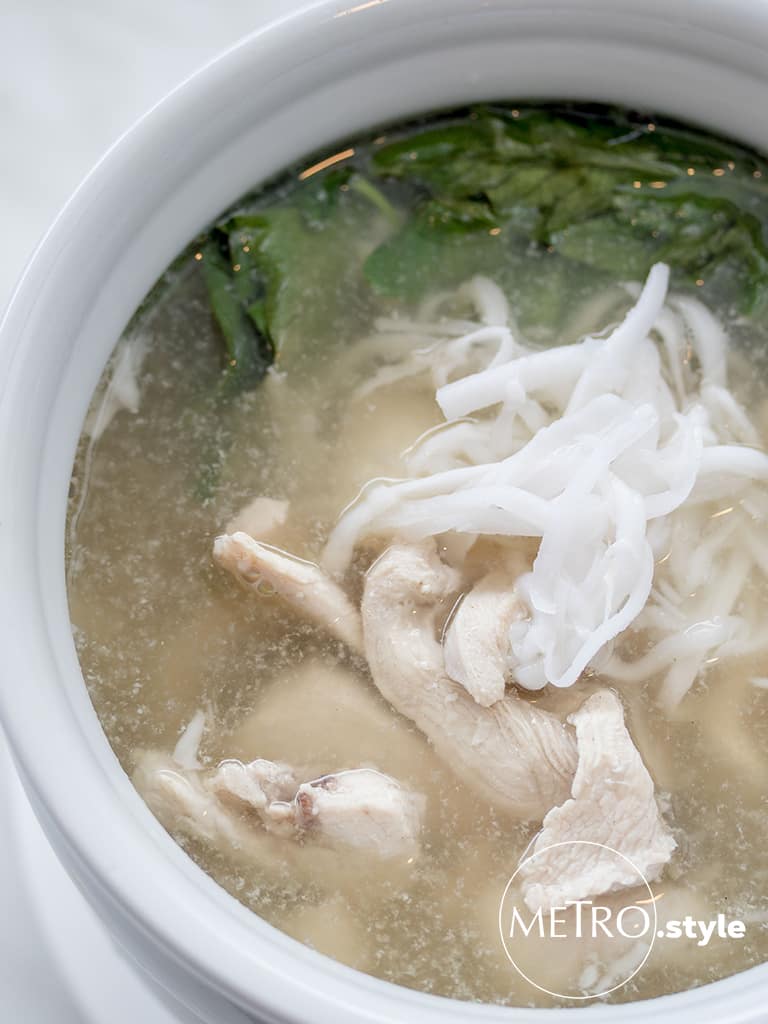 Chicken Binakol | Paulo Valenzuela
While a few of the ingredients may be imported, some are already locally grown. The kaffir lime leaves (Citrus hystrix DC) used in the curries, for example, are locally known as kabuyaw. "If you've been to Camiguin, the kaffir limes are grown in one's backyard." The galangal is used in making sambal and curry while a local galangal variety (langkawas) is used in making the Ilonggo sinamak vinegar. It's also used in gata dishes. "Although it's not in the level or intensity of a curry, it's still part of the flavor profile," says Chef Tatung.
You can start your meal with the Vietnamese Platter composed of fresh summer rolls, fried shrimp rolls and chicken satay, meant for sharing.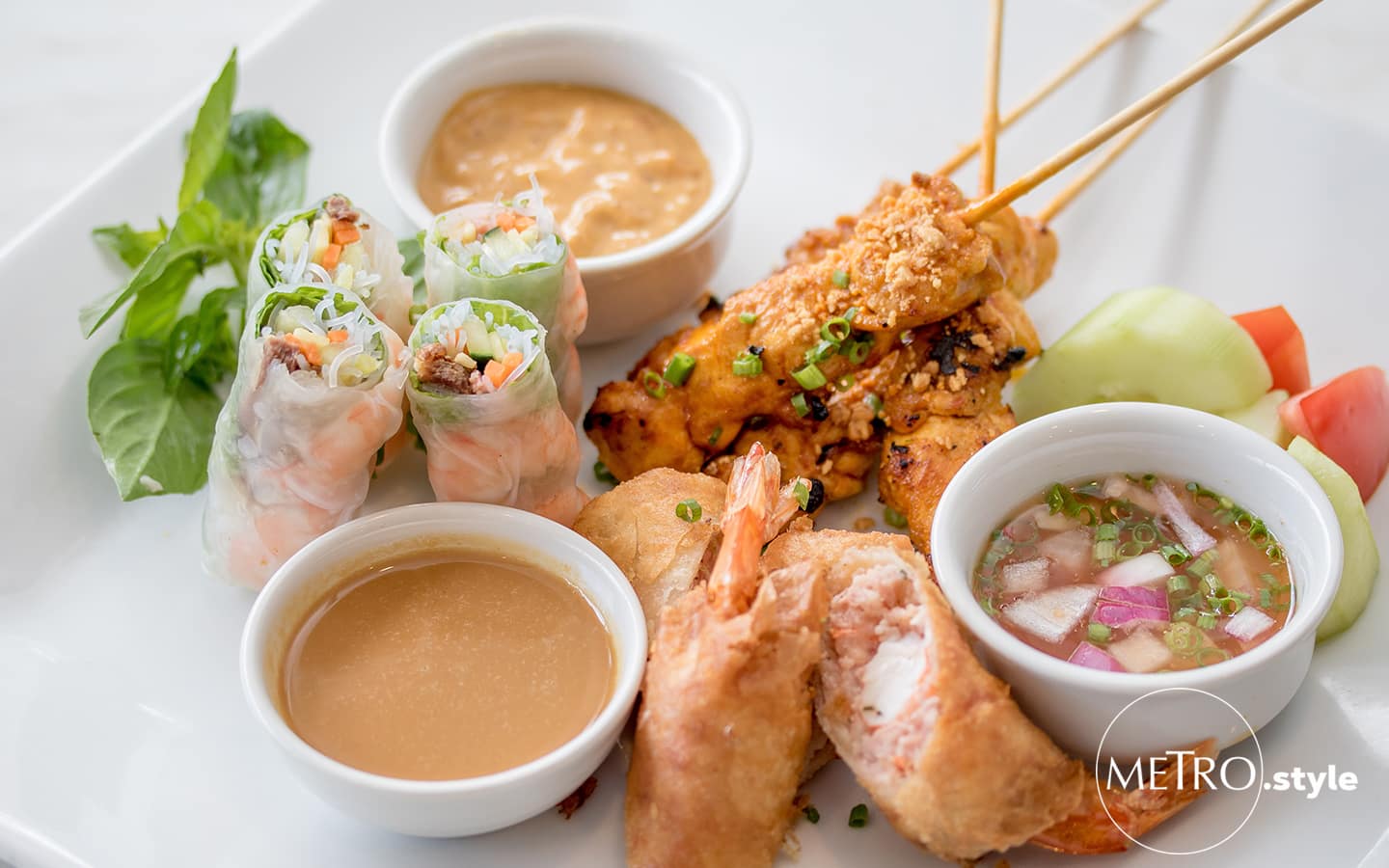 The Vietnamese Platter meant for sharing | Paulo Valenzuela
The Chicken Binakol is traditionally made using the whole chicken and sometimes served on a coconut shell, but Chef Tatung uses pieces of tender chicken breast (which is less greasy) and a subtle broth with ginger and lemongrass that's equally comforting.
Ayam Goreng is fried chicken with Asian spices in a blanket of crisp spiced crumbs, kropek, and homemade sambal sauce on the side.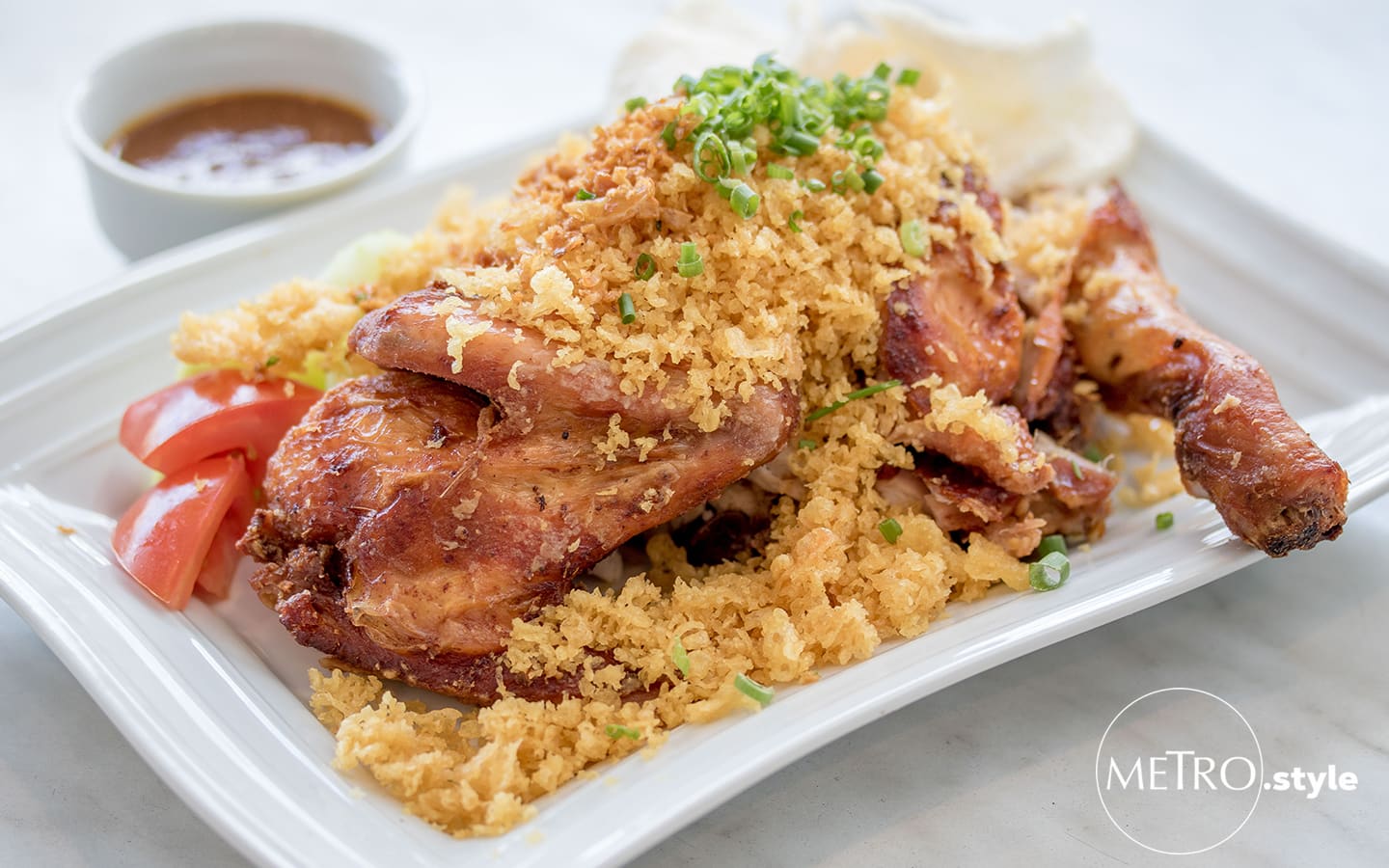 Ayam Goreng | Paulo Valenzuela
The Lechon Macao has a distinctive 5-spice flavor and instead of the usual hoisin sauce, it is served with ginger-scallion oil.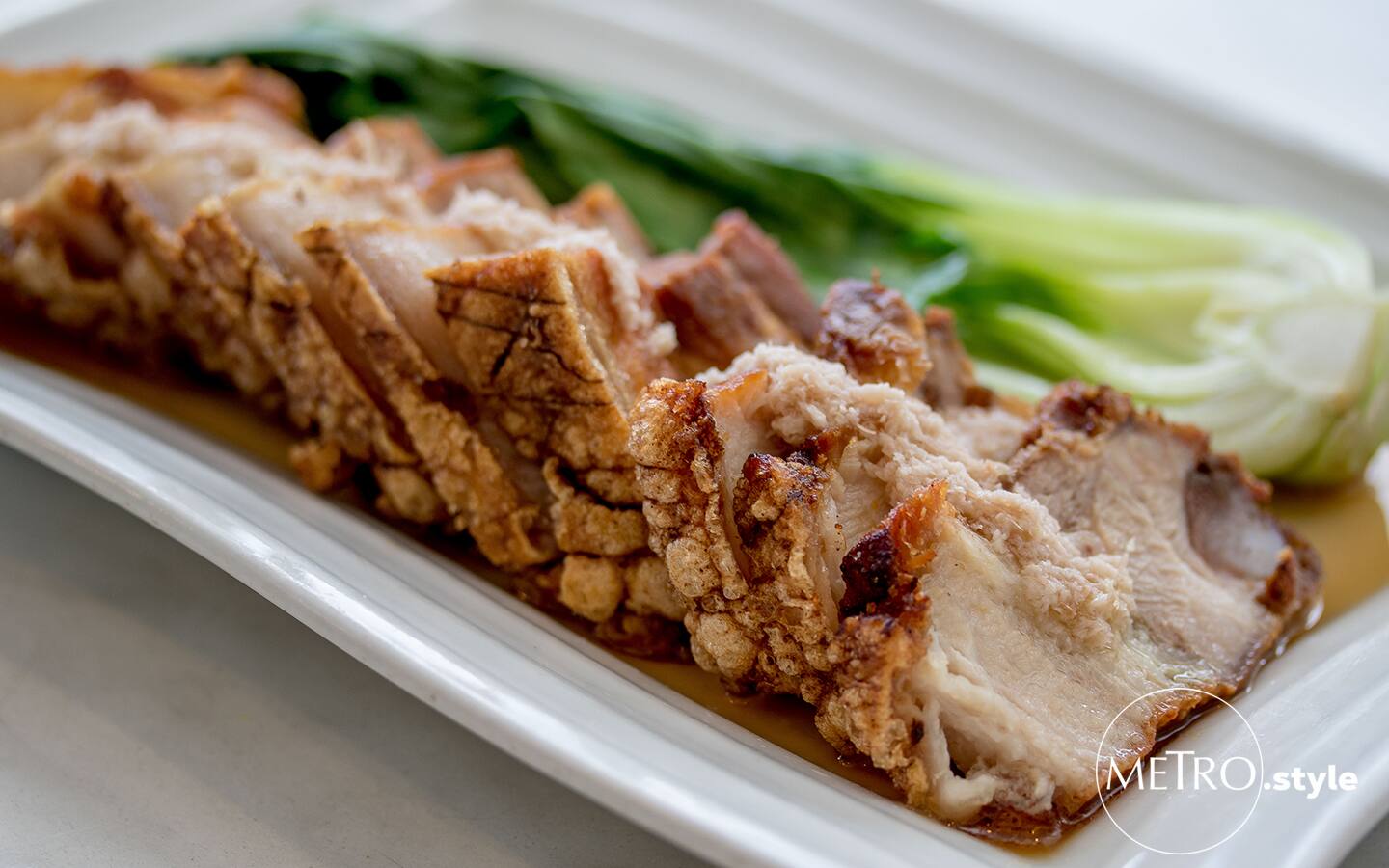 Lechon Macau | Paulo Valenzuela
The Salted Egg Prawns with Curry Leaves offers tiny bursts of richness from the salted egg.
The Bagoong Rice is a filling bowl of bagoong-flavored rice topped with caramelized pork, scrambled egg strips and manggang hilaw.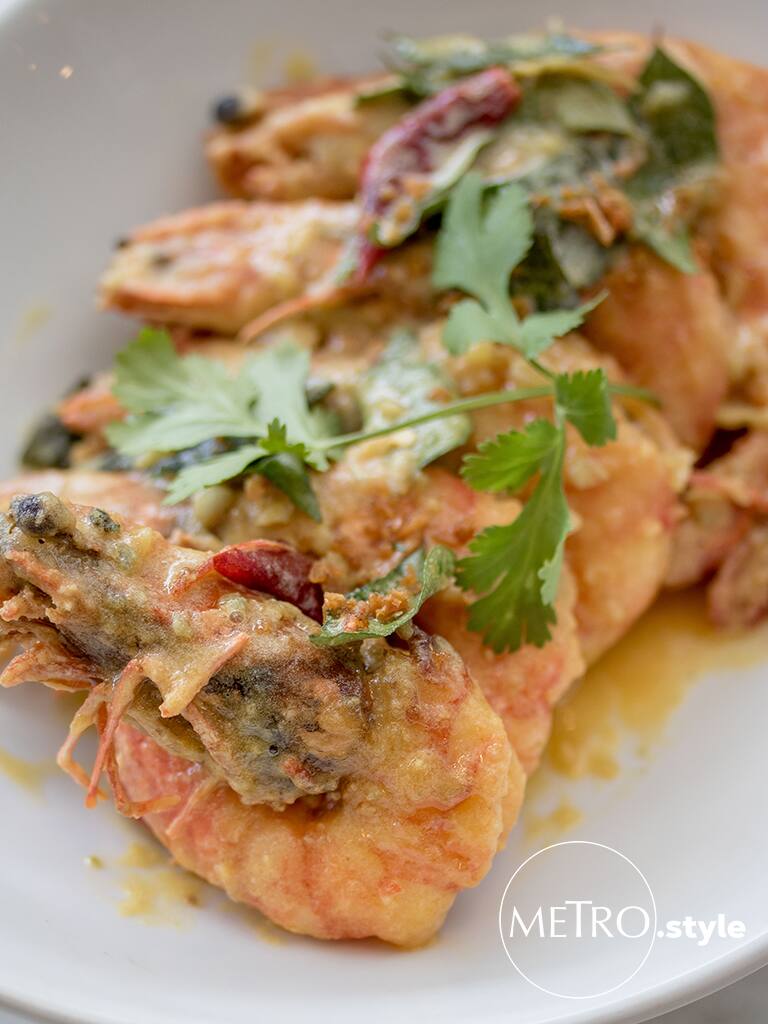 Salted Egg Prawns with Curry Leaves | Paulo Valenzuela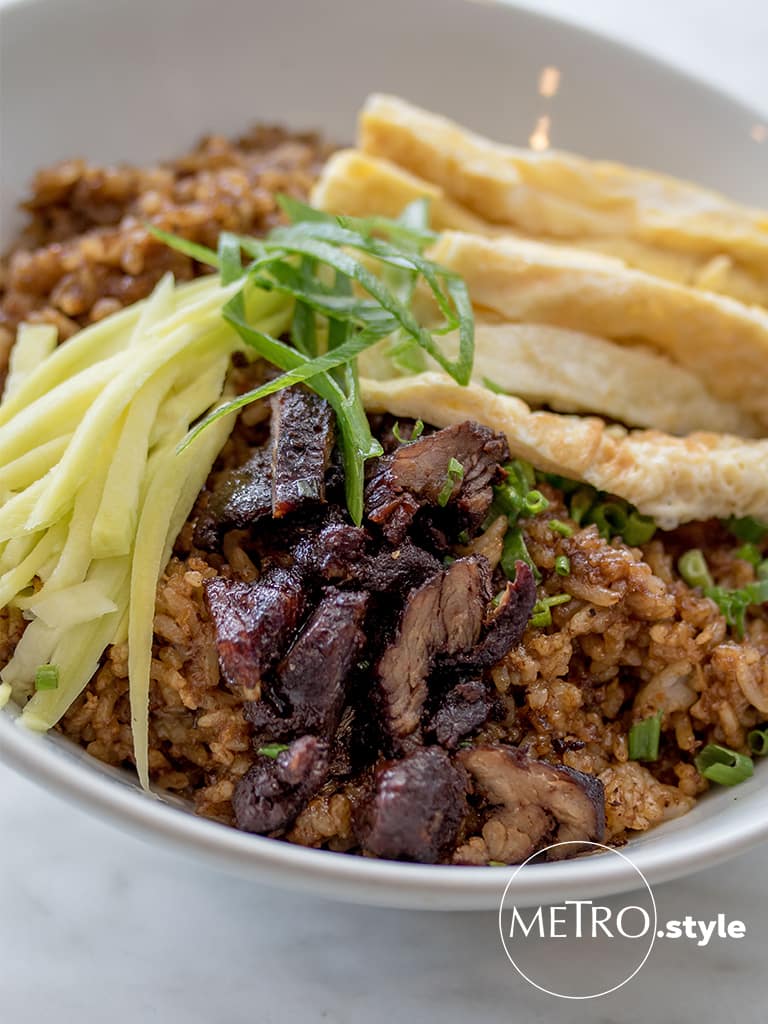 Bagoong Rice | Paulo Valenzuela
U.S. tenderloin makes the Stir-Fried Beef with Fried Basil extra special and a crowd favorite. As in most restaurants, the beef is stir-fried using high pressure stoves which is perfect for wok cooking and stir-frying and lends a characteristic smokiness to the dishes.
The Vietnamese-inspired Braised Stuffed Tofu with Mushrooms gives you a filling bowl of stuffed tofu with mushrooms and an assortment of vegetables.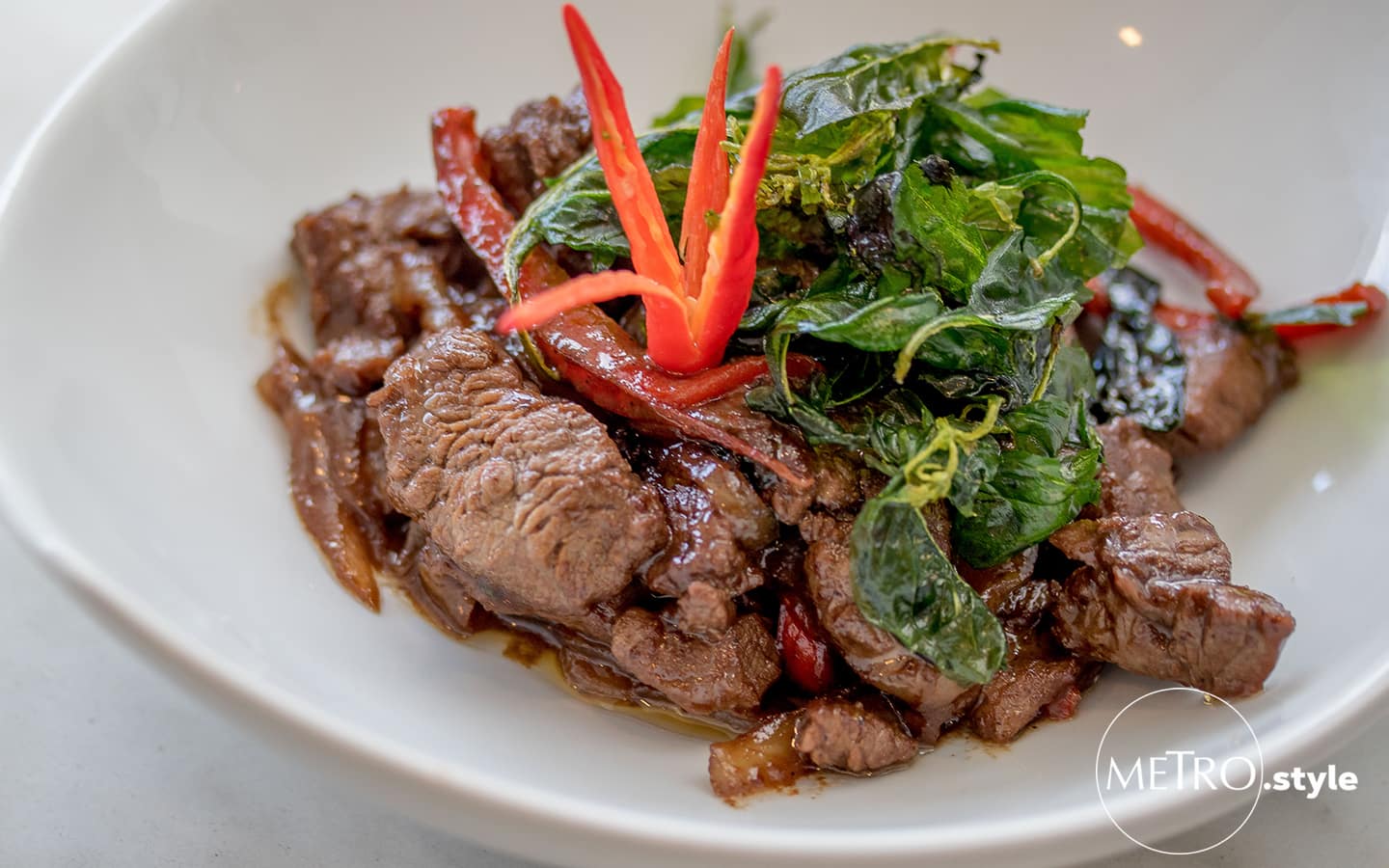 Stir-fried Beef with Fried Basil | Paulo Valenzuela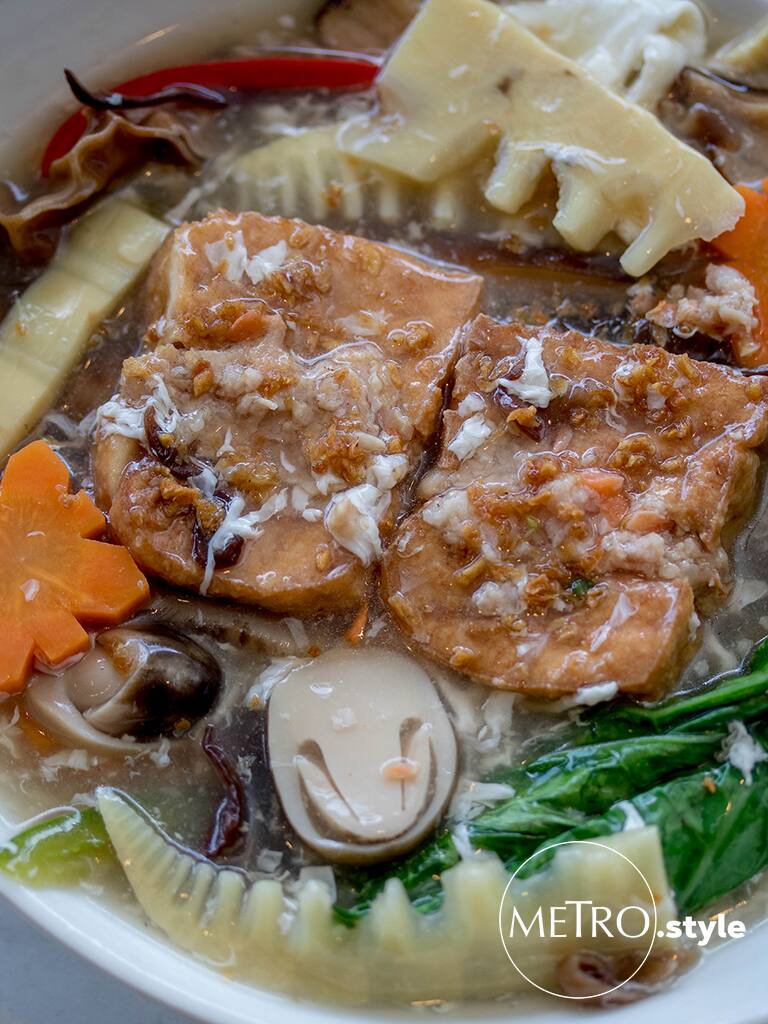 Braised Stuffed Tofu with Mushrooms | Paulo Valenzuela
Another favorite is the Sambal Sotong, stir-fried tender pieces of squid, colorful sweet bell peppers and Pandan's signature homemade sambal sauce. I like that it's just spicy enough to be able to fully appreciate the whole dish including the smoky flavor—that breath of the wok, so to speak.
Overall, the menu is lighthearted and with focus on the clear, distinctive flavors of local ingredients. No gimmick, no fuss. On weekends, large crowds partake of these dishes including the popular Char Kway Teow, Nasi Goreng, and Seafood Laksa.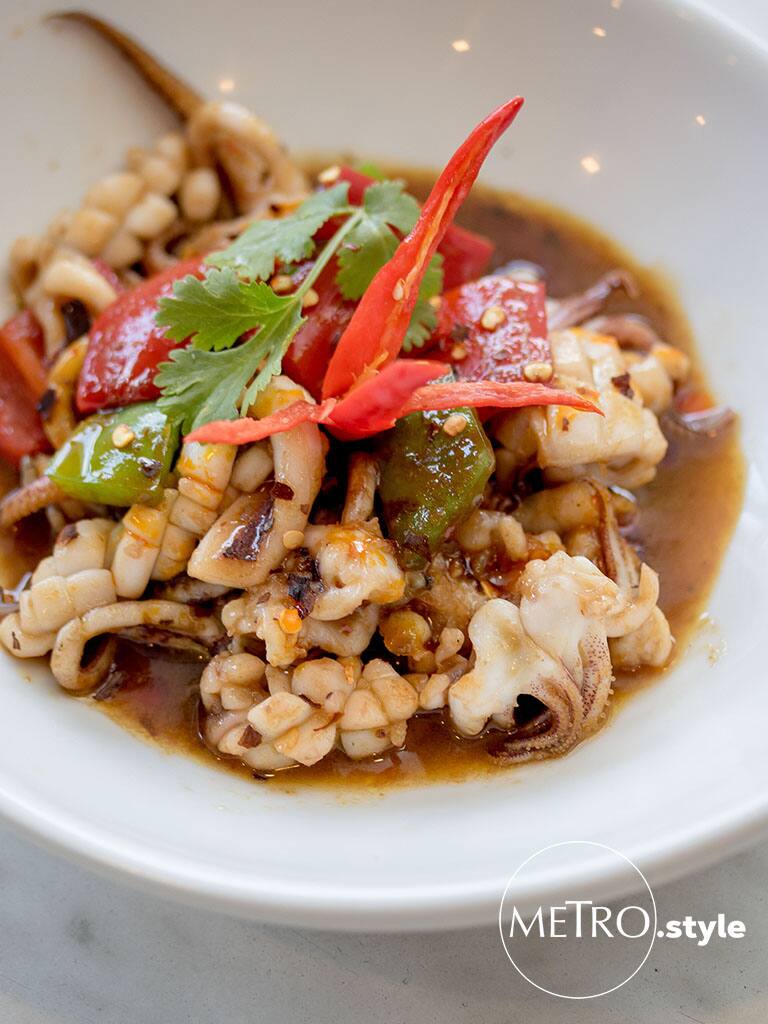 The Ivy Almario-designed space reflect this refreshing take on Asian cuisine, building on the aesthetics of the pandan leaf with bright interiors and the youthful vibe of the Crazy Rich Asians era. You can begin to Instagram your Pandan Asian Café experience in the fresh green background of the reception area.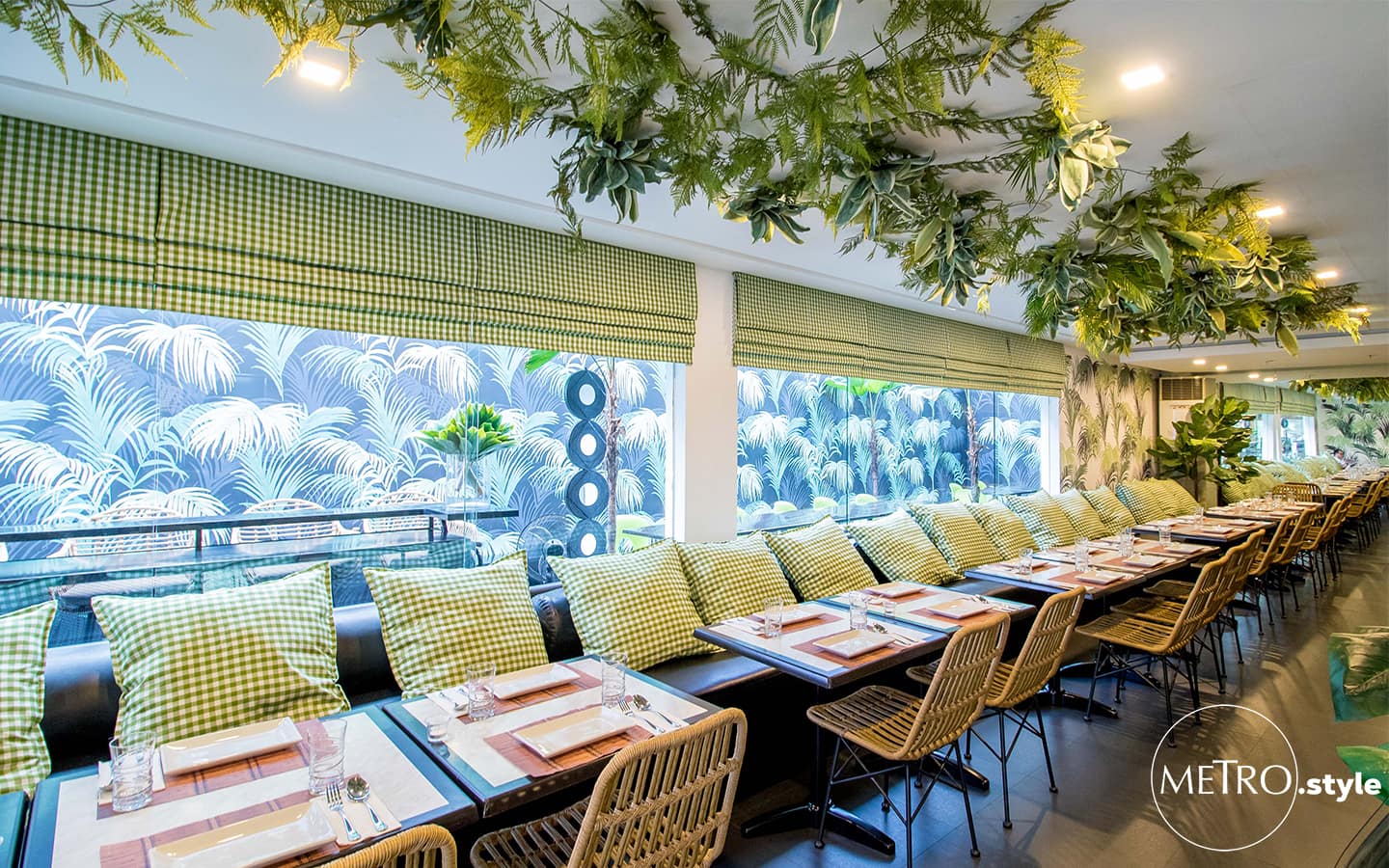 Fresh and vibrant | Paulo Valenzuela
You can end the meal with some interesting dessert creations where Chef Tatung becomes more playful. The Sizzling Bibingka is served on a mini sizzling plate with a latik sauce poured just before you dig into it. It's reminiscent of the royal bibingka popular in Ilocos Sur, but with its own Tatung touch.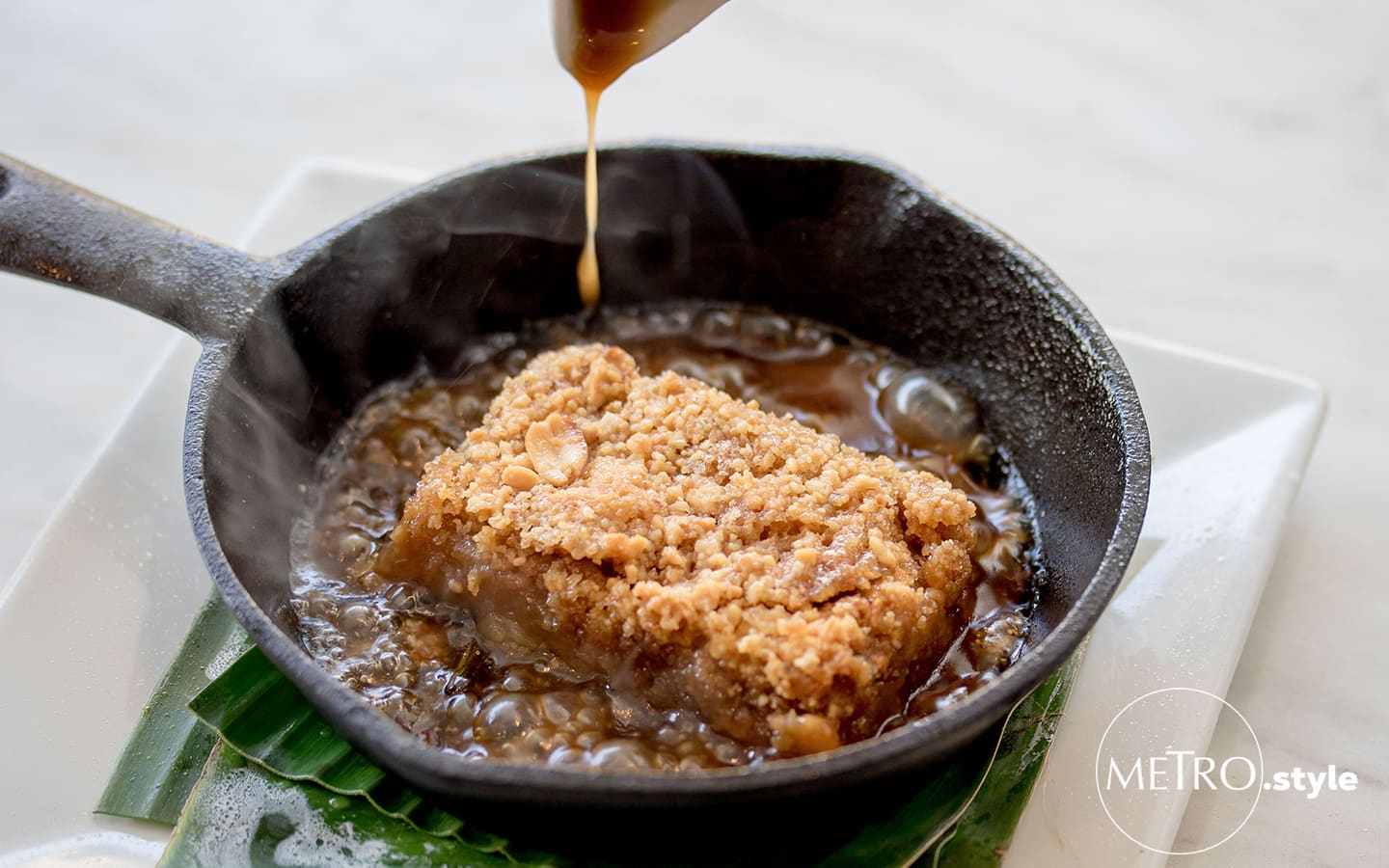 Sizzling Bibingka | Paulo Valenzuela
Sticky Rice may not sound like much on paper but it's a two-toned kakanin that honors tradition while at the same time becomes a canvas for creativity. Half is dyed in butterfly pea flower (Clitoria ternate) which makes it light blue and has a subtle hint of ginger, which is recognizable especially if one grew up eating similarly rendered kakanin (some recipes of suman and biko from the Visayan regions add ginger into the mixture). The other half is colored brilliant green from the puréed pandan. A slice of mango completes the plate.
The Buco Crumble on a white ramekin has a base of young coconut meat held together by a creamy custard with a top crust of buttery streusel. Chef Tatung's version of the buko pie is simplicity at its finest.
#76 Scout Limbaga Stret, Tomas Morato, Barangay Laging Handa, Quezon City, (0917) 774-8999, or follow Pandan Asian Café on Instagram.