LOOK: Can't Travel? This Restaurant Is The Best Place For Destination Dining In Manila
An al fresco dining destination where you can chill out with your friends and family, and indulge your Southeast Asian cravings
We are very fortunate to have easy access to a global food palate—with a Japanese restaurant hanging out in every corner, good Spanish places abound, and easy access to French, Indian, and Persian cravings whenever we feel like eating something that did not come from our kitchen.
Surprisingly, we only have a handful of places that come to mind on the subject of Southeast Asian cuisine. Our neighboring ASEAN nations—Thailand, Vietnam, and Malaysia, to name a few—have beautiful flavors that are worth noticing, but when we think about going out for a food trip, the first thing that comes to mind are burgers, pizza, pasta, and sushi.
In response to this gap in the market, Chef Christina Sunae sought to bring the beauty of these cuisine and merge them with Filipino flavors to create something phenomenal.
And so, Sunae Asian Cantina was born. In partnership with Carlo Gordon Lorenzana—restaurateur behind Nikkei, La Cabrera, and Single Origin—Chef Christina created Sunae to bring together all the outstanding characteristics of our favorite Southeast Asian dishes and create new flavors and unique pairings.
As an Asian-American chef raised by her Kapampangan Mom, and having backpacked around the world, Chef Christina knew her way around playing with gastronomic fusions. Her passion for traveling and tasting the world became the foundation of her first restaurant in Argentina, Cantina Sunae, which celebrated her Southeast Asian roots.
Last year, she brought this back to her home turf with Sunae Asian Cantina in BGC, where she continued to play around with Southeast Asian dishes and techniques, anchored in Filipino flavors. This is why you'll see siomai and rendang sitting beside a Davao pomelo salad, or pork adobo slapped inside a steamed pao with some kimchi and marinated cucumbers.
Apart from the food, the harmony of cultures is also splashed across the canvas of Sunae Asian Cantina's interiors. Hanging lamps made of synthetic rattan light up the whole place, bilaos that would've been used to peddle Vietnamese spring rolls or pad thai line the ceiling, and art pieces featuring Southeast Asian characters and design are scattered around the restaurant.
It's homey and familiar, but fresh and new at the same time. That's the charm of Sunae's interiors—a place to hang out with your friends to try something new, or somewhere to bring the whole clan when you want a conservative but hearty feast. It helps that they have an all-day happy hour in place for when you want to chill with your amigas, where you can enjoy 3 drinks for only 500+ pesos.
It's also worth mentioning that Sunae has a generous al fresco dining space, perfect for dining under the stars or enjoying the cool afternoon weather. With Covid-19 still in full swing, al fresco dining has also been a preference of many, and it's great to have places like Sunae where you can comfortably enjoy your food.
Since it opened last year, Sunae Asian Cantina has started rolling out new dishes to keep its menu fresh for their patrons. And recently, they've added four new dishes that highlight Vietnamese and Thai flavors, but grounded with a Filipino twist.
Check out our gallery below for Sunae's new menu additions, and for a virtual tour of the cantina.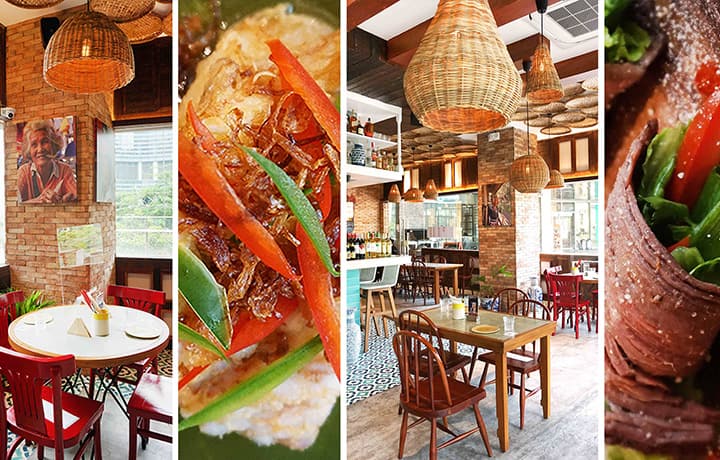 New and exciting dishes
SWIPE LEFT OR RIGHT
TO NAVIGATE BETWEEN PAGES
Fresh air, morning to night
Lola's Tinola Dumpling Soup
Sunae Asian Cantina is located at 2/F View Deck, One Bonifacio High Street Mall, 5th Avenue, Bonifacio Global City, Taguig City. For inquiries, contact them at 0916-607-4903 or visit their Instagram page at @sunaeasiancantinaph.
Photographs by Jovi Figueroa and Leomark Responde