IN PHOTOS: Dried And Pressed Flowers Are The Chic New Trend In Cakes And Pastries
Here's what you should know about them
Dried flowers are the prettiest trend in everything right now, especially in interiors, and with good reason. They're beautiful, they make the home much more pleasant and fragrant, and they're much more sustainable than using fresh flowers for decoration.
But did you know that the dried flower craze is now spilling over from our living rooms and bedside tables into the food that we love to eat? Yes, we're calling it right now. Dried flowers in food is definitely trending, and we're loving it.
Incorporating dried and pressed flowers in sweet treats is not rocket science, but while some flowers are edible and have actual health benefits (like hibiscus, dandelions or ternate), you should know that not all flowers can be eaten. If you're ordering a cake with pressed or dried flowers, always make sure to ask the baker if you can eat the floral decor. Also ask about where the flowers were sourced. It's best when the flowers come from good local farms, and were properly processed before they were baked into the goods.
Some cakes are adorned with dried flowers that are strictly for decoration only. They function just like cake toppers and chocolate-coated styro in intricate cake designs. In these cases, the bakers should tell you to first remove or scrape off the flowers before eating the cake.
So do take appropriate care. As in all things, your choice of cake boils down to your preference, taste, and needs. So we're curating our favorite treats designed and leveled up with dried and pressed flowers, and we'll leave the final decision to you.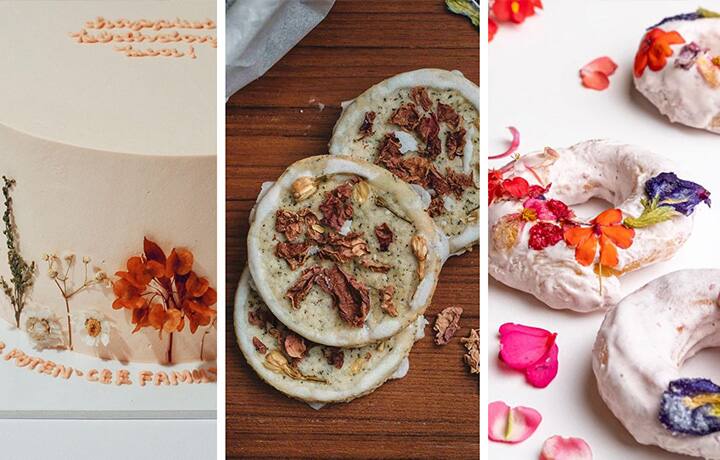 Floral Bakes
SWIPE LEFT OR RIGHT
TO NAVIGATE BETWEEN PAGES