10 Must-Knows from The Daily Butlery
Sanj Licaros teaches the culture of refined service practically adapted to the Filipino setting
"Butlery is a culture," Sanj Licaros says at "The Art of a Table," her recently workshop in Lanai, given as part of Art Fair Philippines' Ten Days of Art. Sanj is the lady behind The Daily Butlery, which offers butler style training services and consultancy for private homes and businesses locally.
Coming from a rigid corporate background, Sanj found herself instilling the same order and discipline in her home staff, running it as precisely as her intense corporate life. She took the opportunity to attend at The International Butler Academy in The Netherlands. Their website declares, "We are proud to be the finest and most innovative butler service training institute in the world, second to none. We are equally proud that some of the world's wealthiest families, international businesses, as well as five-star hotels, resorts, private clubs, and cruise lines, turn to us for staff training, for staff recruitment as well as for our highly specialized consulting services."
The International Butler Academy's grueling 10-week, 800-hour program taught Sanj and her classmates the duties of a butler, valet, personal assistant and house and estate manager. "There are a lot of restaurants in Manila, but how many can you say had good, memorable service," Sanj asks. Addressing the need to properly teach the culture of service locally, Sanj put up The Daily Butlery. At The Daily Butlery, she teaches a pragmatic approach to the butlery, as adapted to the Filipino setting.

Here are ten tips from Sanj Licaros:
1. The first step in planning for entertaining at home is to create a menu. The menu will dictate what cutlery, wine and glasses you will need.
2. The cutlery nearest to the plate is for the main dish.
3. The oyster fork is the only fork that is allowed on the right side of the plate. You will recognize it for having three prongs.
4. A salt shaker has more holes than a pepper shaker which only has one hole. However, you may feel free to use the salt shaker as a pepper shaker should your diet call for less sodium.
5. A typical place setting calls for 1 salt and pepper shaker set per person, but it is also acceptable to allow up to three people to share one set.
6. Wear white gloves when preparing the cutlery. These prevent from the imprint of thumb marks and finger prints on your silver. These days, anything that will keep meals hygienic is welcome. White gloves will help with this. The best silver cleaners are Wright's, Hagerty or Arm and Hammer.
7. A spoom is a palette cleanser. It is made from fruit, sherry or port, and is served in a tall glass. It usually goes on a small plate when it is served. You can stand up and leave the table for 15-20 minutes for the spoom course.
8. The charger is taken out of the table setting for the dessert course.
9. You serve on the left. Clear on the right.
10. Best books on entertaining: The Emperor's Table by Valentino and Ricky Lauren's books, "Cuisine, Lifestyle and Legend of the Double RL Ranch" and "The Hamptons: Food, Family and History"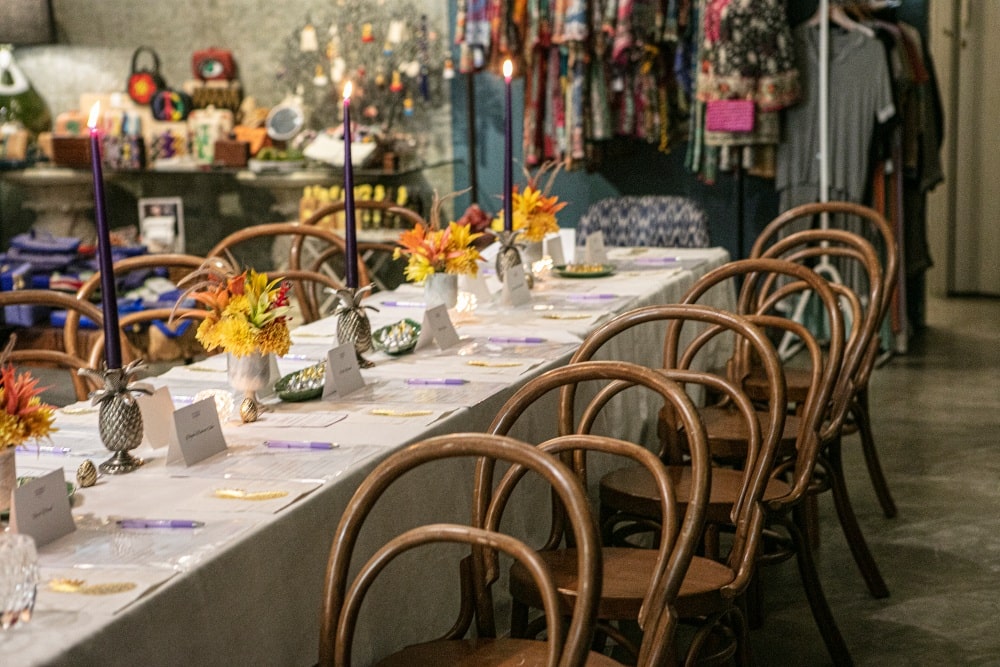 Today, entertaining family and friends in restaurants is becoming more of a norm, but don't dismiss the finer aspects of entertaining at home as being a mere frivolity. Knowing these points of etiquette allows you to have a more pleasant experience as you entertain, or even as a guest. It also makes a case for building your own home's traditions. You may not need a butler, but a workshop with Sanj is a great refresher on the art of refined entertaining.