20 Easter Table Settings That Say Yes To Life
These Easter and spring-themed table settings will end your hunt for fun and festive ideas
It's another Easter celebration with our immediate bubble! No worries. The Easter bunny is in charge this year, and he's sending lots of inspiration your way via these Easter and spring table settings.
In countries blessed with four seasons, Easter is the signal that spring has arrived or is well on its way. A season to appreciate the budding of flowers and the emerging signs of dewy grass and vegetation after the freezing winter, spring is life affirming. These tablescapes celebrate it in full color and full bloom: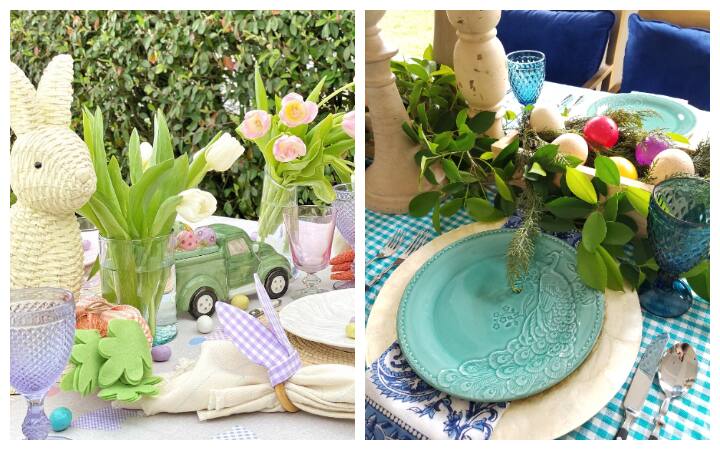 Photo Gallery
Photo Gallery
To localize this, Cresencia Garcia-Sabillo, an interior stylist, shares her Easter tablescape ideas with Metro.Style. Not a stranger to fine taste, Garcia-Sabillo worked in the interior design field where she specialized in hospitality and office design for 15 years after graduating with an architecture degree.
On the woes of making celebrations and family meals special during the pandemic, "Step up! Not everyday should be special but make sure to create a different mood for your family's meals. Making a colorful Taco Tuesday, Korean Samgyeopsal or a delectable spread of Boodle Fight are some ways of bringing the family meals special," Garcia-Sabillo advises.
This professional has found ways to make this pandemic season special for her kids. She's the kind of homemaker who makes sure that a halo of silver lining graces her children's lives in these times. "During the lockdown, we have time to glamp in our garden and picnic on our rooftop. These small moments give me a chance to decorate and make a stylish experience for them. This time also allows me to rearrange some pieces of furniture and accessories; cleaning my blue and white China collection; and fixing my hosting essentials," she shares.
This Easter, she looks forward to her kids' annual Easter egg hunt tradition. "I want to bring the garden to our table, and allow the family to play the Easter Egg Hunt for the Easter Sunday celebration," she says, sharing the concept for the table setting she created.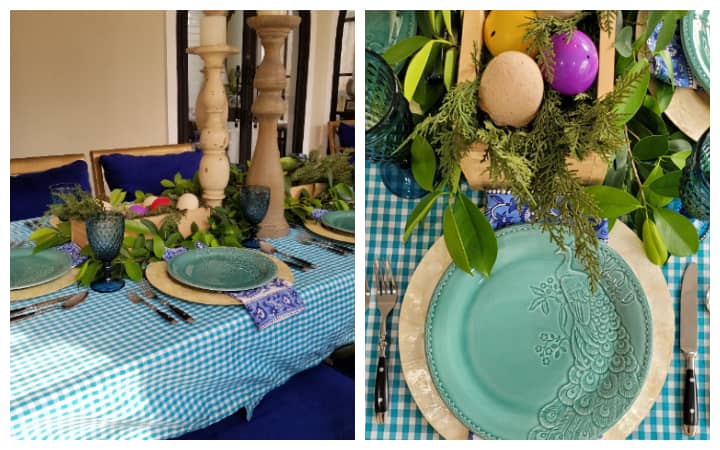 Photo Gallery
Photo Gallery
To achieve this at home, you will need:
- A box filled with garlands (Feel free to repurpose the ones from Christmas.)
- Colored plastic eggs with surprises inside (Fill them with candies, toys, or even cash!)
- Leaves or plants available in your garden
- Candle holder
- A good background such as lovely table cloth or placemat
- A neutral plate charger for a solid teal colored plate
- A set of silver and glassware
Take your cue from Cresencia Garcia-Sabillo as you prepare your Easter table setting. Here is how she makes her homemade feasts feel special:
- Think of the celebration's theme
The theme dictates the direction in planning the whole event, whether a simple burger kiddie party, an alfresco set up for a summer get together or a formal dining feast.
- A Lovely Tablescape
A good table setting seems to make the food taste better. It also inspires lively conversations and sets the tone for occasions.
- Food and drink create abundance.
These tie the whole thing together, the most important and memorable part of any celebration, especially for those who came hungry. There must be an abundance of choices when it comes to food and drink.
- Music to set the mood.
A killer soundtrack is very important in setting the mood. Although a little tricky to get right, it makes your guests comfortable with the right volume and playlist.
- Add something totally unexpected.
Unexpected things like a successful surprise birthday party, home cooked meal made by someone special who's not really cooking, or a unique getaway, these are some ways to make unforgettable events.