9 Stylish Entertaining Essentials For Chic Everyday Dinners
Make dining at home more special with these must-haves, and you won't miss dining out
Though restaurants have allowed dine in again, it's for a very limited seating capacity nowadays. Many are also lulled into the comfort of dining at home, ordering their favorites via delivery. You don't have to sacrifice ambience for comfort and convenience if you're one of these. Create your own extraordinary dining and entertainment experience at home with Crate and Barrel's new dinnerware, glassware, flatware, and serveware collection.
Everyday dinners can become special with your family's favorite recipe or take out served in Marin dinnerware's artisanal ceramic shapes or glazed Vistro Stoneware Dinnerware's fun angles and a fresh modern look.
Host your own intimate cheese and wine tasting session at home made more elegant with Crate and Barrel's Hayes Marble Serving Board with gold finished handles for cheeses and charcuterie, fresh fruit and crispy crackers. The French Kitchen Marble Cheeseboard, on the other hand, has a built in stainless steel sliver with a sharp cutting wire that creates a flat serving surface. Chill your wine with a French Kitchen Marble Wine cooler for classic flair.
Miss those nights out with friends? Cap your evening with an after-dinner drink and light conversation with barware from Crate and Barrel – the Hatch Highball Glass, an heirloom classic; and the thick-walled Dylan Glass that's also ideal for everyday use.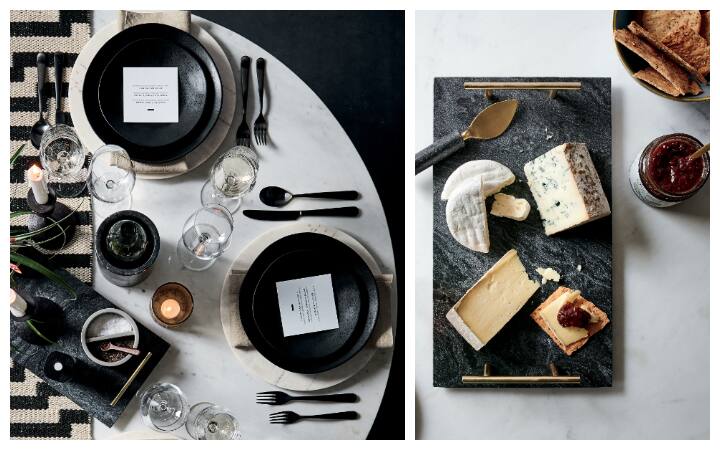 Photo Gallery
Photo Gallery
Shop for these and more online now at www.crateandbarrel.com.ph. Click away. More collections are on the way, and more choices can be found in the stores.
For more choices, you can visit the Crate and Barrel stores or order by phone at SM Aura 09178895667, SM Makati 09175833573 and SM Megamall 09178704796.