Bright and Joyous
Lifestyle columnist Frannie Aguinaldo-Jacinto spreads the yuletide cheer by telling stories of merry, supersized family gatherings; timeless, lovingly picked heirlooms; and a signature recipe holiday party guests can never get enough of
My husband, he loves Christmas. He tells us to put the decorations up as early as September," columnist Frannie Aguinaldo-Jacinto shares as she ushers us into her home. As soon as we enter, it becomes even more apparent that the Jacintos take their holiday celebrations very seriously: a traditional belen from Tesoro's welcomes guests at the front door, a mechanical dancing Santa Claus stands near the dining table, and in the home's main room, there are two towering Christmas trees because, why not?
By just looking at the décor and how everything is set up, it's easy to tell that the holiday celebration in the Jacinto household is relatively supersized. "We usually host around to 20 to 30 people, mostly family. But when we have balikbayan friends come home for the holidays, we also love to have them here as well." Jacinto then shows us the poolside garden where additional tables and chairs are set up for guests. A tropical paradise, the garden has been transformed into a cheery Christmas scene with colorful parols and white LED lights dotting the trees and surrounding foliage. It looks just as though a delicate and glittery layer of frost has coated the garden. "This area is usually for the younger guests. They like it here."
We are later showed back into the house and Jacinto excitedly tells us about many interesting Christmas pieces in her home. There's a sleek-looking Tamilee Christmas tree that's just the right balance of having a modern and classic aesthetic. "For this tree, I just wanted to go with the classic red, green, gold, and silver. I like classic colors."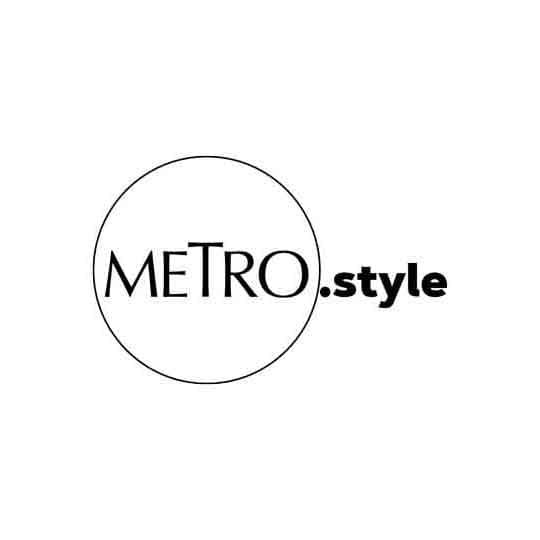 Frannie Aguinaldo-Jacinto is happy to have family heirlooms in their Christmas set ups. The porcelain was handpicked by her father, while many ornaments were also passed on by her mother. | Paul del Rosario
A Centerpiece of Many Christmases
The table setting is a tasteful combination of family heirlooms and holiday décor. The centerpiece, Jacinto tells us, has seen many family Christmases. They've added baubles and flowers onto it as the family grew. The festive table runner is from her sister in the United States.
While the centerpiece is lovely, the true showstoppers in the table setting are the sterling silver cutlery and porcelain plates. "My father appreciated beautiful things. He always insisted that we use sterling silver cutlery not just during special occasions, but every day.
Because every day should be special. Also, he's picked all of these plates by Fitz and Floyd and he did so quite creatively. See?" Jacinto lifts some saucers and plates and rearranges them. "If you'd notice, they're all different. They're not a uniform set. My dad made sure of that, so you can mix and match them." Some plates had salmon colored detail while some have floral designs set on a black background. It is wonderful personal touch Jacinto is proud of. "I'm lucky to have gotten these plates! My sister lives abroad and my sister-in-law wasn't interested in them. I am so glad that I got to keep them."
The living room is inviting and cozy. On the sofa is an old pillow cross-stitched with a Christmas pattern. "This is from my kids' childhood, so I kept it," Jacinto shares. She also tells us that she had kept Christmas stockings from those days as well. "These were given by neighbors when we lived in the States many years ago. We still use them and put goodies and gifts in them." The living room table is decorated with porcelain angels from Piadro. There's also a miniature tree that displays Tiffany, Waterford, and Baccarat Christmas trinkets from over the years.
And it isn't just the dining and living areas that are decked in a profusion of holiday décor, our host later reveals. Even the bathroom is festive. "I just want my guests to find it cheery everywhere," shares the columnist. The guest bathroom mirror is adorned with glittery poinsettia while the chandelier is made colorful by snowflakes and shiny balls.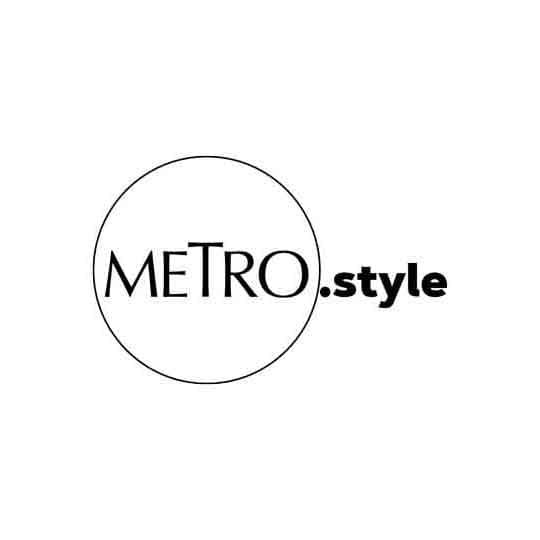 The dining table is all set for a traditional Christmas meal. | Paul del Rosario
On the Holiday Table, a Sought-After Roast Beef
Anyone who'd visit the Jacintos' home during Christmas will surely feel the joyous atmosphere that was lovingly created. Another very important part of the annual family Christmas feast is a special roast beef. "We have plenty of food, but people always look for the roast beef. We have it flown in from the States and our guests love it! One of the secret ingredients in the recipe is rosemary. It makes it really tasty."
In addition to the roast beef, salads, roast turkey, and pasta are usually served at the party. For dessert, there's Baby Yulo's homemade caramel crunch, some chocolate cake, bread pudding, and fruitcake. There are also wine and champagne to celebrate the holiday spirit. "Since we have plenty of guests, we make sure to have a lot of food. We also end up sharing them with neighbors and everyone in the community who have helped us all throughout the year. It could be the guards, the people who helped with our internet, the drivers, the people who help us with the garden. The holidays
are all about giving, so we do our best to share."
The Jacinto home is undoubtedly a bright and joyous one every Holiday season. More than partaking of the beautiful décor and an array of delicious food, being there is wonderful simply because of the fun times and happy memories the family creates with their friends and loved ones. "We're a musical family, so during the party, my husband would bring out his amplifier and guitar and play some music. It's always fun. Guests participate. It's something everyone enjoys." In this house, it's always a gathering to remember and cherish.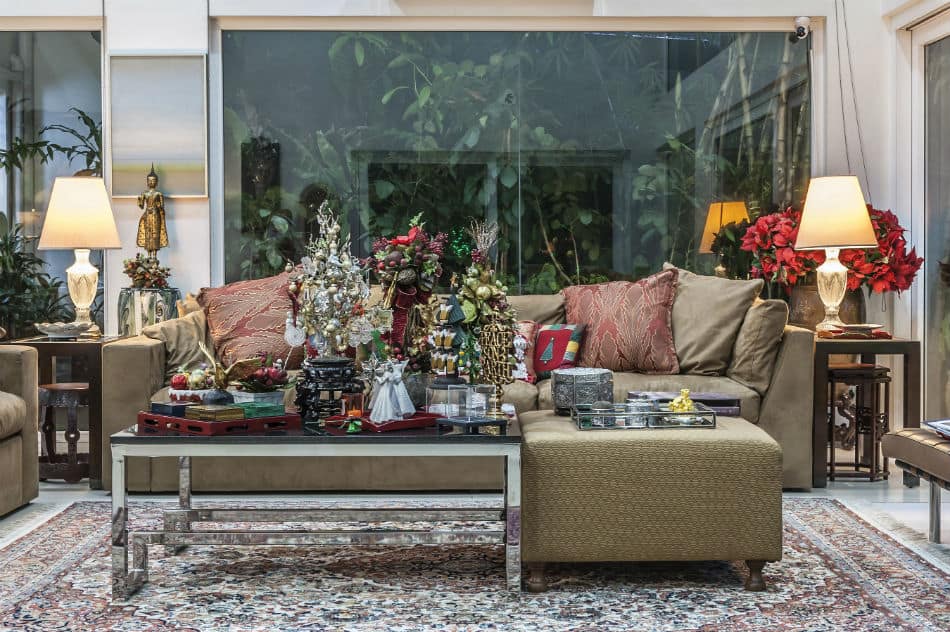 Makeup by Patrick Alcober for Makeup Forever
Hair by Nikko Bruel for Hairstylist, Inc.
Special thanks to Raul Manzano and Metro Society