15 Bountiful Chinoiserie Tablescapes For The Mid-Autumn Festival
Celebrate this harvest season feast with one of the most enduring design styles loved by many all over the world
The Mid-Autumn Festival is upon us, and for many who honor Chinese traditions, it's a celebration for the entire family. Aside from the requisite moon cakes that are given during this time, the dinner table should also be lavished with dishes and objects that symbolize the family's unity and harmony. Fruits such as pomegranates and pomelos; vegetables like taro and pumpkin; flowers, and various dishes (duck and crabs are a must!) are present at the table, symbolizing gratitude for nature's abundance and reunion with the family during this time.
Is there a style more fitting for your table to celebrate this occasion than chinoiserie? Loved by many across the world, chinoiserie is actually a Western style of decor that draws inspiration from Chinese motifs, as seen in textiles and porcelain. Distinctively Chinese aesthetics crossed over to Europe via trading. Some say that the travels of the Italian explorer, Marco Polo to the East in the 14th century sparked this trend. Its fruition owes to the bustling trade between China and Europe in the 18th century, when stunning blue and white Chinese porcelain pieces were first traded to Europe. The trend caught on for its light and airy motifs, featuring dragons, butterflies, birds and Chinese scenery— definitely a refreshing counterpoint to the stiff and heavy brocades, decor and furniture prevalent in the European Baroque. Its earliest notable appearance in European architectural history was the Tiranon de Porcelaine, a porcelain pavilion built for Louis XIV in Versailles by architect Louis La Vau in 1670.
Chinoiserie continues to be a well-loved style to this day. Having gone through various incarnations through the times, some of its characteristics stay, proving that this style is enduring, even millennials have taken to it. The blue and white color scheme; depiction of natural landscapes and Chinese figures, pagodas, dragons, phoenixes, peonies and pomegranates still figure in paintings, home decor, textiles and as a theme to dress the celebration table.
We scoured Instagram for the best examples of these: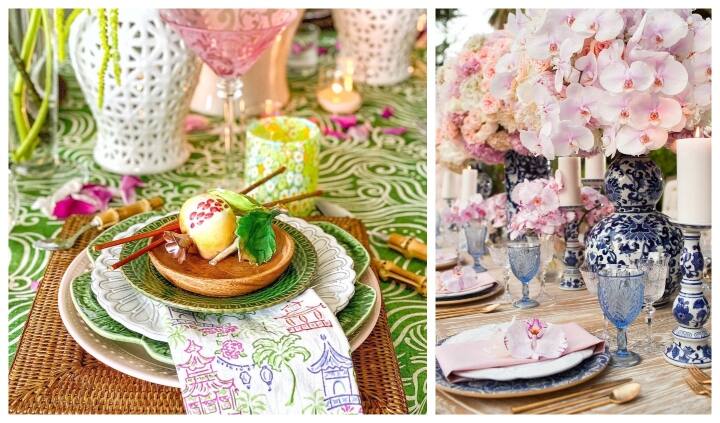 Photo Gallery
Photo Gallery