Rustic Elegance Defines This Holiday Setting
Chippy Ledesma sets a table for a family gathering and shares her tips on relaxed entertaining
Metro.Style traveled to Nami Carolina in Alfonso, Cavite to tour the estate and to witness one of its owners, Chippy Ledesma style a holiday table meant for a gathering of family and friends. Anyone who's seen Chippy's Instagram knows that this is indeed worth the drive, as she had been busy perfecting the art of tablescaping during the past two years.
Nami Carolina Wellness Estate is a bucolic property that has opened its doors for private events and even stays. Inspired by Cape Dutch architecture, the cozy place welcomes guests to stay and enjoy a 6-course degustation chef Jigs Rondolo and curated towards health and wellness.
"Whenever I start design projects, I either begin with what I want, what I see in my mind's eye, or, interestingly, I start with exactly what I don't want. With the latter, the goal is to ensure that I achieve my target by veering as far away as possible from a fixed point that I am, to put it mildly, not inspired by. In this tablescape, I started by inhabiting the space in myself when I enter pristine showrooms. Usually, everything is brand new and shiny. This polished world does not appeal to me nor arouse me in any way. I love new things but when everything is too polished I find that it lacks soul. Thus, as always, I love the interplay of old and new, perfect and imperfect, simple and ornate," reveals Chippy Ledesma, who describes her holiday table setting with the words, "rustic elegance."
The setting is rooted in the local: from the foliage that was sourced from the grounds that surround the property, to the Casa Juan tableware depicting the mabolo or the velvet apple, a fruit native to the Philippines. Pops of red make Chippy's table festive, complemented by the golden glimmer of the cutlery and the table accessories. Warmth is amplified by the orange hues that brighten up the composition even more. Cool tones courtesy of the foliage from the garden anchor the elements of this setting. All of these rest on a homespun burlap table runner, accompanied by burlap placemats which give the arrangement a rustic feel. Just to give the setting a perfect dose of irony, Chippy sets white napkins printed with black stripes on a diagonal to the upper left corner of each plate, throwing the symmetry just a touch off-kilter and punctuating her composition. These echo the dining chairs' upholstery which are rendered in a wider version of the black and white stripe.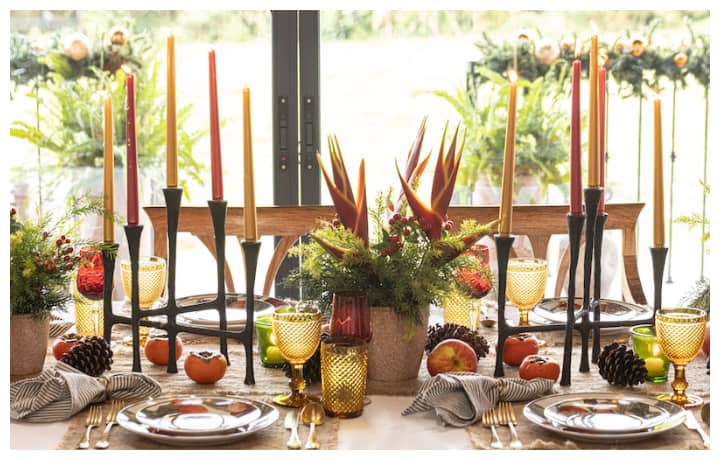 Photo Gallery
Photo Gallery
"The centerpiece is something that can just be plucked out of a farm or a home garden. This wouldn't normally be the star of the show but I said to myself, 'Why not make it so?' To be honest, this isn't my normal style. My mom-in-law, however, after whom the Nami Carolina house was built, loves the color red. We miss her as she is spending Christmas away this year so I am happy to design something in her honor that, I believe, represents the farm house that she inspired," continues Chippy.
Nami Carolina, named after Chippy's mother-in-law, was built during the pandemic. The warm retreat was meant to be a small affair that could fit the whole family, and it has been serving its original purpose, not just for the Ledesmas, but also for families who have enjoyed a stay there.
For those hosting during the holidays and even after, Chippy has some wise pointers:
1. Use what you have immediate access to create something of beauty. This isn't about having the most expensive and flashiest items. Instead, see the magic in what is already in your midst but just needs to be combined with other items or styled properly to make things work. Remember, cost need not be related to how you end product looks.
2. Avoid using faux. While it is tempting to use things that are fake, tablescaping, at least in my view, is about what is real. Again, scour your garden or your neighbor's garden (but ask them first, of course ). Perhaps, there are things there that can be of use to you.
3. I think what unites everything I do is that [the result] is cohesive. A simple, common thread runs through each piece. I am aware that less is often more so I am conscious to edit more simply add. Last, I wait for my heart to tell me when to stop. It is from my gut, that voice that says, "Stop, you're done." Once I hear it, I also make sure to walk away.
Photographs by Jar Concengco