See How This Crazy Rich Asians-Themed Debut Recreated The Movie's Iconic Wedding Scene!
This debutante wanted nothing more than to emulate the film's most decadent scenes and its characters' elegance
Months before debutante Ysabel Marie Salud Vidor turned 18, she already knew what her life's biggest party would be all about: a Crazy Rich Asians-inspired visual feast that represented both beauty and deeper themes of self-love and independence—qualities that the novel's, and later on film's, female characters all possessed.
"Personally, as a Crazy Rich Asians fan, I think that the concept was enthralling. The characters and the theme of the story, somewhat, resemble my personality: being determined to achieve anything and persistently defying the odds. Aside from this, I love how it champions women empowerment throughout the film which has been the center of discourse," Ysabel shares.
And so, with the help of her uncle and event planner Jhune Salud and his industry partners, Ysabel got to work, conceptualizing her party and making sure that the experience would be something that she and her guests would look back to for years to come.
Come her big day, everything turned out spectacular; it was as if the party had been held in the movie set itself!
In particular, the film's wedding scene was the focal point of all the larger-than-life décor and was flawlessly re-interpreted. It came complete with the oversized lanterns, greenery-lined aisle, reflective flooring, as well as hundreds of light bulbs to add drama and romance. All in all, it was the perfect setup for Ysabel to make her grand entrance that evening, her majestic ball gown adding to the beauty of it all.
"To be honest, everything was on-point that night, thanks to the collaboration of top event stylists from the Philippines, namely Michael Ruiz, Teddy Manuel, Gary Dacanay, Ariel Penaroyo, Jeff Namoc, Beth Amat, and 4th Wall," she adds.
And speaking of Ysabel's outfits, she didn't just have one, but three!
All her debut ensembles were created by couturier and family friend Edward Teng, and as this birthday girl described herself, her first look was "a triple balloon [gown] made from peau de soie. Gold and silver Swarovski crystals were [used as embellishments], as well as Japan beads and sequins [that cascaded] down to the wide skirt."
Taking their cue from this luxurious look, Ysabel's other two outfits were done in similar styles and boasted of the same scene-stealing personalities.
A heavily embellished red number with a bustier top sent Ysabel dancing and enjoying with her "18 flowers, treasures, and shots"—different people who played parts in her adolescence and accompanied her through her young life's most pivotal moments—while a third and final dress came in the form of a playful yellow cocktail dress outfitted with a bow and feathers.
Remembering the night with nothing but joy, Ysabel also describes how lovely all her guests looked in outfits of all white, as well as the fun attractions that included anything and everything from a glam booth and photo wall to a Potato Corner food cart and sushi and maki station!
And of course, nothing could compare to how she felt when all eyes were on her as she made her big hello as a young adult.
"My entrance was undoubtedly the best part of my debut. It was such an overwhelming feeling to witness those who were a huge part of my growth present in my celebration. I had goosebumps before I entered thanks my emcee, Ryan Tercero, who made things even more magical that night," Ysabel describes.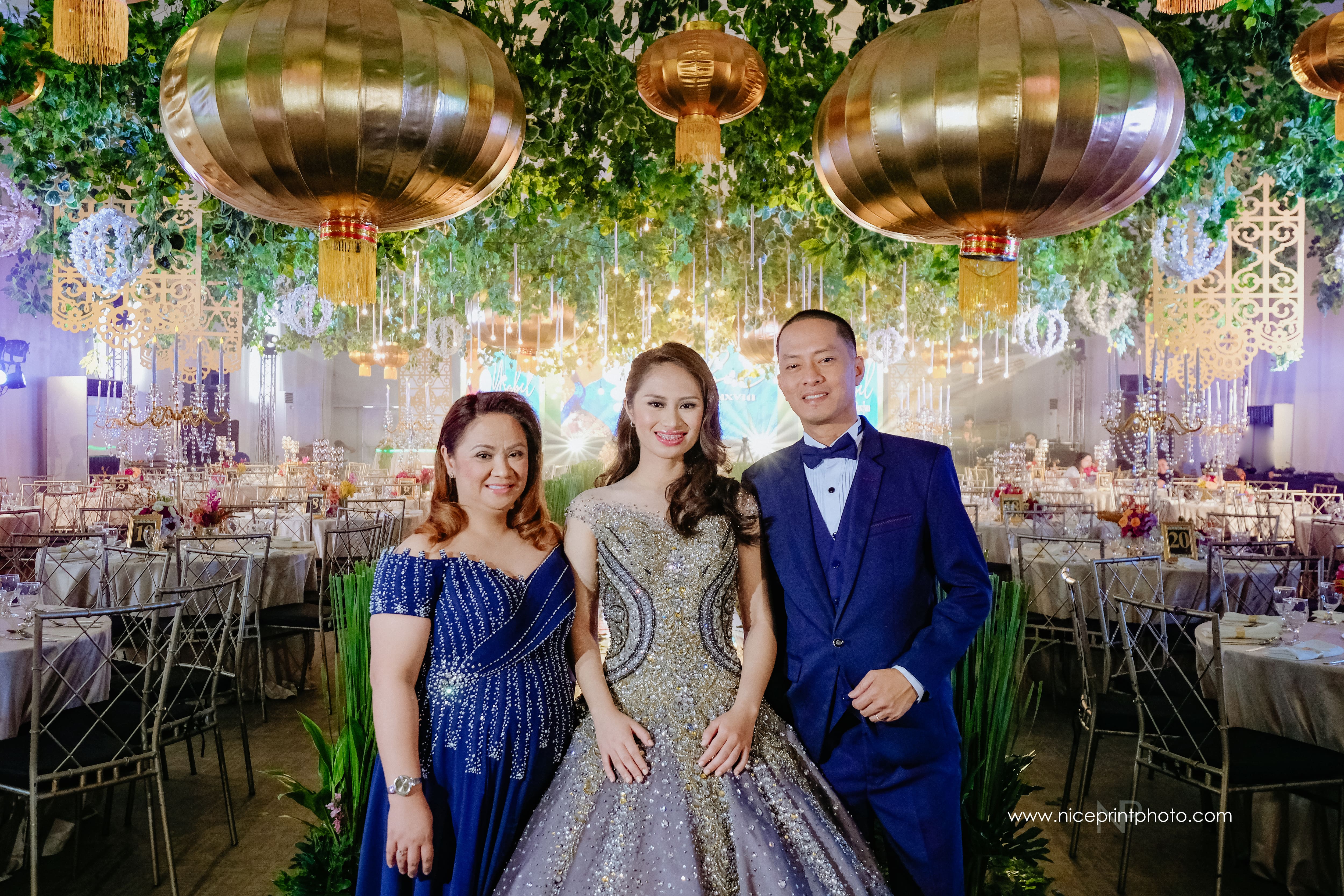 But more than the obvious glitz and glam of the occasion, Ysabel made sure to remind everyone of a second, more meaningful reason, behind the festivities—family, and how irreplaceable they truly are.
She recalls, "We booked the venue last year right before my grandmother passed away. Despite our loss, we pushed through with the celebration because we know that's what she would want to happen."
"The most memorable part [was] definitely how I witnessed my loved ones all present in the event, considering that family gatherings [seldom] happen and the fact that I saw my friends once again before we finally go into our separate universities. But most of all, I love the [that] band played which matched everyone's energy that night. The most challenging part was the fact that my celebration wasn't supposed to push through because of my dad who is working overseas. Thankfully, it was Ramadan season, and he was allowed to have a four-day vacation leave," she continues with a grateful heart.
Having nothing but good memories from her 18th birthday party, Ysabel is sure to live the next chapter of her life with positivity and bright smiles.
Scroll through the gallery below to relive some of this debut's best moments!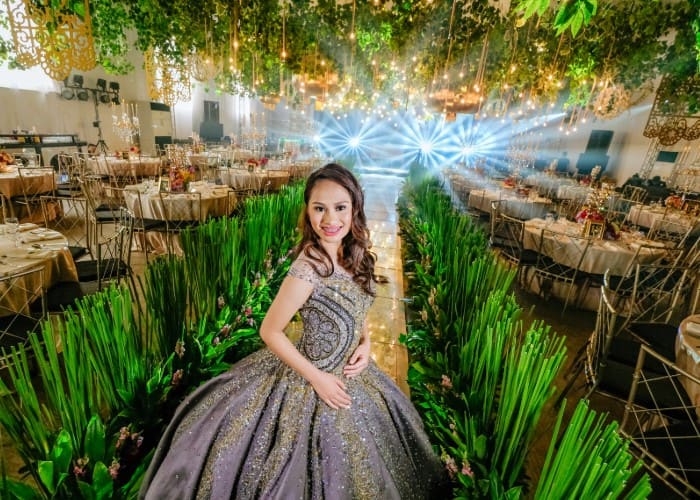 Crazy Rich Asians-themed debut
SWIPE LEFT OR RIGHT
TO NAVIGATE BETWEEN PAGES
Crazy Rich Asians-themed debut
Details:
Photo and video: NicePrint Photography and Exige Weddings
Makeup: Eddie Bruan and Gemma Lavarias Villamarin
Venue: Palacio de Maynila
Catering: Josiah's Catering
Cake: Alejandro Franco (Alex Franco Cakes) and Rosan Franco
Table centerpieces and entrance décor: Michael Ruiz
Entrance arch and LED wall framing: Teddy Manuel
Ceiling décor: Ariel Rodriguez Penarroyo
Photo wall: Gary Abar Dacanay
Gallery photos: Jeff Namoc
Photo booth: Photoman
Gold lanterns: Beth and Meg Amat
Mirror glass panel: 4th Wall
Lights and sounds: Sound Level Production Equipment Rental
Band: Sound Salad
Mobile bar: GQ Mobile Bar
Special effects: Hans Emerson Ong
Dancers: Elite Dance Force
Invitations: Printrade Society Printers
Coordination: Jhune Salud Events Team