Spring Into Easter With These Tablescape Ideas
The Plate Mafia's Dana Villegas gives tips on how to achieve a bright and happy table setting
Easter is right around the corner, and with no restrictions on celebrations this year, you'll want to get your table ready for a feast everyone will remember.
It's the perfect time for bright, happy spring-time colors and motifs. Bunnies, flowers and green pastures come to mind during this time of the year. How does one even begin to put it all together, what with all the fun motifs that are apt for the season? Metro.Style spoke with Dana Villegas, author of the Instagram account, @theplatemafia. A look at her feed provides an instant dopamine fix with all cheerful images of tablescapes she has put together and curated for her page.
"As far as I can remember or perhaps for most of my life, I have always enjoyed designing/ decorating/ interior designing, styling and fashion in general. I simply fancy anything aesthetically pleasing. So when pandemic came along with its restrictions, my ability to express became very limited. Nevertheless, it became a blessing in disguise for rekindling my long interest in tablescapes. Thanks to social distancing that kept us in our homes and left my unbridled hands into creativity," Dana shares.
Considering the table as a blank piece of canvas, Dana approaches each tablescape as a work of art. She starts with a theme which helps her decide on what plates to use. For Dana, there is a whole range of resources for these, from online shops to local stores if you want to purchase tableware, but using what's at home is also an idea that she endorses. Forgoing the typical matching tableware, she creates more interest with sets of mix and match tableware for which she finds inspiration which she finds in so many places, including the color of her daughter's dress.
"I revel in layering the different combination of dishes and witness my guests enjoy the surprise as they fascinate over the unpredictable yet interesting various patterns on the plates… My statement pieces always include delicately stacked dishes.It's the best way to showcase your curated collections. Vintage pieces that never go out of style and of course, locally handcrafted items that help represent and support our local artists . Lastly, beautiful lush floral arrangements are always a must in my table, it just instantly brightens up everyone's mood." she says.
Other table essentials such as the table cloth, napkins, table runner, flowers and accessories then come into play. Always, Dana prefers bright and happy colors.
This Easter, Dana advises going for bright, happy pastels mixed with neutral tones of say, a rattan charger. "One cannot dare forget the cute bunny decor along with toy eggs or even better, hand painted eggs that can be a great bonding for you and your kids on Easter," she continues.
In the gallery below, find ideas for your own Easter or spring-inspired table setting. You'll see that Dana had fun mixing elements up: chinoiserie shares the space with rattan; pastel-colored inabel makes a fun table runner for metallic glass plate chargers onto which dainty floral plates are layered; and daisies make beautiful flower centerpieces against a bamboo table runner and striped napkins. These prove that it's all about experimentation and having a playful spirit while you work on your table setting. This, after all, will create an experience that your guests will connect with.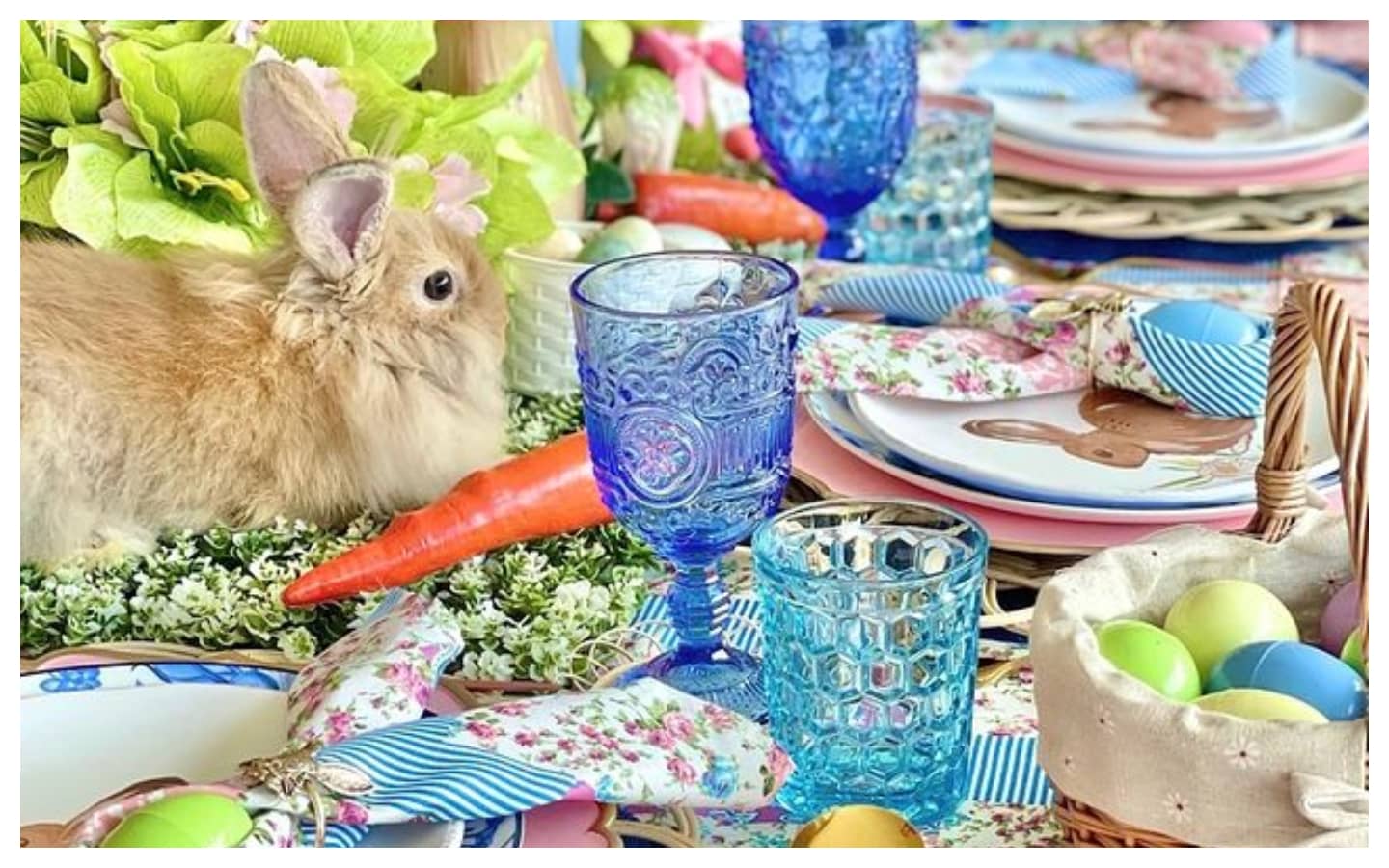 Photo Gallery
Photo Gallery
Take It From The Plate Mafia
The next time you get to set the table at home, remember Dana's tips:
1. There is no rule to table styling , setting the table to punctuate the day is a perfect way to freely express your own art through table top decorations.
2. Always take your fantasies out on the table. Create an experience and a sense of occasion to avoid monotony. The practice should give you a chance to create genuine moments of joy and connection around people.
3. It doesn't always have to be expensive. You can buy unique plates from vintage shops. It is best to invest in quality pieces that will stand the test of time because celebrations wont span just one weekend. Simply using tableware that you already have at home, then accessorizing it to brings your theme together.
5. Don't be afraid to experiment with colors, textures and other elements. And most importantly always be you. Authenticity starts from the heart. Personal touches will be the conversation pieces that your guests remember just because they are and will always be unique. And ultimately, always do everything with love. Tablescaping is and should always be about creating a space that feels special and that brings friends and family to our tables.