Holiday Hosting Is A Three-Day Affair for Joel Cruz
"Lord of Scents" Joel Cruz celebrates the holidays in the same manner in which he does all the passions of his life—he goes for it with everything he's got
JOEL CRUZ HAS STAYED in his childhood home all these years, and has built his world around it, quite literally. The family home has grown into a compound, which includes the main building of Aficionado, the business he started decades ago, providing affordable scents and body care products. The family home, fondly called Chateau de Milagros, used to be home for Joel and his six other siblings, and their parents. Joel remembers how simple the holidays used to be when he was younger. As the years went by, and the Joel's six siblings went off to live on their own or start their own families, they all celebrated separately.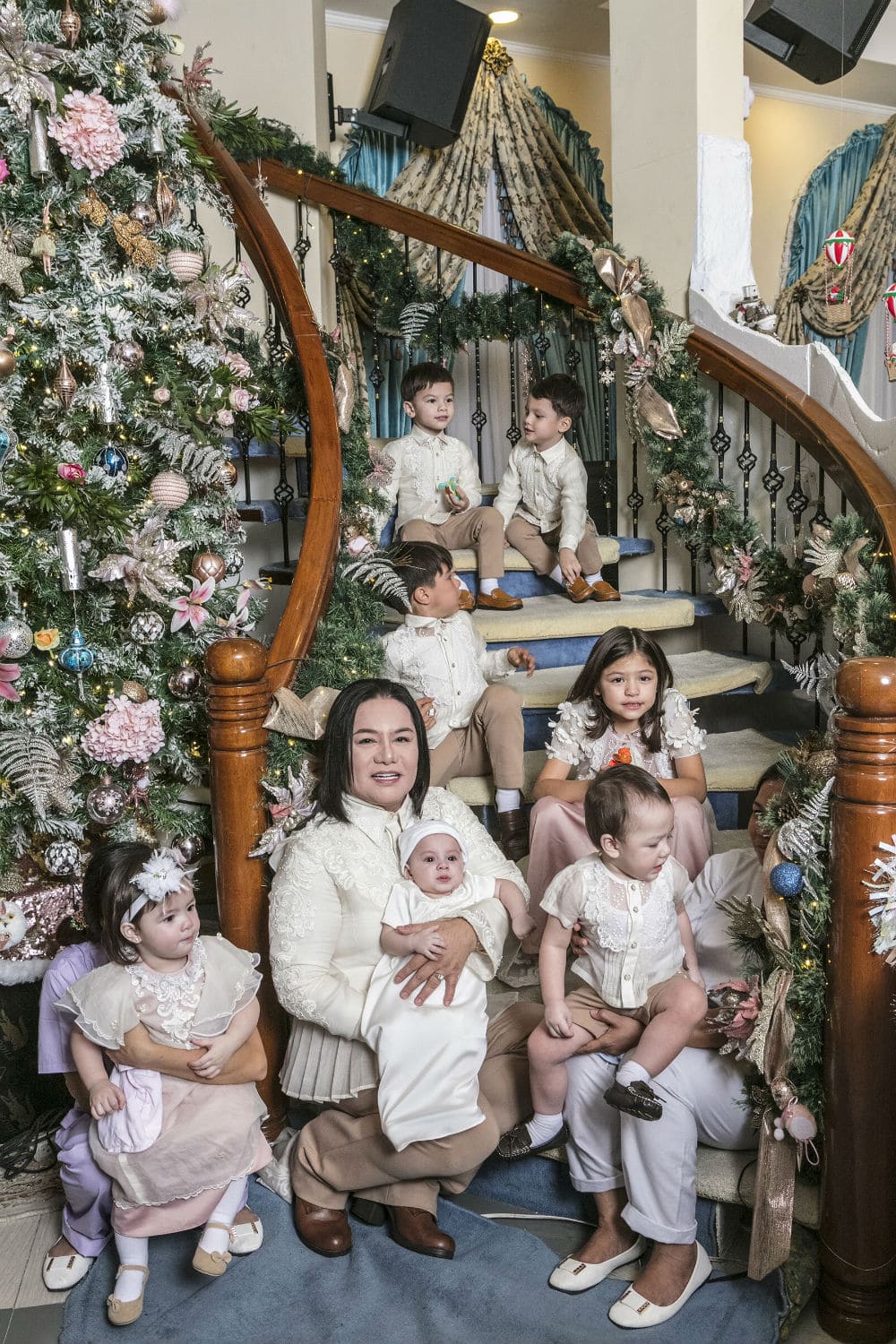 Purveyor of affordable scents, Joel Cruz celebrates the holidays with his children. | Jar Concengco
A 30-ft. Tree in Chateau Milagros
The Chateau, named after Joel's mother, has undergone several extensions to accommodate Joel's ever growing family—he currently has six sons and two daughters—and he states that they have been decorating that particular house for 10 days, from All Saints' Day. "Usually, we check the stocks first for decorations, and then we plan and conceptualize what to do per house, since the theme differs per house. For this year, I fell in love with the color baby powder pink. So I got ornaments from the US and Japan, and added some touches of silver, gold, and blue."
The hard work of his team came together to showcase a living area that is full of tidings and good cheer. The Christmas village is complete, perfected with its own "snow", all the ornaments were put up, holiday table settings were out, seemingly ready for a dinner party at any time—but the piece de resistance was the towering Christmas tree.
Customized to perfectly fit the space in the middle of the house's winding staircase, the 30-foot Christmas tree needed scaffolding, and was decorated for five days. But even after almost a week of decorating, it was torn down and built back up, until it was up to Joel's standards. "The tree is quite flat, so we put some ornaments like twigs or roses for extensions, so you have to be creative somehow. I'm happy with how it came out, especially with the rotating ornaments, like the ballerinas." The "Lord of Scents" takes his decorating seriously, and he's not yet done—the Chateau's exterior decorations still needed more work, the main building of Aficionado was yet to finish with its décor, and the rest houses in Tagaytay and Baguio were yet to be decked out.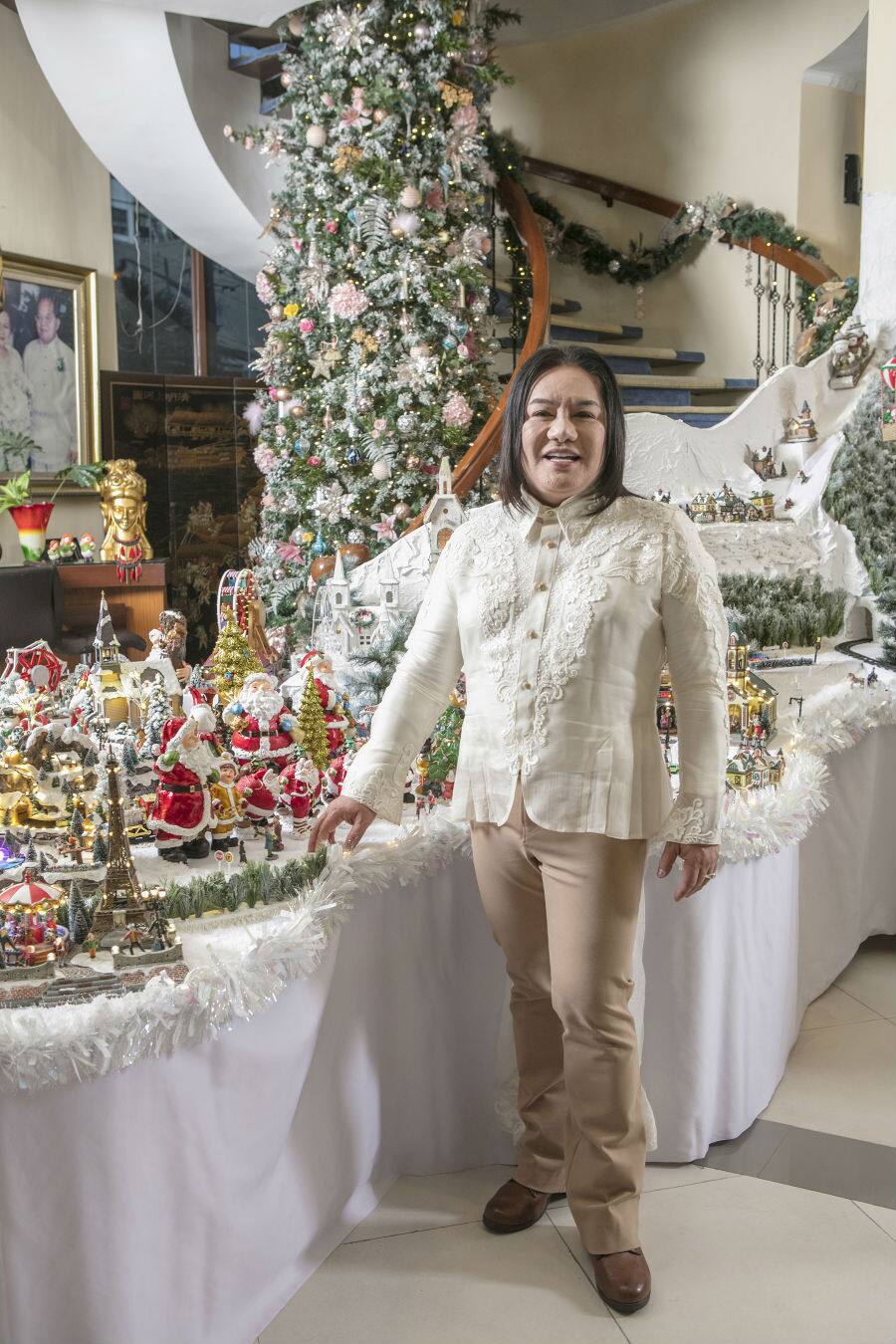 Joel Cruz with his 30-ft. Christmas tree. | Jar Concengco
Cozy Holidays in Baguio
For the past decade, Joel has been able to bring his entire family all under one roof to celebrate the holidays, hosting parties for as many as 100 people throughout a three-day affair. They used to hold their parties in his rest house in Tagaytay, but have since transferred the festivities to their "White House" in Baguio, where they have had it for around seven years in a row. He describes the festivities, and it all sounds like much fun. "We go to Baguio by the 23rd, and we rent out some rooms of the hotel across the house, because we're around 100 people, and the house can't accommodate us all. We decorate the Baguio house with a different theme, but we have around seven trees all over the house—one main one in the living area, one for each floor, and one kids' tree. Each tree has presents underneath it.
On the 24th, we hold a party. There's also a pictorial for everyone, and while the adults just simply dress up in Christmas colors, either red, green, or white, the kids get to wear Christmas accessories, like headbands with reindeers or Santa. There are cocktails served during the pictorial. Afterwards, we have our heavy dinner—the caterer usually serves all sorts of food, but of course we have the traditional lechon. If there's time, we have games before we head out for mass in the cathedral by 10 p.m., then Noche
Buena. Noche Buena is just anything light, like soup, Christmas ham, bread, and cookies. We open presents by the next day."
The party keeps on going till the 25th, when the families open their presents, go all out on their group presentations, and enjoy the games, entertainment, and food. "When the Baguio house was constructed, I really envisioned it to be a house where all the families will be able to go to," Joel
muses. "The 25th is still a big party, where there's a stage that's set up, and we invite singers up to Baguio. We sometimes have singing competitions and trivia games, but what's something we've been doing for years now since we started celebrating in Baguio were the group presentations. The families go all out because they're eager to win the prizes. Oftentimes they prepare the day before, but all the presentations come out nicely. My children participate in the Christmas presentations too, but they're still little, so some of them have roles like being an angel or Jesus Christ in the Nativity scene, or they just stand there. But it's important they participate, and that they have fun."
Thankful Everyday
His children have a wonderful attachment to their father, heading to him for hugs, kisses, or little words of encouragement as they gathered around him for photos. As Joel's family continues to grow, with his eighth baby born during early November 2018, he hopes that beyond the brightly colored lights, gifts under the tree, or even the laughter and cheer, his children will grow up knowing the true spirit of Christmas. "It's important to explain the real meaning of Christmas," Joel says. "I explain to them the birth of Christ, why the body of Christ saved us from sin. I also remind them that they must thank Jesus Christ for the gift of life, for all the gifts that they have received, all the food, toys, education, their nannies—everything. I teach them to be thankful, not just during the holidays, but to practice it every day."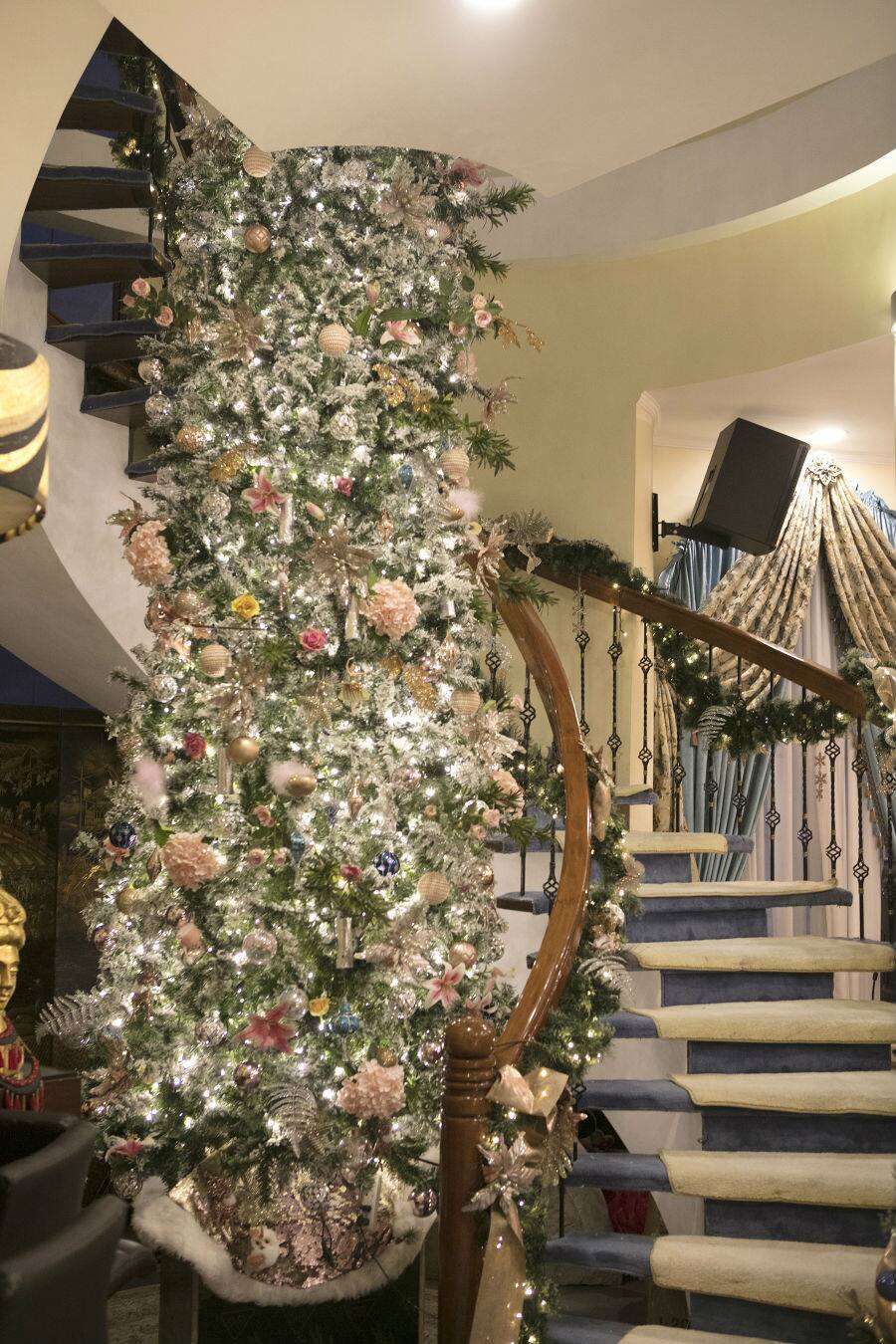 GROOMING BY PATRICK ALCOBER
SPECIAL THANKS TO RAUL MANZANO AND METRO SOCIETY