Host A Bridal Shower A La Park Min Young
In a recent vlog episode, this K-Drama star threw a bash for one of her best friends… We loved her attention to detail and personalization
She sure knows how to make a house a home! Park Min Young, one of Metro.Style's candidates for "Most Beautiful Korean Actresses," is loved by many for her roles in What's Wrong With Secretary Kim, Healer, and most recently, When The Weather Is Fine. On the bandwagon with those who have gotten hooked on K-Dramas during quarantine, we've become fans of this actress, getting glimpses of her personal life from her YouTube Channel from which we learned that she recently fixed up a room in her top floor to become her home office. She also showed her roof top where she entertains and cooks up a storm for her nearest and dearest. Of course, we are just too happy to get glimpses of her adorable Bichon Frise, Leon in these vlog episodes.
We couldn't help but share her efforts on hosting a bridal party for Ji Won, a good friend since seventh grade. For this, she personally drove to the flower market to purchase the flowers for the intimate event. She also purchased some white flower crowns and corsages to complete the theme. To make it even more special, she baked a cake and iced it with a minimal design, topped with lemon slices.n "Since my closest friend is getting married, I'd like to give her a meaningful present. Fortunately, I am pretty free at the moment… so I can take care of things for her. I am so happy," the actress, model and endorser says.
Watch Park Min Young, the hostess, here:
What's In A Name?
Her choice of flowers for the bridal shower reveal how much attention to detail she poured into this labor of love. They were Emma Woodhouse garden roses, characterized by their pale peach and pink hues. Moderately priced, this rose variety was crafted by Dutch rose breeder, Jan Spek, who named after the Jane Austen character and novel of the same title, under her series of roses bred especially to commemorate the novelist, called Pride of Jane.
In beakers and transparent glass vases, Park Min Young arranged white roses and spirea cuttings. Perfect for a bridal shower, the white rose symbolizes love and grace. These have been regarded as symbols of the beginning of an everlasting love.
On the other hand, the spirea, also known as "goat's beard" or "feather flower," means "I will be waiting for you." It is a symbol of patience and dedication, making it a perfect fit for a bridal shower or a wedding.
See how Park Min Young thoughtfully prepared the bridal shower through this gallery: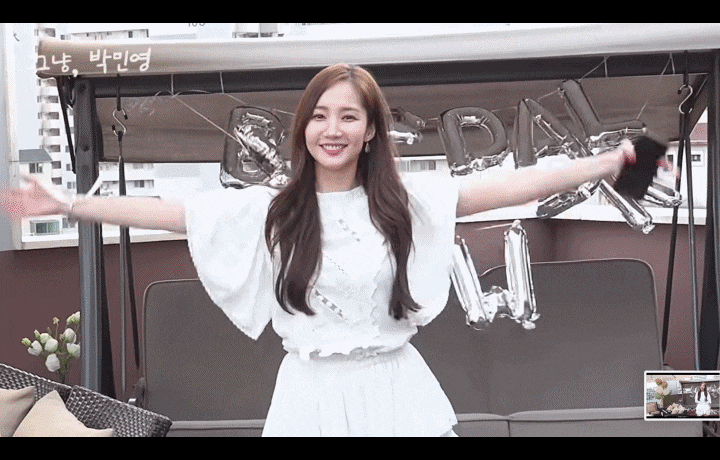 Photo Gallery
Photo Gallery
Screengrabs from 그냥, 박민영 Just Parkminyoung on YouTube
Channel your inner Park Min Young, The Hostess. Shop this story: