Former First Lady Loi Ejercito Marks A Major Milestone With An Elegant Merienda Cena
She celebrated her 92nd birthday and book launch with an elegant high tea spread... Event stylist Barbie Pardo-Tiangco shares some tips on how it's done
Now that we're almost returning to our normal lives, gatherings are slowly coming back. What once was a dream within those two years in a pandemic is now possible —and we can enjoy a lovely time with dear friends as we celebrate great milestones in our lives.
Former First Lady and Senator Loi Ejercito did just that for her 92nd birthday. Along with a lovely high tea party held at the Peninsula Manila's Rigodon Ballroom, she also launched her coffee table book Love, Mommyla: My Memories of Nine Decades.
Published by Ejercito's daughter, Jackie, the book shows Senator Loi's journey through her 92 years, beginning with her humble childhood in Iba, Zambales to pursuing medical school, her private life as wife, mom and grandmother, as well as her roles as a public servant.
One of the book's engaging stories touched on how President ERAP courted her. For those who are curious, the physician, former First Lady and Senator writes, "He decorated my copies of office documents with hand-drawn flowers, or personalized them with my name written in calligraphy. He sold newspapers so he could buy me a Titus watch persisted in courting me despite the disapproval of Nanay and my colleagues. How could I not fall in love," revealing that it was not merely ERAP's signature swagger and movie star looks that won her heart.
The volume also gives interesting anecdotes and insights on her roles as first lady, politician, mother and grandmother.
"I really don't know where her heart came from, her love for my dad is immeasurable and unconditional. Kasi, grabe, sobrang love a love niya talaga si Dad. If ever ma-hurt siya, konting lambing ni Daddy, okay na siya. Pag ako yan, waaaaaaah!" reveals daughter, Jackie.
Meanwhile, her son, Senator Jinggoy Estrada shares, "She held our family together during our darkest days. If you can see the videos and pictures of our departure from Malacañang, you will notice that she was very composed, even smiling... When my dad and I were incarcerated, she visited everyday! Except kung may dumating na iba, hahaha! Sasabihin ni Dad sa nanay ko, sa Wednesday ka na bumalik... alam na ng nanay ko yon. Matik na."
An Elegant Merienda Cena Styled by Barbie Pardo-Tiangco
The former First Lady and Senator's 92nd birthday and book launch deserved a memorable party. This feast was magically staged by the creatives who made this gathering's vision come true. "The direction was to make sure the event would be an elegant merienda cena," event stylist Barbie Pardo-Tiangco tells Metro.Style. And her team definitely delivered —achieving a beautiful backdrop for this once-in-a-lifetime event.
With the celebrant's favorite color being purple, all the designing began from this lead. The entrance, a dreamy hand- cut and meticulously installed tulle tunnel with fresh flowers welcomed all the guests. The scent of fresh lavender sprayed throughout the venue entrance emphasized the theme, making the beginning unforgettable from this point on.
Touches of gold are also prominent, a detail taken from the celebrant's newly-launched book. "The coffee table book cover is sepia-colored and we wanted the colors to reflect that as well," Barbie adds.
While the ceiling festooned with champagne- and lavender-colored fabric and crystal and gold chandeliers as well as the wide stage where the heartwarming moments happened, were all show stoppers, it's the tablescapes that we can't help but adore. Barbie's collaboration with Loi's daughter, Jackie and Spruce's Pat Pastelero for the floral arrangements resulted in a tasteful and personal celebration.
The furniture was carefully curated and sourced from different brands for a successful merge of function and style. For the table setting, Barbie adjusted the fabric to a lighter one than the originally intended table cloth to complement the lights to be used in the hall. Pat's blissful floral arrangements made dressy centerpieces set on beveled mirror trivets. These in turn reflected the festive ceiling design. Adding more sparkle are the gold glass votive candle holders as well as the crystal jars for the flowers.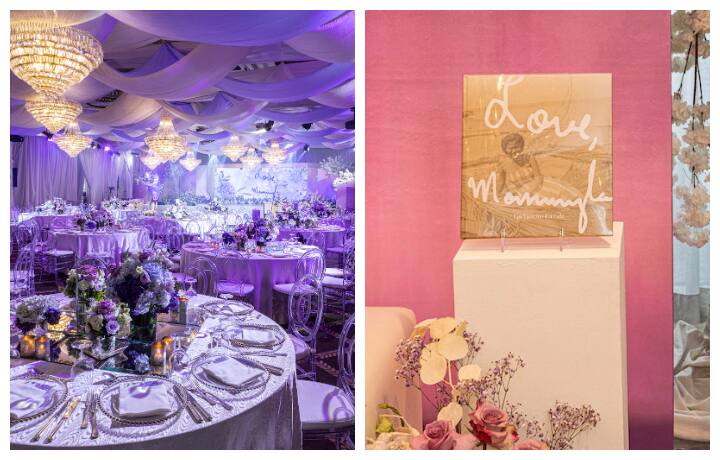 Photo Gallery
Photo Gallery
When asked for tips on how to successfully arrange an event such as this, Barbie has a few pointers.
Know your venue. "Consider the size of the venue. A low ceiling height should, for example, use shorter chandeliers so as not to cover the LED screen. Size of the LED screen should be large enough to be seen by the last table at the back."
Plan for flexibility. "Sometimes, even the best laid plans go awry. Be flexible and move furniture and accessories to make things work."
Consider all the senses. "Take note of four things —Taste (the menu), Sight, Feel (textures and room temperature), and Smell!"
Photographs by Jar Concengco