Marian Rivera's Intimate Birthday Set-Up Is Pretty (And Blooming!) In Pink
Floral and event designer Teddy Manuel went all out with the actress' favorite colors and blooms
At 37, actress Marian Rivera is blooming like a beautiful flower—and her aura fits her birthday arrangement so well! She celebrated another year—following safety protocols, of course—with a surprise, intimate gathering arranged by her husband Dingdong Dantes. Prettily decked with her favorite blooms and colors, as floral and event designer Teddy Manuel shares on his Instagram account, happiness and romance fill the room, with only memorable moments to remember.
For Marian's birthday arrangement, Teddy went for a romantic yet classy setup.
With the help of Casa Luxia, Marian's tablescape exudes timeless femininity. A white table was used as a pristine backdrop for the setting, with an abundance of pinks to dress it up. A gold rimmed plate charger was layered with a solid pastel pink plate, then topped off with a floral-designed plate for a nice sweet contrast. To add more grandeur, they chose a lace table napkin and crystal ring, with a side of a fresh pink rose. The gold utensils and pink crystal glasses amp up the luxe vibe to it.
Meanwhile, Teddy himself was in charge of the table centerpiece, wonderfully putting together bouquets of white hydrangeas, peonies, phalaenopsis, tulips, roses, and gypsophila on porcelain vases. Candles on glass holders warm up the setup.
To complete the pretty in pink venue, he added some gold-rimmed pink chairs, glam door-shaped lights with a huge M in the middle, and more florals scattered around the room.
Did you blush with delight at the sight of Marian's birthday setup like us? Find more photos of her alluring gathering in the gallery below and get inspired to set up a similar one for your birthday or any other upcoming occasion at home!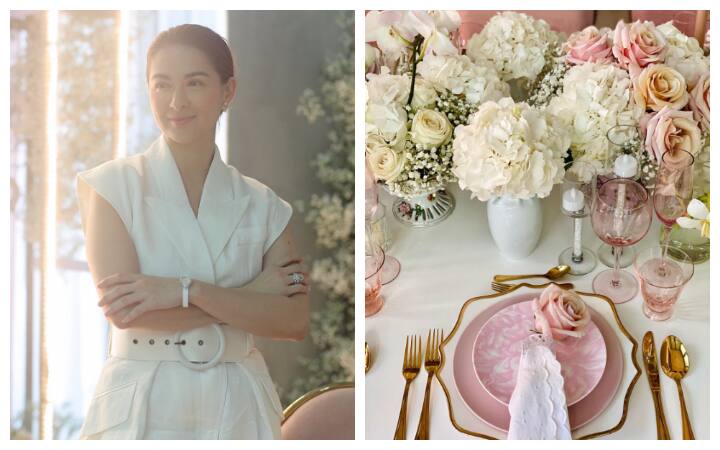 Marian Rivera's Intimate Birthday Party By Teddy Manuel
Marian Rivera's Intimate Birthday Party By Teddy Manuel