Korina Sanchez Joins Small Laude On "It's A Small World," And Gives 10 Tips On The Fine Art Of Entertaining
The seasoned hostesses share nuggets of gracious wisdom we all need to hear
"I love pampering my guests! That's such a Pinoy trait, and I'm totally embracing it," Small Laude says in Episode 2 of her Metro Channel show, It's A Small World.
For this slice of Small's life, she invited none other than esteemed news and TV personality, Korina Sanchez-Roxas. "Since Korina loves to entertain, I thought it would be good for her to set our table upstairs," Small narrates.
For the afternoon, the setting was in her rooftop gazebo, where they also picked fresh herbs to accompany the flavors of the salad they made, a simple one, something that "anybody can do at home," as Korina put it.
Korina's 1.1 million followers on Instagram know that she is no stranger to the intricate details of living well.
So it was but fitting that Small sought her advice on entertaining. "I've been friends with Korina for many years, and I love having her as my guest because we have the same things in common, like we love setting plates, we love cooking and arranging flowers… I'm so lucky because I learned from the best, so I'm paying it forward," Small says.
Welcome to Korina's master class in entertaining: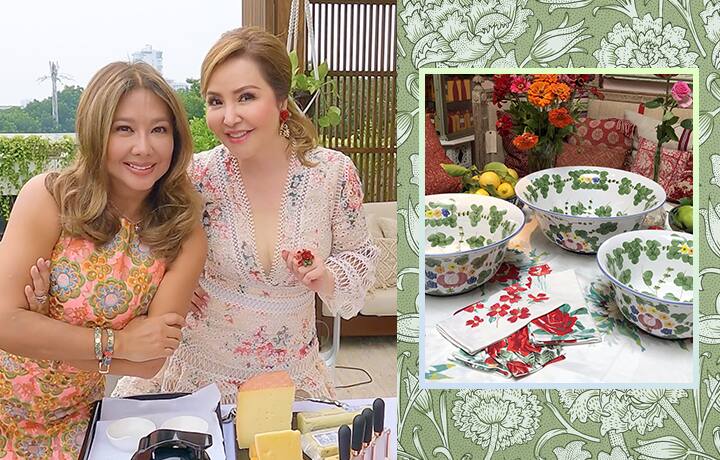 10 Entertaining Tips By Korina Sanchez
10 Entertaining Tips By Korina Sanchez
Pottery by The Ivy
Curious about the plates, bowls and serveware from the episode? Small narrates that she bought them from The Ivy, her favorite restaurant in Beverly Hills. Known for the scrumptious dishes it's been serving since 1983, as well as its charming ambience, the Ivy also makes it possible for guests to take the experience home with them. In this episode, Small uses The Ivy pattern, but they also carry other patterns: Shore Pineapple and Shore Hibiscus. These were designed by the restaurant's co-owner, Lynn von Kersting, and hand-thrown and hand-painted in Peru.
Feel like you are dining in The Ivy's patio. Shop this story: