It's Merry, Bright And Fab At Small Laude's Holiday Table
The socialite went all-out in creating a table setting that is just as fabulous as herself
The second portion of Small Laude's Christmas special, It's A Small World Christmas Special, on the Metro Channel showed viewers how the socialite decorated her table for the holidays. Quick to add that she's no expert at the subject of tablescaping, she clarified that she learned the art of setting a fantastic table from her friends.
"Medyo OA, pero I want it very fab, you know?" she jested, but one can argue that jokes are half meant, as she decorated her 14-seater with shades of gold, auburn and green.
Using gold chargers that made her tablescape sparkle and holiday-themed plates that were accentuated with bejeweled napkin rings from Gearys, Beverly Hills, Small nevertheless encourages her viewers to recycle old décor, and mix and match them with new ones. Case in point: her table centerpiece were once décor for an old Christmas tree, recycled from eighteen to nineteen years ago!
Just to add extra pizzazz, Small incorporated cones made of capiz. Their pearlescent sheen punctuated her table setting perfectly.
Make a table setting just as joyful and fabulous. Learn from Small's holiday table setting tips here: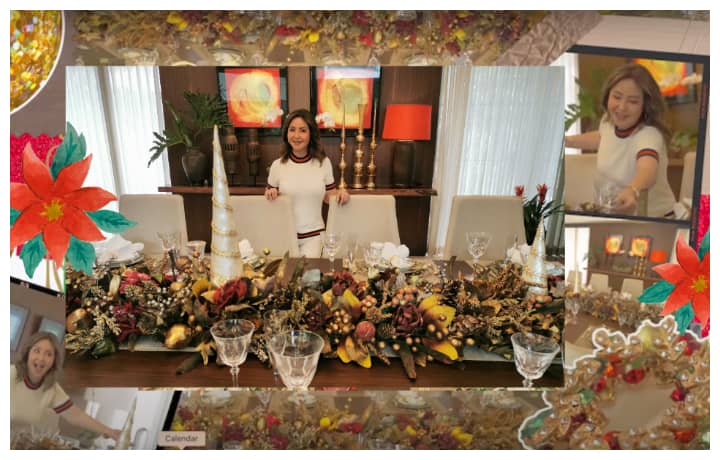 Get Your Table Ready For Christmas Dinner With Small Laude
Get Your Table Ready For Christmas Dinner With Small Laude