Chinoiserie Cheer: Here's How to Set Up Your Table for Chinese New Year
Setting up your dinner table for Chinese New Year is a breeze with the proper know-hows.
With Chinese New Year fast approaching, planning the upcoming celebration is already part of our to-dos. The weeks of the year are enough time to prepare and think of how to amp up this year's festivities, especially the things you're going to put on your table. It's 2020, after all, and there's no better time to veer away from the conventional way of decorating than now. To welcome the Year of the Rat, why not go for themed porcelain pieces? For another unique twist, trade the usual green plants for bright flowers that add more charm to your table set up. The subtle use of different patterns in this setting complements every element used, while the spread of table mantle still gives off that traditional holiday appeal. Tasteful, modern, and exciting—that's the goal.

For this Chinoiserie setting, Metro Home Editor-in-Chief Anton Barretto shares his nine rules on setting up your table—consider this your Table Setting 101 from the expert himself!
1. When setting a table, first always think of a theme.
2. Gather elements you have around the home to use as props
3. When working with a color, you may opt to do a monochromatic scheme or choose a dominant color and accent with contrasting colors. If you choose to go all the way and do multiple colors, use the colors in a more or less even manner.
4. Mix elements, shapes, heights, textures, and patterns.
5. We all know the rule of keeping table centerpieces low so everyone can see each other. But sometimes, we can't resist using items that are quite high like candelabras, DIY wine bottles as vases, the list goes on. Go ahead and use them, but add gaps in the middle to allow some "unobstructed" views to the guests in front of you.
6. Fresh flowers always look beautiful, but if you don't have them on hand, opt to cut leaves from your garden. The use of herbs, fresh fruits, or even a charming composition of fresh vegetables can be interesting. When sourcing leaves from your garden, cut them an hour before so when you put them in containers with water, they will look fresh. If they do not, you have time enough to look for a substitute.
7. Try using different patterned china, cutlery, and stemware. You will be surprised that mixing things up actually work.
8. Name cards are always a nice addition to the table setting.
9. Always make sure that you set the table with the proper utensils to use based on your menu.
Chopsticks Etiquette
Here are things to remember when placing chopsticks for dinner!
1. Chopsticks can be positioned in two ways. One, on top of the plate as you would dessert forks and spoons, but the pointed part should face the left. The other is on the right side of the plate with the pointed edges facing the center of the table.
2. When not in use, rest them on the side or your plate or on the chopsticks rests. Never stick them vertically into your food.
3. Do not use your chopsticks as your personal serving utensils.
4. Never use them to poke on food or impale them like a barbecue stick.
5. They should not be used as instruments to tap on plates or glasses or to make any form of unwelcome noise.
6. Do not use them to move bowls, sauce dishes, or any other things on the table.
7. Do not use them to mix beverages.
8. When finished with your meal, chopsticks should be positioned horizontally in the middle of the plate with the tips facing left. when used with other utensils, arrange them side by side diagonally between the ten and eleven o'clock position with the tips facing upward.
Here are more photos for more inspiration: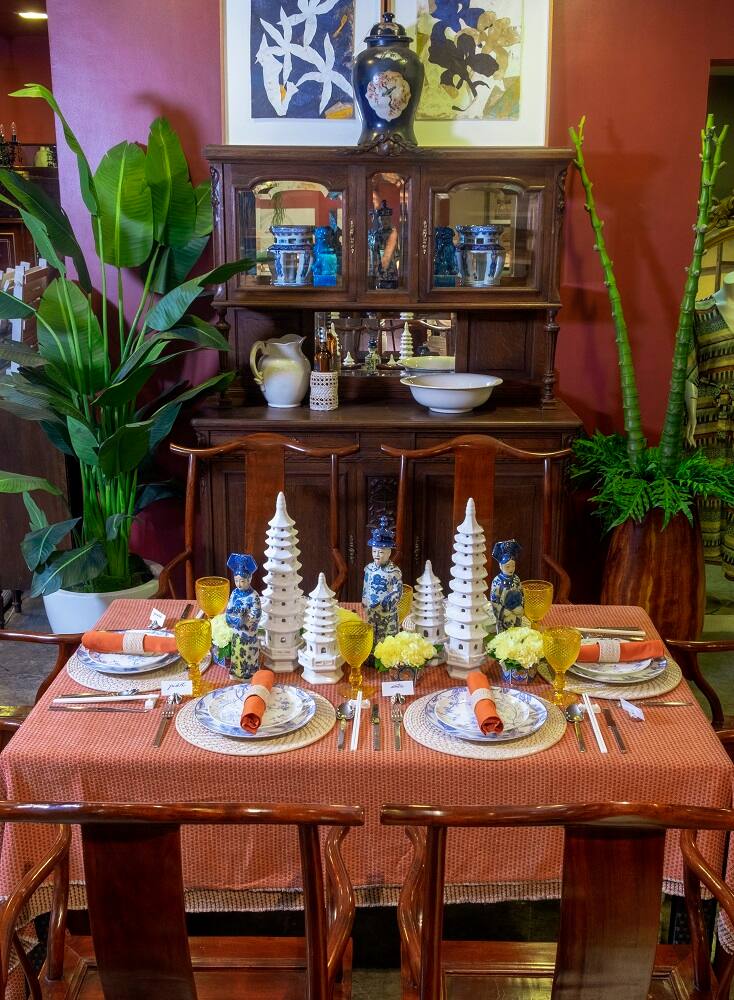 Photos by Giancarlo Escamillas