Event Styling Guru, Teddy Manuel, Offers Tips On Hosting Parties In The New Normal
Know how you can still have a fabulous event within quarantine regulations
Event styling wizard, Teddy Manuel knows a thing or two on how to make a party fabulous. When it comes to dream weddings and events that mark milestones, this celebrated stylist has assisted a number of clients make their fantasies into reality. It comes as no surprise that even in this pandemic which comes with many gathering restrictions, Teddy, the authority on event styling, has all the good tips and recommendations on how one's event can still be designed to fit the most exacting specifications and fulfill the loftiest of visions, even in this "new normal."
In a master class that is aimed to address protocols of events in this "new normal," Teddy stuck with his signature flair expressed through flowers, bespoke handmade details , ceiling treatments and wall décor in order to transform a space. His mantra for these times is "small celebration, big design," underscoring the importance of re-inventing event styling practices in order to stay relevant in the face of the pandemic. To an audience that comprised of various individuals: brides-to-be, budding event stylists, the media and design enthusiasts, he gave these tips that hosts can apply to their celebrations during this time:
On Considering Your Venue for the New Normal:
1. An ocular is a must.
2. Study your space and venue to implement the standards of the new normal, considering the requirements of social distancing.
3. Provide physical guides on the floor such as tape and other markers.
4. Ensure proper ventilation.
5. Consider providing a sanitation station and disinfect all implements to be used in the tablescapes and all event details.
On Health and Safety Guidelines:
1. Conduct proper testing measures before the event.
2. Wear the complete and proper gear (face masks, PPE's, face shields).
3. Provide details of the staff for contact tracing.
4. Use disposable gloves for safety.
5. Limit sharing of tools for safety.
6. Disinfect and wash hands.
Timeline:
1. Consider your set curfew hours when planning your event so that your event timeline can be within it.
2. Make sure you coordinate your schedule with the event suppliers in accordance to your timeline.
On Social Distancing:
1. Limit seating capacity. Remember to craft your seating plan to allow one seat apart for each guest. 2. Install physical barriers between each guest. Flowers, vases and tablescape accessories can do the trick.
3. The staff should practice social distancing.
The gallery below shows the stunning event transformation from the Master Class: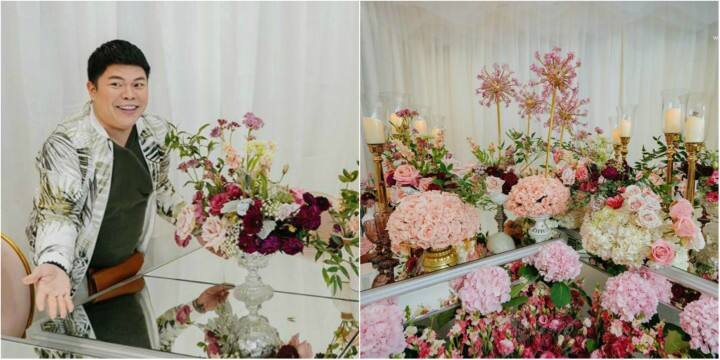 Photo Gallery
Photo Gallery
With this pandemic, social distancing and quarantine requirements, events have fallen under the non-essential category. However, Teddy Manuel likens his industry to a dandelion that can" survive many climates; are resilient, can carry their seeds for miles; bloom whenever the seeds carry them; are considered a delicacy; are a seed-producing florette; has strong roots and can grow anywhere." Through his master classes, Teddy takes the initiative to help his industry, one intimate event in this "new normal" at a time.
The Teddy Manuel Master Class was brought to his audience with the help of industry partners, Casa Luxia, Marriott Manila, Wishing Well, Lit, Fleur Du Monde, The Hire Duo, Flossom, Nice Print Photography, Bella Banquets, TriGonz, Cote and Petals Attraction.