The Forewoman Shows Us How To Celebrate Thanksgiving—The Filipino Way
With Thanksgiving celebrations becoming more popular among Filipinos and Fil-Ams, Jet Acuzar shows us how to dress our own Thanksgiving table with a Filipino twist—plus Inasal Roast Turkey recipe from Monica Floirendo-Ugarte!
Celebrating Thanksgiving has been a cornerstone celebration in many American households since it was proclaimed a federal holiday by President George Washington in 1789. And with the age of globalization, more and more Filipinos are either growing up or getting exposed to American culture, naturally adopting certain customs and practices such as the American Thanksgiving.
Although the real roots and history of this holiday has been very controversial—with many historians pointing out that the holiday-ization of Thanksgiving is a ploy to cover up the many atrocities committed against Native Americans—Thanksgiving has taken on a new form in the past decades by celebrating not its misleading history but the values of gratitude and generosity. This is the reason Thanksgiving has become official family get-togethers and opportunities to give back to the poor through soup kitchen volunteerism and charity work.
Nowadays, it's not just Filipino-Americans who have adopted this holiday. Even Filipinos who reside here in the Philippines have come to celebrate it, thanks to its beautiful message of gratitude—one of them, Jet Acuzar, who we know on Instagram as "The Forewoman" for her various works on residential projects. Since she is also big on entertaining and interior design, Metro.Style asked to take a peek at her own gracious Thanksgiving table, which is a beautiful marriage of the American tradition and our very own local design and flavor.
Creating a Filipino-themed thanksgiving table
"While I'm not American, I love the idea of a holiday that celebrates gratitude," said Jet. "I thought a lot about Fil-Ams all over the world and how we might be able to marry our culture with this American tradition. To do this, I focused on incorporating traditional materials used in the Philippines."
With local materials and talent working with Jet, what she came up with was a vibrant and festive tablescape that encapsulates the beauty of Thanksgiving and the richness of Filipino culture.
At the center of her table is a Pinoy cornucopia, which was inspired by the "horn of plenty" in classical antiquity that symbolizes abundance and nourishment. To create her Pinoy version, she used handwoven banig and filled it with locally sourced flowers and leaves.
Continuing with a palette of tropical flowers and leaves, Jet worked with young florist Joel Lopez of Bulig Floral Studio to create the floating flower bouquets that take her Pinoy Thanksgiving table to a whole new level.
From a distance, the flower bouquets look like they are magically suspended in mid-air. The secret? Fishing nylon cables. Joel hid the screws on the cove ceiling's inner portions and used metal wire to hang the actual floral décor.
"I love working with Joel because he is so talented. He worked for big events like when Martha Stewart came to Manila! During the lockdowns, when there weren't any catering gigs, he and his colleagues had to pivot and he started to hire people in his community to help them and give them livelihood," shares Jet.
Her preference to help local talent and use local materials is also already a celebration of Thanksgiving in itself. That after being grateful for what you have, the natural response is to share the bounty with those around you—just like how Joel reached out to those who needed him especially during the most trying moments of the pandemic.
Jet shares that 80 percent of the flowers and leaves used in this Pinoy Thanksgiving table—a variety of heliconia, palm leaves, anahaw, palmera, fern, and orchids—were actually sourced from her own garden. She wanted to highlight how easy it should be to use what we already have, and add our own personal touches to make something truly exceptional.
"It need not be Ecuadorian roses and other expensive florals to make an impact. Local flowers, when employed a certain way, can look just as beautiful, if not more," said Jet. "I hope that anyone who likes this will see how our own backyards can be a good source of decor for our homes."
Throughout the tablescape, more local elements and items were used by Jet to make it as Pinoy and as accessible as possible. Zoom into the tablescape and you'll find handwoven table runners in vibrant orange, capiz candle holders, seashell coasters, and an eye-catching parol made from abaca.
While Jet has no signature look—her tablescapes varying in color, theme, and style depending on what she or her client needs—she's known for mixing high and low so well you won't realize an Ercuis place card holder sitting beside a Shopee-sourced item. "I think what's beautiful isn't exclusively defined by price tags. Value is really a what you attach to something beyond its cost," said Jet.
Check out the gallery below to snag more tips on how you can build your own Pinoy Thanksgiving tablescape and get some leads on where Jet sourced her own items.
Photographs by Ronan Capili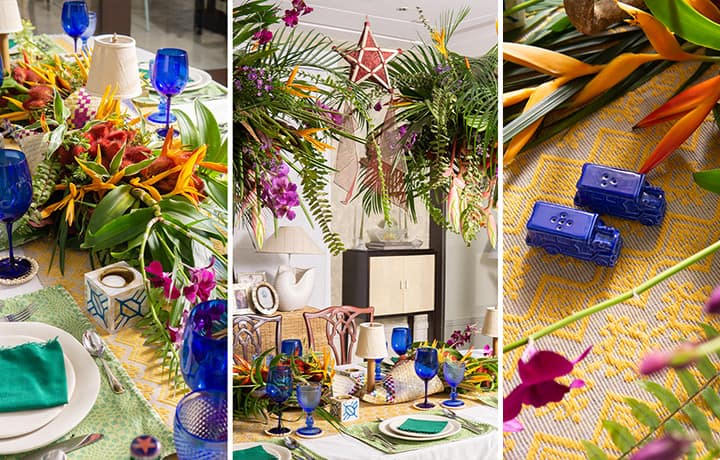 Photo Gallery
Photo Gallery
An Inasal Roast Turkey to round it all up
Thanksgiving is never complete without a whole plate of roasted turkey. And right on our theme of Pinoy Thanksgiving is this Inasal Roast Turkey recipe that will sit beautifully on your Pinoy Thanksgiving table.
Monica Floirendo-Ugarte, daughter of Miss Universe Margie Moran-Floreindo and advocate of local cuisine, ingredients and produce, shares a Filipino-inspired roast turkey recipe that has always kept her company when she is in the US.
"When I was living in the US, I would always crave grilled Filipino marinated meats, especially when the temperatures were below freezing, and it would be impossible to light a barbecue outdoors. This Inasal roast turkey brings these experiences full circle. Now that I am back home and living in the Philippines, I am celebrating my past life in the USA, albeit with a familiar salty, sweet, and orange glaze," said Monica.
Ingredients:
1 x 6kg whole turkey
1/2 cup minced garlic
1/2 cup ginger
3/4 cup chopped lemongrass (white parts only)
1/2 cup calamansi concentrate
1 1/3 cup brown sugar
1/2 cup soy sauce
1/3 cup fish sauce (patis)
1/4 cup achuete oil
Procedure:
To make the achuete oil – heat 3 Tablespoons achuete seeds with ¼ cup canola oil. Let it steep for 5 minutes or until the oil turns to a dark orange color. Drain the seeds and let the oil cool down.
Combine all the marinade ingredients in a bowl. Pour the marinade over the turkey and using gloved hands, rub the marinade all over. Cover and refrigerate the turkey for 6-8 hours. Flip the turkey over halfway through so that the marinade is evenly distributed.
Preheat the oven to 200C. Remove the turkey from the marinade and pat it dry. Cover the top of the turkey with foil and place it in the preheated oven for 2 hours, rotating the turkey halfway through the cooking time. Baste it with the marinade every 30 minutes. Remove the foil in the last 30 minutes of cooking! keep an eye on it because the inasal marinade can burn quickly.
The turkey is fully cooked when it registers 74C when a meat thermometer is inserted in the thigh. Let it rest for 15 minutes before slicing.
Instead of potatoes, pair this inasal with a side of sweet potato and kale in gata, inspired by the famous Bicol express.
Ingredients:
4 1/2 cups orange sweet potatoes, cut into a 1/4 inch dice (I used 4 pieces of medium-sized camote)
6 cloves garlic, minced
1 large white onion, diced
2 pieces long green chili (siling mahaba), deseeded and sliced into thin strips
200g kale, stems removed and chopped
1 teaspoon turmeric
2 cups coconut milk
2 teaspoons bagoong
Procedure:
Heat 1 tablespoon of cooking oil in a medium sized pot. Add garlic and sliced chili and sauté until it becomes aromatic.
Add onion, cover, and cook until softened, around 5-10 mins.
Stir in the camote, kale, and coconut milk. Bring to boil then turn down to simmer. Cover and until camote is tender and kale are wilted and soft, around 10-15 minutes.
Stir in the bagoong and season with salt and pepper.