How To Set The Ultimate Grazing Table
The ladies behind Curio and Spruce Floral Designs together with The Seven Pantry create a spread worthy of a feast that you can recreate at home
Recently, Curio, a shop full of heirlooms, finds and curiosities for the home opened its doors in The Power Plant Mall, Rockwell, offering "global antiquities and Filipino savoir-faire." Amid antiques, fine home décor, classics for sprucing and festive hanging parols by Mark Wilson, tastemakers Dara David-Roa and Nicole Wisenhunt, together with Patricia Pastelero of Spruce Floral Designs hosted an event that showed their friends and clients how to set a festive grazing table where the delectable eats were provided by The Seven Pantry.
For those entertaining at home during the holidays, the grazing table is great for relaxed hosting. Artfully arrange meats, nuts, spreads, sweets, décor and serving utensils here, as you encourage guests to have their share of delectable bites. The best thing about this is that you can very well skip the formal meal as the mix of charcuterie, vegetables, fruits, cheeses and nuts on this spread have the potential to fill your guests just like a meal would.
In the gallery below, see how the ladies at Curio and Spruce Floral Designs set up their grazing table: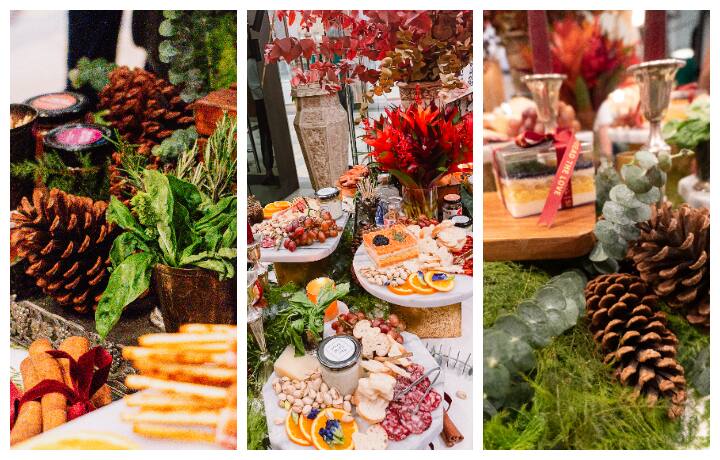 Photo Gallery
Photo Gallery
On entertaining for the season, Patricia Pastelero-Tañedo of Spruce took the time for a Q & A with Metro.Style:
What are the stand out elements of your holiday table?
Every year, I use silver and crystal vessels that I inherited from my grandmother. I love too that the items all have a story as to where she got them, who she was with, and how she got them back here to Manila.
Is there a mix of elements you make sure to style your annual holiday table with?
I supposed I'd say when I style at home the look is always "eclectic" - meaning I just use whatever I have. The demo we had with Curio and The Seven Pantry is really about using what you have at home and items gifted to you to create a holiday grazing table.
What colors, textures, objects are you attracted to this year and why?
It's funny how tastes change. I wasn't too keen on red decor in my own home, as I found it too bright and loud. This season though, I'm loving the combination of deep reds and bits of burnt orange, hints of marigold - it's a beautiful festive color palette yet still warm and inviting. I supposed after the last few pandemic years, I've been attracted to doing something more festive.
How is this different from the tables of Christmases past?
There's definitely more color now. I used more whites, greens, and golds before. Our tree is actually mostly white and gold and I think I'll be updating it next year.
What are your three tips for the homemaker who would like to do this at home?
- Invest in a few timeless pieces of decor. For example, good quality candlesticks will never go out of style and every year you can change the candles to update the look of your table.
- If you want to use natural elements, try to use decor that will last you throughout the entire season - for this table we used preserved stuartiana, cinnamon sticks, and pinecones. You can also use branches and other types of foliage and berries.
- Mix and match. Items on your table don't need to be matchy-matchy. Layers and texture make for a more visually interesting table. For this table we used a mixture of wood, marble, silver, and gold elements.
Visit Curio at the 2nd Level, Power Plant Mall, Rockwell. Order your Christmas centerpieces, wreaths and arrangements from Spruce Floral Designs and your edible gifts from The Seven Pantry.