Filipino Folk Meets Hygge At This Intimate Holiday Lunch
Manila Paper Trail designer, Yodel Pe, combines Norwegian and Filipino artisan flair in a creative holiday tablescape
Graphic designer Yodel Pe, the creative behind Manila Paper Trail and Manila Goodie Trail, is known not only for her stellar work, but also for her impressive collection of ephemera: stickers, stamps, paper in many forms such as maps, music sheets, and old letters. For Yodel, there is great joy in scoring through shops during her travels, collecting all these finds which she also uses for her very special collection of hand-bound books or as references for her line of stationery and graphic design work.
"I am thankful for the people I've met, the experiences that I have had from exploring and developing my interests," she shares of the gifts she has received this year that are indeed causes for a celebration.
Her love for making something delightful out of things that don't seem to obviously belong together translates to her tablescaping. Yodel imparts, "Always think of a theme when it comes to making a table setting and everything revolves around that theme, so it may start with the China then progress to the centerpiece. I also love mixing elements and not keeping objects strictly uniform."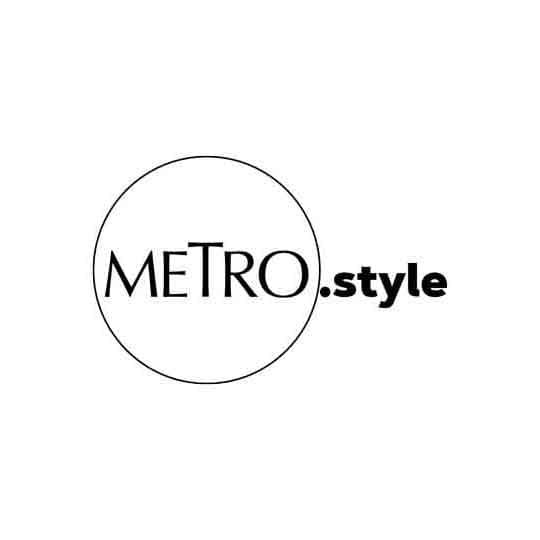 Norwegian Tandberg crockery are set on binakol weaves. Palayoks set on top of each other create a sculptural centerpiece. Crowning the whole arrangement is a pineapple, the international symbol for hospitality which sits on a crown of señorita bananas. | CJ Reyes
For an intimate lunch she prepared for Metro.Style, Yodel welcomes her guests to her home, one that was lovingly designed by her mom, Yoly, an interior designer. On a round glass table, she set her mother's plates commissioned from a Norwegian artist called Tandberg, along with cutlery Mrs. Pe bought from Norway, made of wood and steel.
"If you have existing China, cutlery, flatware, or Glasses that you would like to use, revolve your concept around that, create a theme, and move on from there," Yodel imparts to those who are curious about how to even begin conceptualizing a tablescape.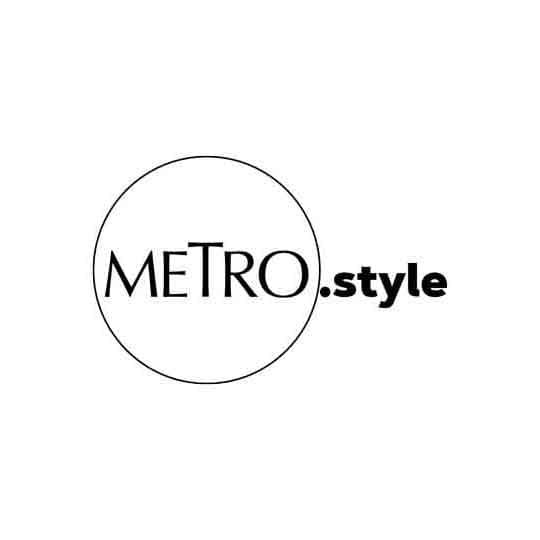 For place settings, Yodel Pe hand writes her guests' names on placecards that are secured to the banana leaves that line her crockery with a toothpick. | CJ Reyes
Antique Filipino Binakol weaves which were originally woven for blankets, functioned as placemats in this table setting. Known as the Pinoy "op-art" textile, the pattern on these produce a heady effect on purpose. The Itneg tribe who has been traditionally credited as its creators believed that it would confuse the evil spirits who were thought to linger around sleeping mortals.
"When I decided that [these textiles] would fit my concept, at first I thought of sewing the table runner together to make a table cloth, but then I thought of running the 2 table runners across each other in cruciform shape, which looks more dynamic and much more interesting because they did not covered the whole table.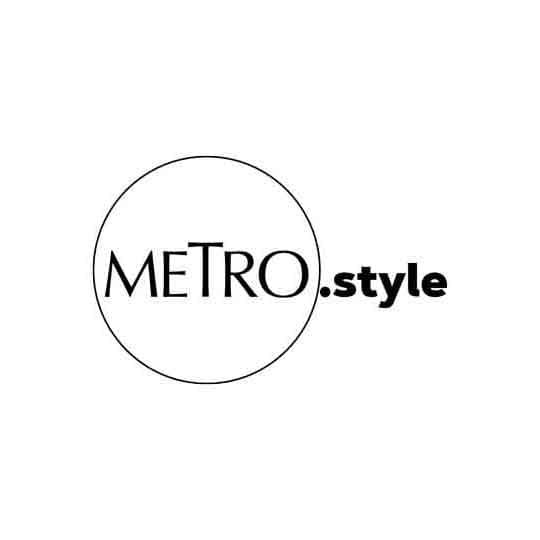 This table setting for an intimate holiday lunch makes use of tropical fruits in season which makes elements of the centerpiece edible. | CJ Reyes
A true creative and never one to produce the expected, Yodel shares, "I tried to stay away from overtly Christmas themes and elements. My only stipulation was that we should have a lot of reds and greens in the centerpiece, as a nod to the holidays." Thus, as a centerpiece, Yodel made a sculptural totem-like arrangement out of palayok or local terracotta pots for stewing, assembled on top of each other. On these, various tropical fruits in season, such as mangosteen, rambutan and lanzones were perched. Crowning the whole arrangement is a pineapple, the international symbol for hospitality which sits on a crown of señorita bananas.
The gallery below shows details of this folksy tablescape for an intimate lunch: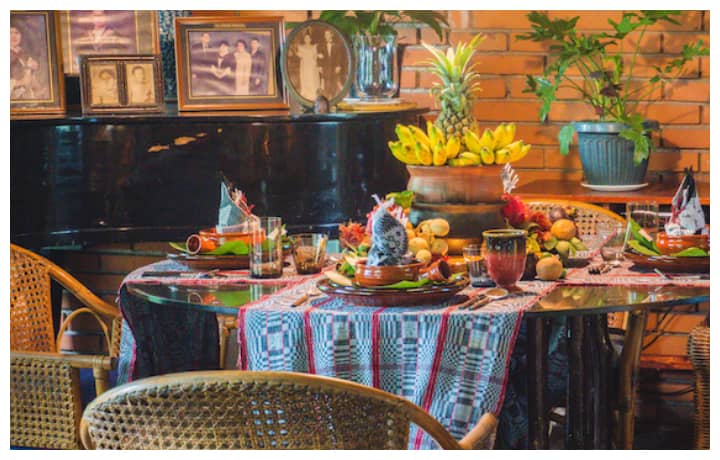 Photo Gallery
Photo Gallery
She reveals her secret to designing anything, from graphic design projects to styling a table, "It depends on the themes I think of, I really don't believe in color and material trends because you may not have the current trend on hand. If we return to the Pinoy-Scandi concept [of this table setting], the colors are more earthy tans, browns, textures are smooth and rough. The theme stemmed from the Norwegian plates, which my mum acquired in the 60's. I thought they looked very similar to our crockery, palayoks and saw a lot of similarities between Scandinavian ethnic design and our very own ethnic designs. I wanted the centerpiece to reflect the theme and be functional, hence the edible fruits."
Photographs by CJ Reyes, Metro.Style Multi-Media Producer