7 Celebrity Farmhouses And What We Love About Them
Take a tour at the stars' very own farms and farmhouses and find style lessons you can take for your own spaces, too
While the trend of bringing the outdoors in is very prevalent, especially as we're still in a pandemic, there's nothing that could beat the feeling of actually being outdoors. Some of our favorite celebrities do feel the same way, thus deciding to venture far from the city life and breathe in fresh air in their respective farms in the countryside.
We're lucky that we're able to join them and enjoy going around their properties—amid virtually—with a stunning and majestic view of all the flora and fauna. Not to mention, their equally beautiful farmhouses that we wish we could have for ourselves as well.
On a more positive note, these showcases offer a great solution—an inspiration for when we decide to take our busy lives to our hometown and settle down in a more laidback kind of lifestyle. Below, find these peg-worthy celebrity farmhouses, where we took note of the things we'd love to incorporate in our own properties as well. Read on!
Bea Alonzo
The actress didn't hesitate to utilize every part of her Beati Firma, and that's a big lesson we should all learn from her! Just before last year ended, Bea added a new feature to their farm—a symbol of their undying faith, a little chapel. And more recently, she's able to bring a part of the city life to the countryside with a DIY outdoor cinema. "You might want to do this also with your family. Promise! Masaya!" she writes on the vlog's description.
Zsa Zsa Padilla
The most extraordinary thing about Zsa Zsa Padilla's Casa Esperanza is its tropical, resort-type build, making it an escapade that everyone would want to visit one day. Its modern amenities assure her family's comfortable stay even when they're far away from the city, but the presence of rustic fixtures and astounding flora puts one in a paradise-kind of state of mind.
Benjie Paras
At first glance, Benjie Paras' farmhouse exudes a grand and modern vibe both inside and out. The building, with exteriors painted in white with contemporary details, houses an interior that you'd probably see in most urban homes in the city. From lavish sofas to wide beds, modern comforts and even stylish lamps and accessories, it's definitely dressed to impress. However, inspired by the greenery that surrounds the home, folksy details add a more humble and laidback feel to the space, most especially seen in his kitchen and bedroom areas.
Yeng Constantino
More than just the farm's simplicity, we love how Yeng is very hands-on on their farmhouse—even taking matters in her own hands, literally. From personally doing the decorations to their many DIYs inside the space, the artist's farmhouse is proof that putting your own touch makes all the difference. Plus, bonus points for that clever kitchen storage solution, which everyone can try in their respective homes!
Chito and Neri Miranda
It's not much about the actual farmhouse for couple Chito and Neri's space. It is, actually, how they maximized a limited farm space into something bountiful! Tending to a thriving mini farm filled with growing vegetables of all varieties, this pair taught us that with passion and hard work, creating your own garden—whatever its size—isn't just a daydream, but a possible dream!
Coco Martin
The Ang Probinsyano star is proud of his run-of-the-mill farm—nothing fancy, but with so much Filipino-ness. The use of bamboo as fences reminds us of rural side simplicity, while the presence of the traditional bahay kubo adds that distinct character.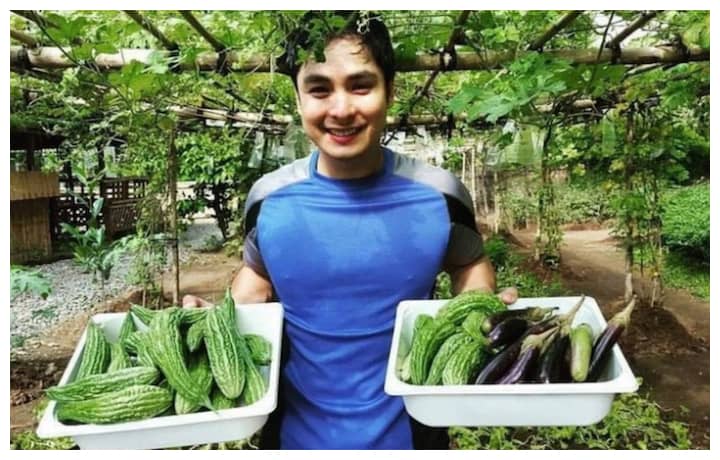 Photo Gallery
Photo Gallery
Robi Domingo
Despite its American ranch-style design, Robi Domingo's family farm (from his mother's side) boasts of different Filipino ornaments that introduces our local culture and lifestyle. Called the Big Ben Farm, it's surrounded by lush greenery and various farm animals. They even have a huge polo field—as the family loves to play the sport!