This Contemporary Urban Space Will Inspire You To Go For An Easy And Relaxed Look This 2022
This home is a great inspiration for art collectors!
It's 2022, and if there's anything that we're craving for now that another new year has arrived, it's taking a respite and a step back to relax and clear our minds before all the excitement of new opportunities and new challenges that mark the brand new year. Good thing that, despite not being able to go out as often as we used to, we can turn our homes into our personal oasis that can calm and free our minds from worries and troubles.
A family who owns this newly-completed home took this to mind and went for what feels easy and relaxed—a contemporary home situated within the city that doubles as an office, weekend vacation space, and an art museum of sorts housing the family's myriad art collection.
Designers Anton Barretto, Tessa Alindogan, and Arthur Tselishchev of A Design worked on this halfway house, a spacious two-bedroom penthouse unit located in central Makati. With subtle hints of polish brought about by the metallics that adorn the space, the place is accentuated with several shades of grays and touches of bright colors, geometrics and ethnic patterns. The neutral walls served as the perfect backdrop of all displayed art pieces as this hue absorbs colors and contrasts in a good way, says Anton.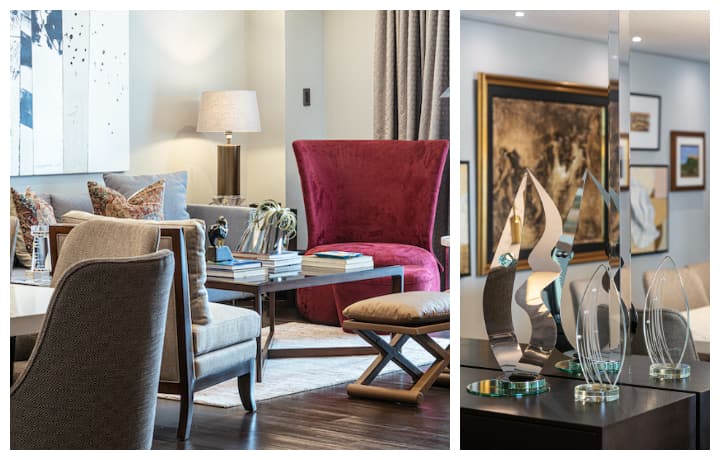 Inside An Interesting Set-Up Of Many Wonders
Inside An Interesting Set-Up Of Many Wonders
Overall, the home is an interesting setup of different wonders. Upon entrance, the long hallway will lead you to a modern artwork by Filipino artist Liongoren. With the piece dominating the wall, Anton felt the need to break the silence of the artwork. "There seems to be a soft meditative movement in the piece so I wanted to create a subtle distraction," he points out. "We found an interesting mixed media artwork in Provenance Art Gallery and it now takes pride of place beside the big painting, above a custom made drum-like table. It's an interesting composition because you see an equivalent energy in both pieces."
Meanwhile, Tessa collaborated with the owners in curating other artworks within the property, carefully choosing pieces to assign for the different walls. The lighting is headed by Arthur, who decided on putting different points of illumination for a better appreciation of the apartment as a whole at different times of the day.
The flooring is a beautiful dark gray oak engineered wood, sticking to the overall theme of the home. As the family loves gathering in the living area, a built-in wall unit for the television was installed by Urban Italia. The designers also intended for enough seating and even a cozy reading spot at the corner.
For the dining area, Arthur designed the Carrara marble dining table and even went his way to handpick the marble top from Euroasia. Upholstered dining chairs are also picked out for comfort, allowing long periods of dining and shared stories after dinner. The kitchen, on the other hand, was renovated for easier movement, with a nice corner for a wine cave and a mini bar.
And finally, the team focused on maximizing the space in the bedrooms, with custom made beds with drawers. And as the homeowners basically work from home, work spaces are also in order.
When asked about their favorite areas in this contemporary space, the designers claimed different parts. For Anton, the dining room stands out as it offers a great vantage point of the whole apartment. "If seated across the balcony door, you enjoy a great view. If you are seated with the balcony door behind, you still get a great view—there are several pieces of notable art that hang in the wall," he adds.
Tessa favors the living room. "It offers all kinds of elements such as the accent chair in a wine red color, contrasting with its light-colored sofa. Then, a striking huge artwork from the owner's personal collection, parallel to a sleek audio video cabinet donned in leather and wood laminate. This creates a contemporary and stylized effect that's fitting with the decor of the rest of the flat," she says.
Arthur loves the master bedroom, which has a light, calm, intimate, and easy mood. The addition of color and texture through different elements elevated the look, without losing the space's overall harmony. "In this bedroom, designed to feel like a glistening jewel box when the sun spills in, the color is much more than a neutral. The bedroom also has a lounge area and separate bathroom," he shares.
Want to spruce up your own home like this contemporary urban abode? The team lists down their advice on how you can incorporate this look at home!
1. Use a neutral wall color. It doesn't necessarily have to be white. A neutral wall provides a nice background that will showcase your art collection.
2. To warm up a space and give texture, mix materials—wood for a familiar and cozy vibe, stone to anchor areas of interest, mirrors to provide depth and dimension, and fabric to add softness and comfort.
3. For a generally neutral palette, choose a nice contrasting color as an accent for a chair or a focal piece of furniture. Subtle hints of this color can be echoed in other pieces to make things more cohesive.
4. If you choose to have a gallery wall, the best way to create the composition is to cut out manila paper patterns to the size of the paintings. Then, tape them on the wall so you have a good visual of the final outcome. This technique also allows you to measure and mark the walls for where the nails or screws will go.

Photographs by Jar Concengco