LOOK: Inside The World Of The Married's Ji Sun-woo And Yeo Da-Kyung's Interior Setup
Worlds apart though they may be in virtue and character, these two wives' homes offer some serious style inspiration
A couple of weeks have passed, yet we carry the takeaways we harbored from the show. We're talking about everything that the much-talked about series left for us to ponder on—lessons on love and life, marriage and family wisdom, the next areas to add to our South Korea itinerary, the new actors on our favorites list, and even style and design inspiration for our home from the lead characters' respective home settings.
We're quite smitten with the sets of
The World Of The Married
—the homes of both
Ji Sun-woo
and
Yeo Da-kyung
(played by
Kim Hee-ae
and
Han So-hee
, respectively) posed contrasting yet interesting home designs as tools to amplify their characters and to drive the narrative. In most episodes, we see the characters play out scenes inside their residences that we can't help but lust over!
Dr. Ji's Dark, Modern Home
Let's first revisit Dr. Ji's modern sophisticated space, home to the good (and bad) memories of her once-perfect family turned shelter to her and her only son after her divorce with Lee Tae-oh. From the beginning of the series until the end, the interior is as organized and spotless as we see it—which speaks of the Family Love Hospital associate director's sharp and refined taste.
Shot in the MBC Housing Complex in Songseok-Dong (Address: 98 Seonghyeon-ro 29beon-gil, Seongseok-dong, Ilsandong-gu, Goyang-si, Gyeonggi-do, South Korea), hers is a sleek, modern place, bathed in solid hues that create a warm atmosphere. Benefitting from an open plan, one can see from end to end of her first floor. The kitchen is open to the living and dining room, allowing her to entertain while minding the chores in the kitchen. The display of furniture is trendy yet practical, from the metallic, functional kitchen, modish stools and dining area pieces to her choice of leather sofa and chairs as well as the wooden fixtures in the living room. One may notice the smart use of storage as well! The space thrives in minimalism—laid out with paraphernalia that serve both purpose and personality.
An otherwise plain interior is tastefully played around with texture. It shows in one of the more prominent features of the house—the wooden staircase, located right at the central axis of the home. From there, interesting bits scatter in the whole setup, like in mod lamps and the mix of throw pillows on the sofa. The artwork that hung on her house's walls are notable as well, with bright, abstract paintings, reminiscent of Mark Rothko's work: big, defined fields of color, fixed next to portraits that depict a slice of a serenity.
Check out gallery below to see more of Dr. Ji's modern home: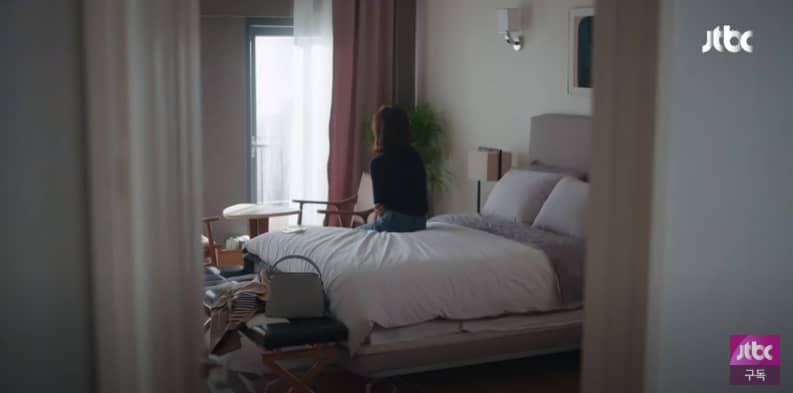 Ji Sun-Woo's Home
Ji Sun-Woo's Home
Da-kyung's Bright Place
Opposite Dr. Ji's rather dark interior setup, Yeo Da-kyung's abode takes on a much more feminine and approach. Dressed in colorful, French-style interiors, the second wife's place offers a brighter space for her new family life. This was actually shot in a clubhouse of an American complex, Humphreys Landing (Address: 50-23 Wondeokmok-gil, Deokmok-ri, Hyeondeok-myeon, Pyeongtaek, Gyeonggi-do, South Korea)
The exterior's clapboard siding and the porch as a feature is undeniably a page out of American residential architecture, reminiscent of Midwestern McMansions. Whereas Dr. Ji's home has an open plan in the first floor, it is worth noting that Da-Kyung's home is full of rooms. She entertains in a living room separated by a large hallway from the kitchen that has a smaller dining area, for intimate gatherings. Upstairs, there are more rooms and hallways, perhaps signifying the many secrets that her husband, Lee Tae-oh keeps. More on the interiors: the heavy architectural details cannot be missed—from the wooden trim around the doors and wall panels down to the tile work, with neat placement of opulent pieces blending well but not taking the spotlight away from the detailed nooks and crannies.
Adding to the classic interior architecture of the space are a mix of contemporary furniture, giving the rooms an eclectic feel. Jewel-toned and gold furnishings lend the air of glamour in the living area. Meanwhile, the dining and kitchen areas, as well as the couple's bedroom, are splashed with a soft, dainty touch of pastels. Look closely at her choice of art work, though, and there's something sinister about the character's display of pop figurative art that depict animals: Da-kyung's butterfly-inspired wall hanging and 3D cat portrait to the dog pop-art in their children's personal rooms. Finally, there's a bounty of artificial light around the house, opting out natural rays for the delicate radiance of elegant torches.
Check out gallery below to see more of Da-kyung's bright place: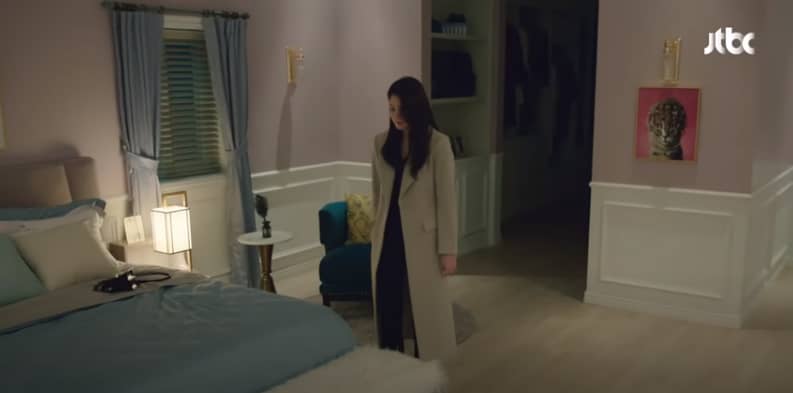 Da Kyung's Home
Da Kyung's Home
No character judgements here, just a look at both homes and the styles they offer. Which one suits you better? Is your interior design style a Dr. Ji or a Da Kyung?
Photos from JTBC Drama Youtube Channel