A PSID Alum's Modern Classic Home Has Major Luxe Hotel Vibes
The feel of opulent comfort was the goal for these spaces that ooze playful sophistication
Fashion designer Oscar de la Renta once said "Luxury, to me, is not buying expensive things; it's about living in a way where you appreciate things." This is one of the favorite quotes of mother and entrepreneur Ann Murphy, who surrounds herself with many things that she appreciates.
A coffered ceiling with black beams and wainscoted walls set the drama upon entering her home. Prominent high-quality materials catch the eye - marble, stone, gold and velvet. An extra long, curvilinear sofa designates the main living room. "I want my guests to feel the vibe as if they were entering a luxurious hotel, emitting a sense of full relaxation and comfort," Murphy says.
Murphy is successful in her goal as the space she designed for herself, family and guests definitely possesses opulent comfort. A red velvet Etcetera Chair designed by Jan Ekselius and a Parachilna Gweilo Han floor lamp leads your eye to another sitting room, this time more intimate. An emerald green velvet settee paired with black and white furniture pieces create a contrast that works. Jonathan Adler's Op Art Bar insinuates this is where Murphy takes her close friends to have some drinks. A black and white console mirrors the zebra-like stripes of the marble coffee table. Fornasetti pieces punctuate the entire house providing a coherent color palette.
A theater with comfortable monochromatic velvet couches that face a huge screen is where Murphy watches movies together with her family. Next door, in total contrast is the most colorful room in the house which Murphy calls her studio. Geometric shapes in bold colors are on the rug while similarly bold colors are found on the art on the walls. Red and yellow bar stools and a single Red Heart Cone Chair by Verner Panton for Vitra provide seats while Murphy and her friends enjoy a round of karaoke.
The powder room is elegantly clad in marble and fit out with gold fixtures. A high-tech Japanese toilet sits in front of a panel of gold. "I would say that my style is Modern Classic which is for me a timeless fusion of modern and traditional, a combination of classic furnishings, finishes and accessories with contemporary lines," Murphy states.
Murphy's journey into interior design goes back to when she worked with a construction firm and an interior design company back in the day. "This sparked my interest in this field and resulted to enrolling with Philippines School of Interior Design in 2004 and successfully completing it in 2007. This paved the way for me to start designing my own home and work spaces," she recalls.
The dining room is pared back into a sophisticated beige and gold palette. A wall full of Fornasetti plates creates a focal point of the room. A hanging grid of metal with golden orbs serves as a chandelier above the white dining table. A smaller dining area can be found en route to the kitchen and is darker with a round black marble table seemingly perfect for a quick breakfast and coffee for rushed mornings.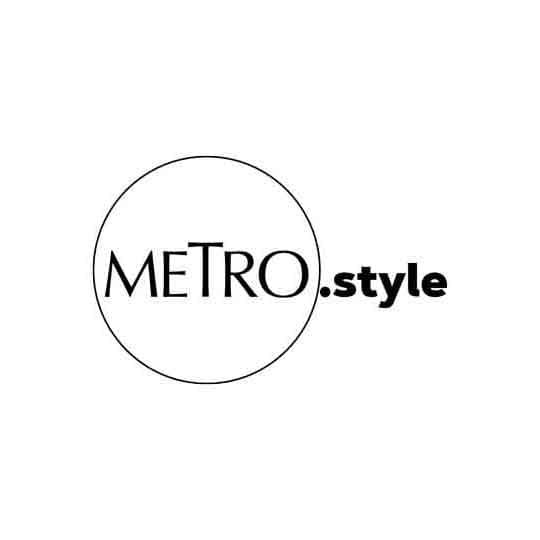 Ann Murphy, the lady of the house and its designer is also an accomplished entrepreneur who is at the helm of the online furniture store, All About Home. | Jar Concengco
Up the black staircase is a sitting room with a tufted blue velvet sofa and matching blue velvet curtains. Murphy's bedroom is nearby with a spacious walk in closet fit for royalty. Clothes and shoes are encased in glass and gold cabinetry. The short hallway leads to a marble bathroom equipped with a white freestanding bathtub.
Her bed is a glamorous canopy bed frame made of gold and acrylic poles. With a push of a button, curtains on one side reveal a small home office with an impressive collection of designer handbags displayed on the shelves.
Making sure that you surround yourself with things that make you happy is indeed the life of luxury we all need. It's not the price tag attached to the products we possess but the stories they hold and why they mean so much to us. Murphy's favorite quote by de la Renta definitely makes more sense when framed this way.
See more corners of Murphy's home in the gallery below: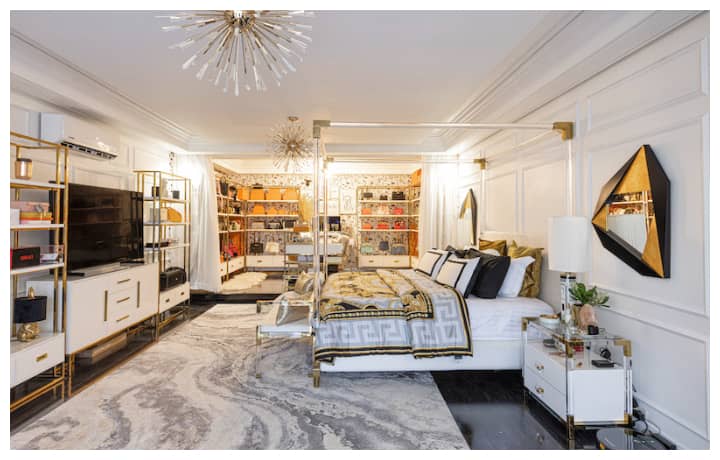 Photo Gallery
Photo Gallery
Photographs by Jar Concengco