Inside Ariana Grande's Latest Real Estate Acquisition, A 300-Year Old House Transplanted From The English Countryside To Montecito, CA
The new Mrs. tied the knot in this stylish, rustic home
We're still not over the high of singer Ariana Grande becoming the new Mrs. Dalton Gomez. While the ceremony is intimately celebrated with just 20 guests witnessing their special moment, every detail of the wedding is as grand as can be. And yes, it's not only the dashing groom and the glowing bride, nor the stunning Vera Wang dress, that took our breath away -- the charming backdrop also caught our attention.
Apparently, the celebration took place in the Save Your Tears hitmaker's recently-acquired Montecito, Santa Barbara, California home. The sprawling 1.3-acre Tudor-style property was previously owned by TV personality Ellen DeGeneres, which was sold off to Ariana in August 2020. Called the Porter House, the space is a time capsule to the early days of England with preserved period details that evoke its history of taste and beauty.
The Porter House incorporated two separate barns named the Porter Barn and Black Barn from Surrey, England that was originally constructed in the mid-1700s. Dismantled and rebuilt in California later on, the restored barns were connected with an orangery that added a romantic allure to the glamorous rustic dwelling, surrounded by more lush greenery.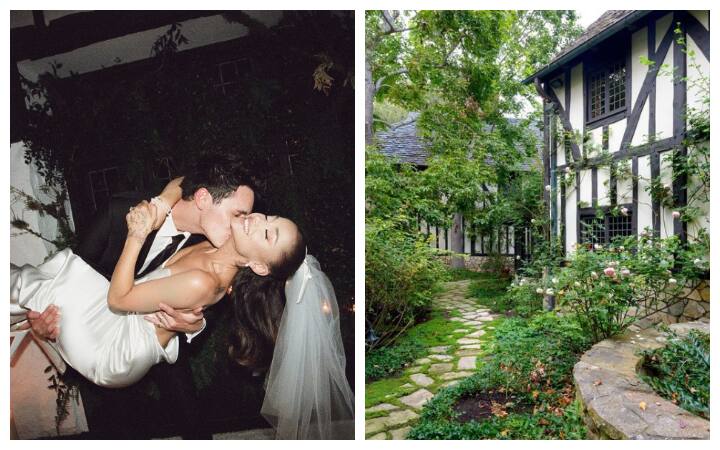 Photo Gallery
Photo Gallery
Amid a quaint setting, it boasts of modern amenities to adapt to modern-day life. However, its old-world design is hard to look over, with details like white walls, antique casement windows, wood framed ceilings, exposed brick fireplaces, and encased glass doors that turn the home into a one-of-a-kind sight. It's comfortably spacious with two bedrooms, two bathrooms, a breakfast room, a classic kitchen, a powder room, a laundry room, three oversized car garage, a workshop, gym space, and full basement.
Take a full tour of the home here.