Japanese And Scandinavian Design Come Together In This Home Inspired By Jun'ichirō Tanizaki's 'In Praise of Shadows'
Japanese architect, Keiji Ashizawa collaborates with Danish design group Norm Architects in Azabu Residence, where pensive luster is preferred over shallow brilliance
Architect and product designer Keiji Ashizawa has proven time and time again that honest design is worthwhile and timeless. His philosophy of honest design focuses on function and materials and less about trends and fame. It's this mindset that guides Ashizawa in his projects - from what to hone in on in a space to who he chooses to work with.
In his latest tag-team project with Danish design group Norm Architects for Karimoku Case Study, we see natural materials and a darker color palette for the interiors. The Azabu Residence project is named after the quiet residential neighborhood in Tokyo the apartment is located in - Nishi-Azabu. Although the site's surroundings can provide some inspiration to how the interiors, Azabu Residence's main inspiration comes from Jun'ichirō Tanizaki's In Praise of Shadows where the important quote "Were it not for shadows, there would be no beauty" originates from.
"I remember Jonas [Bjerre-Poulsen of Norm Architects] and I talked about `In Praise of Shadows' by Tanizaki in the process of the project, and agreed we thank natural light but in a different way. I really respect how Norm Architects think about the natural light and I believe we have a similar eye for a good sense of the beautiful," Ashizawa explains.
In Praise of Shadows also mentions the qualities of Japanese paper, "Japanese paper gives us a certain feeling of warmth, of calm and repose." This gives a cue into the usage of large conical pendant lights wrapped in Japanese paper in the dining and the living area of the Azabu Residence. True enough, just the sight of it has a calming effect.
Lighting and shadow were crucial elements to the Azabu Residence. "So benumbed are we nowadays by electric lights that we have become utterly insensitive to the evils of excessive illumination," writes Tanizaki. Every light should have a function and should not just be placed there to "eradicate every trace of shadow."
"Regardless of the dark tones used to unify the space, the beauty of this home stands out in the morning and early afternoon, when there is visible contrast with the sunlight peeking into the space, and at night, when the space is filled with controlled light," says Ashizawa of the unit's lighting.
Even the furniture and objects displayed in the Azabu Residence exude a certain tactility - such as the visible grain of the wood of the table and the smooth wooden cone objects on the shelf. Tanizaki teaches that there is beauty in objects that have lost their shine as a result of being used and touched often."We do not dislike everything that shines, but we do prefer a pensive luster to a shallow brilliance, a murky light that, whether in a stone or an artifact, bespeaks a sheen of antiquity."
This project combines Japanese and Scandinavian design principles and aesthetics. The Azabu Residence succinctly exemplifies the trend "Japandi" without oversimplifying the nuanced work relationship that Ashizawa and Norm Architects share. Ashizawa elaborates, "I think it's truly amazing that, although we are living on opposite sides of the world, we have a similar sense of beauty. Also I would like to say that there are times when our two countries have influenced each other. I feel that we connect with each other at many levels - how we feel about simplicity, colors, and details of furniture. I believe we have learned similar things as we live in countries surrounded by the ocean and nature."
Nature is evident in all of Ashizawa's works including the Azabu Residence. The use of natural materials for instance is a wonderful way to bring nature inside. In other projects where it is possible, Ashizawa includes terraces and open spaces for gardens.
On how important it is to work with someone you honestly admire, Ashizawa says, "Working in the architecture industry, it is always a question of how to push the boundaries. We're always fascinated to collaborate with people we admire because these collaborations push us to the next level, influence each other, see things differently and we feel we become more creative through the work we do."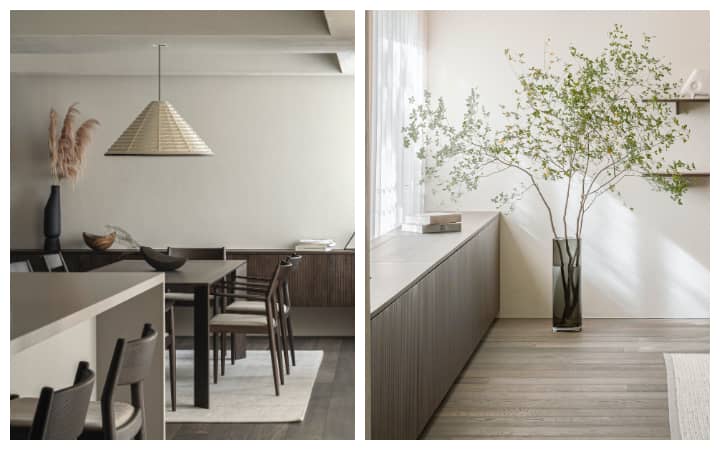 Photo Gallery
Photo Gallery
Apart from being honest, Ashizawa leaves us with this advice to keep in mind when we are designing a space, "Working as an architect is all about encounters: with clients, collaborators, materials and projects. I am always saying to myself, be curious." If you think about it, once you open yourself up to learn as much as you can about a project, that will be when you reach truthful and honest design.
Photographs courtesy of Keiji Ashizawa