Step Inside Baan Botanica, A Thailand Residence Home To The Most Beautiful Indoor Tropical Garden You've Ever Seen
We think we just found plantito and tita HQ!
Be still, our plantita hearts!
Uncontrollable palpitations become a real risk for the plant lover at Baan Botanica, a residence located in the outskirts of Bangkok, Thailand that's home to one thousand and five hundred unique plant and flower species. That number beats even those of professionally curated green houses and gardens across Asia, and it's made even better by the fact that mischievous Jack Russells roam the grounds freely, weaving between organic decor and the collection of antiques, rare finds, rehabilitated items, and reclaimed heirlooms Baan Botanica's owners have amassed over time.
The pair behind the jaw-dropping indoor-outdoor jungle paradise is made up of none other than Bill Bensley, an internationally acclaimed designer and landscape architect who specializes in luxury hospitality design, and his longtime partner Jirachai Rengthong, a horticulturist known for his whimsical tastes.
Bill and Jirachai, both avid travelers and collectors in their own right, have happily decked out the space in what can only be described as maximalist OG plantito style. Every surface, wall, corner, nook, cranny, floorspace, and room are not without its own colorful explosion of tropical lushness, and the effect is simply one of a kind and totally mesmerizing, even for someone with zero knowledge of plant care. You don't need a green thumb to appreciate the work that was put in the residence—which was purchased as a bare, black and white space, mind you—that's fast becoming an icon in the design, art, collecting, and landscaping scenes.
According to Bill, he and Jirachai were deliberate in making sure that every object they brought into Baan Botanica had meaning. They had to be awed by the design or the story behind it, or it needed to come attached with a great experience of they acquired it. Baan Botanica, in this sense, isn't only plant heaven but a living, breathing treasure trove of Bill and Jirachai's best memories spent together.
Baan Botanica, though a private residence, has opened its doors to a lucky few.
It's ultimately used as a sort of laboratory for Bill's design ideas in their percolating experimental stages, but on special occasions, the couple will host their nearest and dearest for a delicious meal and drinks, all laid out alongside a magical tablescape. If they're not busy with merrymaking with a large group of friends, Bill enjoys slower, quieter days with just a few guests and on those days he whips out his easel and brushes to paint them, his creativity fueled by the beauty that surrounds him 24/7.
Intentional clashes of culture are also apparent at Baan Botanica.
Because this home's decor is internationally sourced, it's commonplace to find something from Pakistan made even more beautiful by a find from Hong Kong, or pieces acquired in an African market resting on a wooden chest from Portugal. There are no hard and fast rules at Baan Botanica, only that the resulting combinations of things, both inanimate and organic, must make the onlooker feel alive and the vibrations of vitality and cheerfulness that liven up this home.
In the end, why they reserved this much space for plants and unique landscaping is simple.
Bill is big on sustainability and conservation, and in all his projects, big or small, personal or professional, he always makes sure to make room for natural design elements. He tries as much to mimic the natural world upon which a structure stands while also exaggerating its best features by making the lush even lusher, the colorful almost rainbow-like, the tall even more majestic, and the eye-catching a piece of living art.
Added fixtures are the final touches in the garden (and, really, Baan Botanica is a garden with a house, and not the other way around). Sculptures of varying materials, fountains, gates, doors, window panes, and even mini pagodas, pergolas, benches, stools, and pavilions are thoughtfully positioned all throughout the property, plus, a guest cottage lies hidden among all of these things for extra special guests invited to stay the night.
Baan Botanica really is a treat for all senses, and it's the ultimate inspiration for everyone hoping to beautify a space organically!
And for more photos of the plant-filled wonderland, scroll through the gallery below.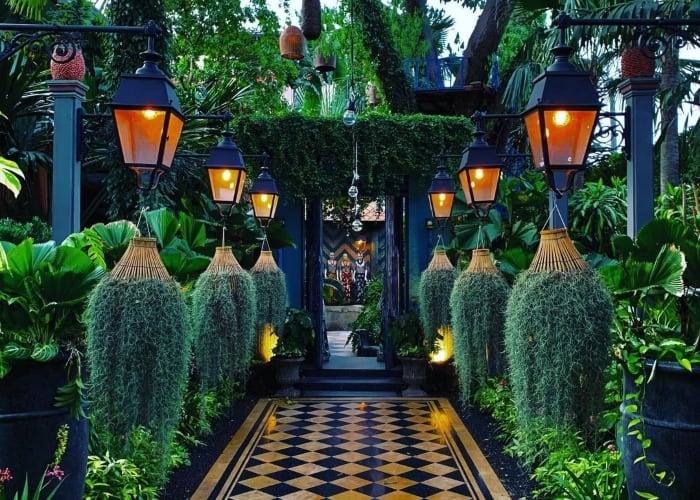 a look inside baan botanica
a look inside baan botanica
All images from @baan_botanica