An Enchanting Farm Gives A Nostalgic Glimpse Of The Old Pampanga
In Balé, the setting for an unapologetically Kapampangan meal is a clearing in the middle of a forest with a villa that takes cues from older Filipino homes as the backdrop
"I've always grappled with the question where home is. It's a little bit hard to answer that question to be honest," international lawyer William Panlilio says.
After graduating college at Ateneo he moved to New York for grad school. He then lived in the Hague in the Netherlands for 2 and a half years. "It was my first time to live in Europe and so I squeezed everything out of those 2 and a half years. I was in Amsterdam a lot, I took the train to Paris and Brussels. I learned how to drink proper coffee and expanded my taste in wine. It really expanded my world view and I learned how to be more respectful of people."
Now he spends his time between Singapore and his family's farm in Pampanga. They acquired their property in Pampanga after the eruption of Mt. Pinatubo back in 1991. "Where the farm is now, this was acres and acres of sugarcane fields all covered in ash after the eruption. We acquired a few plots and from there we just grew it over the years. We planted mahogany trees and built the structures here. We love gathering as a family with friends. And we started playing around with tablescapes and where we eat.
The farm is now open as Balé to interested parties to have a kapampangan meal in the middle of a forest around a large marble table. "That solid marble table we bought in the next town over called Bacolor. Bacolor was more hard hit by Mt. Pinatubo because of lahar. What you see in Bacolor now, the original town is actually several feet under. This white marble table was buried in one of the old houses and we bought it. They had to excavate it and it required more than 12 people to bring it here. Once they placed it in this spot, it never moved," Panlilio says.
The table now sits in a small clearing in the forest with food served family style on console tables. Bright magenta bougainvillea bracts embellish the tablescape with capiz candle holders and vases of birds of paradise leaves and flowers. A vintage red oven which Panlilio purchased from Resurrection Furniture by Arlene Barbaza and Binggoy Panlilio. "Apparently, I didn't know that it came from the old historical Panlilio House in San Fernando," mentions Panlilio. "Some of the furniture you see at the farm are pieces we worked together with them."
Panlilio describes the food they serve as "unapologetic kapampangan" - with a bowl of burong hipon (a fermented rice porridge with shrimp), bulanglang na baboy (pork in a guava broth), and sisig. "Sometimes during merienda we play around have sisig tacos or whatever. But for lunch, it's unapologetic kapampangan food. It's slow food and it's food that we eat. When we have guests here, we're really opening what is our home to our guests. When we say slow food, it's no short cuts, it's patiently cooked. It takes a few to several hours to prepare this food."
"We play around sometimes and try to reinvent a bit. There's nothing wrong with that. Filipino cuisine is always being reinvented and going in new directions, with a bit of fusion, a bit of foreign influences - that's great. But slow food is also great," Panlilio says.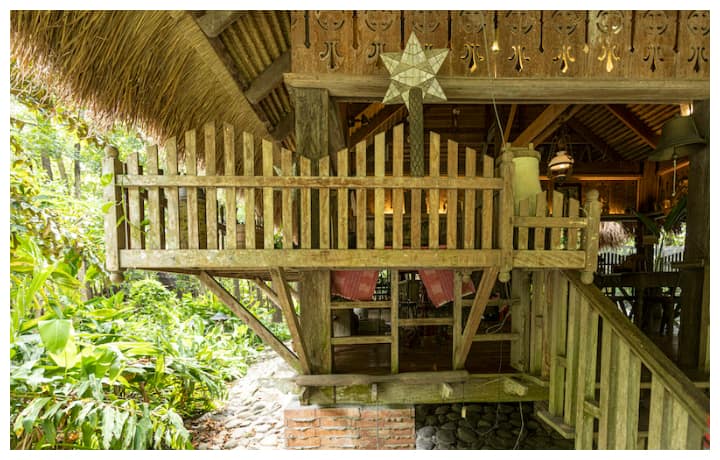 Photo Gallery
Photo Gallery
Guests can also spend time inside the Banggera Villa - a 15 year old structure that takes cues from older Filipino homes. The villa features ornate calado and a banggera (a slatted attachment to a window where you can dry your dishes). Its roof is inspired by a family trip to Bali and is made of woven dried grass. Stepping stones and gravel terminate the wooden floors. "You have to walk through it to get from one end to the other. The feeling is nice especially if you're barefoot," shares Panlilio.
When guests come to visit Balé, they are given a glimpse of a very Kapampangan scene that may be slowly disappearing with modern times. As you enter, you walk through their kitchen which is mainly concrete and uses wood fire and charcoal to cook the food you will enjoy. "Bale in kapampangan means home. And this is just an organic story mixed in with a thousand gatherings with family and friends and a sense of playfulness, and because we're kapampangan an embrace of food," Panlilio continues. "All of this traveling around, hopping from city to city especially in the past years has been wrapped around this question of 'where is home?' As I've gotten older, I've found the answer. It's back home. It's in the Philippines. It's in the provinces, in the islands. Particularly for me and my family, it's in Pampanga, in the farm."