Inside Casa Tropica Villas, Where Personality And Inspiration Make Fond Pool-Side Memories
HANDS Design Studio's Bali-inspired design is poised with front and center views of Mt. Makling
With the rainy season upon us and the kids' second summer vacation spent in lockdown, my wife and I were headstrong in getting the kids out of our house and into a swimming pool to recreate a summer memory. For a year and a half now, we've been treating the kids to the only swimming pool we could offer: the inflatable kind.
There were many considerations in choosing where to go. The Inter-Agency Task Force (IATF) just allowed children aged 5 and above to go outdoors in areas under GCQ or MGCQ only last July 9. With this in mind, since we had two children under 5 years old, we thought that a private home rental in Pansol, Laguna with a swimming pool would be our best choice.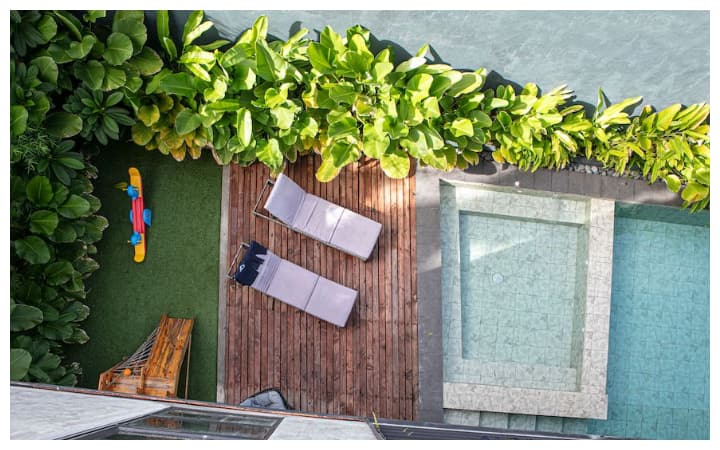 Casa Tropica Villas
Casa Tropica Villas
Casa Tropica Villas checked all of the boxes on our list. The swimming pool was large and most importantly was drained and cleaned after every check out. Rooms and bathrooms were disinfected using UV lamps, fogging and misting with Endosan Non-Toxic disinfectant (aside from their regular cleaning routine). The common areas were large with natural ventilation. When you get to the third floor deck, you have a front row view to Mt. Makiling.
Quite frankly, all my kids cared about was the pool. As for the adults, we were mesmerized by the smart architecture and its Bali-inspired aesthetic created by HANDS Design Studio (who recently got shortlisted at this year's World Architecture Festival for another project called Farms For Feasts). Driving down the small street branching from Old National Highway (also known as Manila South Road), you get a glimpse of Casa Tropica's gable roof jutting out. You already know that this structure is not like the others in Pansol.
When I got to speak to Architect Yonni Habulan of HANDS Design Studio about his favorite features of Casa Tropica, he says, "The main roof form can be considered one of the features that we are really proud of on this project because not only does it define the building through its articulation, but also creating a contemporary take on the vernacular. It frames the stunning view of Mt. Makiling, replicating for the public the captivating sensory experience we've had the first time we were on the site."
Another feature that we all enjoyed was the fact that while we were in the common areas, we felt like we were outdoors. "Interior and exterior transitions are blurred. One permeates the spaces unobstructed – generating a feeling of openness and continuity, both visually and experientially. Finished with wood, concrete, steel, and glass, the resort maintains an aesthetic of simplicity and privacy," explains Architect Maricris Ngo-Habulan.
There are two villas in Casa Tropica: Diwata and Lambana. We booked the Lambana Villa, which was bigger with a capacity of 25 people and built more recently (opened for booking only last November). Although the two villas are separate, they can be combined for bigger groups. Upon entering the Lambana Villa, the first thing I noticed were the volumes above intersecting at sharp angles. The skim coated concrete walls, exposed steel I-beams in black and wooden vertical louvers strike a balance of warmth and strength - its design truly transporting you elsewhere. If it weren't for Mt. Makiling's presence, we would have forgotten we were in Laguna!
For those who want to play, they can have a hand at billiards, table tennis, or darts on the second floor common area. The kitchen was small with only the necessities. By the pool there is a griller for barbecues that we definitely put to use - we made elotes and barbecued chicken.
There is no restaurant onsite, but there is an in-house butler who can help purchase ingredients for you and help you with the villa if you encounter any issues (one of my daughters accidentally locked our ensuite bathroom). For sanitary purposes, Casa Tropica urges you to bring your own utensils and plates.
We cooked our own meals while the kids swam all day. The adults gathered around the enormous wooden tables with stories mundane and important over a heaping dish of calamares we fried. As the day ended, we latched on to the fleeting moments of the sunset - with its painterly pink hues across the sky behind Mt. Makiling - and we were reminded that the world is so much bigger than the four walls of our home. And that nature and design were the dose of optimism that we needed so desperately.
Photographs by Jar Concengco