Culture, Comfort and Chic in Chuzai Living
How wabi sabi has found its way to three countries via this Japanese expatriate designer
Being a stay at home mom of 3 and wife of an expatriate has turned Tokyo-born Kaho into a blogger and interior designer, documenting her interests and life as her family moves from one place to another with her husband's occupation. Launched in March of 2010, Chuzai Living has become Kaho's creative outlet as she navigates life in each city they settle into, turning into a guide of sorts for other chuzai - as expats are called in Japanese - in creating a home anywhere they go. Chuzai Living is where Kaho's creativity, practicality, and inspiration converge into a beautiful balance of culture, comfort, and chic.
When asked, Kaho prioritizes chic, comfort, and culture in this order when it comes to the design of her home. "It's important that the aesthetic elements speak to us. At the same time, I want our home to be the most comfortable place for my family where they always look forward to spending time. The cultural aspect in design is also important, but I definitely tend to prioritize chic and comfort over culture."
The Japanese are known for their principles of beauty that they call wabi sabi. In the beginning, Kaho admits to only going for modern designs. However, their move to Jakarta, Indonesia in 2010 led to her discovery of the rustic style often seen in industrial design. She fell in love with it and thus began her journey in appreciating and embracing wabi sabi. Each place has designs that represent their beauty, and she found India in particular to be a fabulous land to find designs that reflect wabi sabi. In her move to Manila, Kaho wanted to find something that also represents the beauty of the Philippines, and found wabi sabi in rattan chairs, charmingly ending up with 5 rattan chairs from Manila!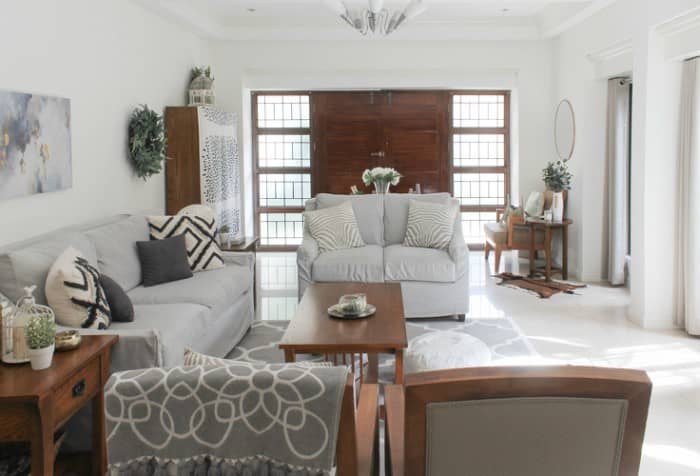 Chuzai Living in Manila
Chuzai Living in Manila
Moving from one place to another every 2 or 3 years has exposed our interior designer blogger to a whole lot of different cultures. Kaho shares, "Every country has its own design strength that you find in the global design world. I try to find something that goes with what I already have at home that I love, and that makes me happy to bring with us when we move." Key items or pieces bring with them the charm and design of the places they come from. It comes as no surprise then that for her, rattan chairs are the vessels which incorporate the Filipino design in her home. Kaho's home decors are eclectic, representing all the places where she and her family have lived. But how does it all come together without looking chaotic?
The realization that they could be tied together with colors was something that naturally came to our resident chuzai. To Kaho, the key color is white, and that's how she has been able to create a state of unity in her home design. Thus she often draws inspiration from subtle neutral colors and simple designs with natural lights found in Nordic style, which she admits reflects her own style the most, with the way it makes her heart skip a beat. Her common theme is bright, airy, natural and simple, and the love for natural light comes through even at the cost of her home getting a bit warm. Kaho's favorite colors for interior design are, as mentioned, white, grey and black, mixed with natural wood colors. She has always loved minimalist interior design, keeping a clean and crisp uncluttered look. Since her family moves from one country to another so often, Kaho likes to keep her home simple for practical reasons, too. Simplicity allows frequent decorating where dismantling is not too overwhelming.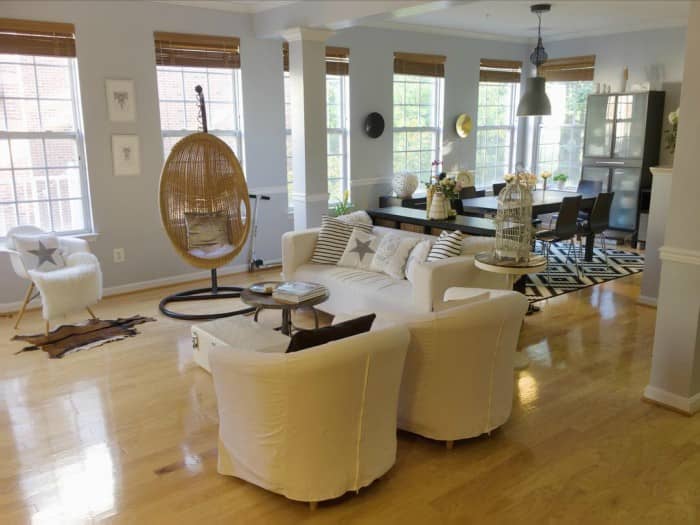 Chuzai Living in DC
Chuzai Living in DC
Inevitably, Kaho has crossed paths with people from different walks of life from whom she's learnt many different tips and tricks. In the process, she has realized that beauty which appeals to her taste often lies in the intersection of two different cultural styles. Being attuned to Nordic styles, she has always been attracted to products that have simple Nordic elements: white, simple and rustic. Items collected from different countries having those elements and products from various countries can easily go together in harmony in one space.
The process of designing a new home comes to Kaho in three simple steps:
First, she configures each room, finding a focal point and figuring out the room's unifying flow by placing furniture pieces. If a room is not easy to get around and pleasant to look at, it loses a balance. A nice balance of practicality and aesthetic is key.
Secondly, each room needs a color theme. Due to their semi-nomadic lifestyle, chuzai bring a limited number of furniture since they usually live in a furnished home for practicality. Therefore, there isn't much that can be done in that sense. However, painting walls is a great way to add character to rooms. For example, Kaho decided to decorate her family room in black and white, whilst splashing their living room and dining room in whites and greys. Once the color themes are decided, she then figures out if she would want to paint those rooms or not.
Lastly, based on the color theme, Kaho assigns home decorations into each room. Oftentimes, as in other aspects of life, visions don't translate exactly how they were perceived into reality. That's when things are moved around until the items find just the right location like a lock clicking neatly in place. It's a long process of staring at a room from a doorway, imagining how you would like the room to look like. What follows is a lot of shifting around for the furniture and decor until you find the way you want it to look, and move even more until you feel satisfied with it. In the end, it's all about making each space a happy place for you.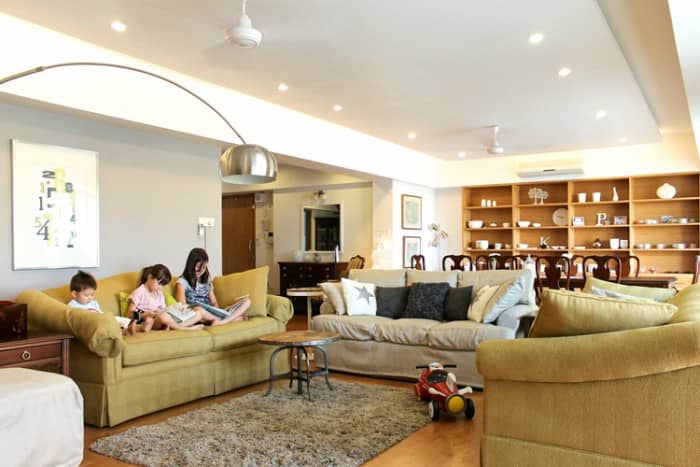 Chuzai Living in Mumbai
Chuzai Living in Mumbai