Inside A Pinoy Maker's "Earthly Chic" Home
Cyrus Dan Cañares, the creative behind TravelFund by Siriusdan takes us on a tour of his wonderfully vibrant home, layered with his textile collection from the Philippines and all over the world
Cyrus Dan Cañares is the maker behind TravelFund by Siriusdan, a local range of accent cushions, ottomans and tote bags that are lovingly painted by him. He incorporates local textiles in his heady mix of colors, textures and patterns, making his creations vibrant and playful. If you've ever been confronted by one of Cyrus Dan's bazaar exhibits before, you know the feeling of being rendered a kid in a candy store, with all sorts of shapes, colors and textures that dazzle the eye. You'd be hard-pressed to choose just one object from TravelFund by Siriusdan.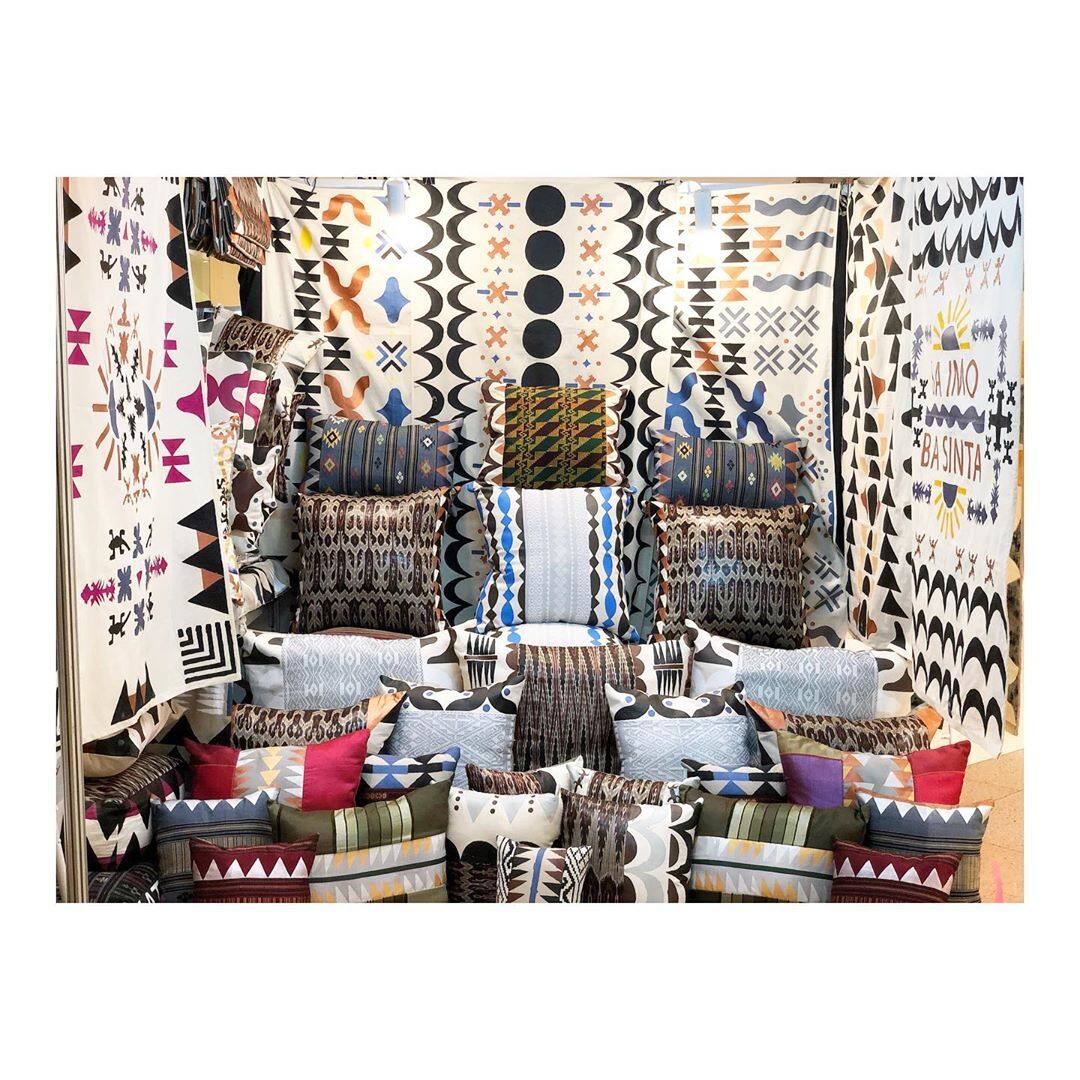 TravelFund by Siriusdan
TravelFund by Siriusdan
This surface pattern designer takes Metro.Style on a home tour. In it, we see a sense of rigor and fondness for lines and shapes in the manner by which Cyrus decorates his home with his creations. Just like a tapestry or a quilt, a rich array of textiles is layered into this space, from his own surface designs, to finds from various destinations. He brazenly combines baskets, African mud cloth from Mali, T'nalak cloth from Lake Sebu and Binacol weave from Ilocos and many more kinds of threads. Often, he pays homage to his muse, Frida Kahlo, as seen in posters and frames that punctuate his corners. Plants are strategically employed, giving the delighted eye a rest from the sensual array of colors, patterns and textures here. The result is a joyful mish-mash of exotic craft, making his space exuberant. We almost feel as though we've stepped into an Almodovar set. His use of symmetry in composition and Mid-Century Modern furniture anchor the visual extravaganza in his home, giving it a vivid lived-in, comfortable and happy look.
Tour his home through this gallery: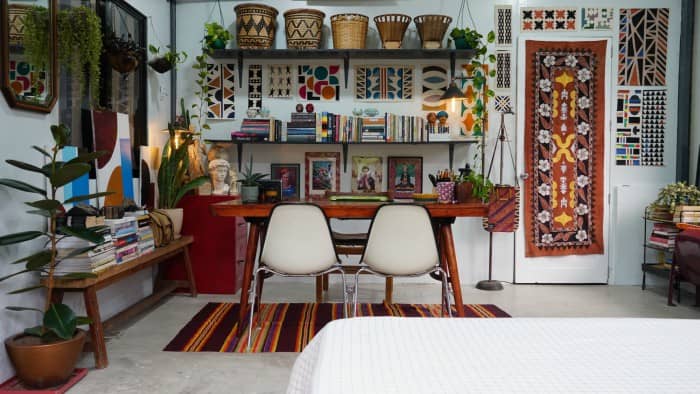 "Earthly Chic" by Cyrus Dan Cañares
"Earthly Chic" by Cyrus Dan Cañares
From tips on incorporating ethnic textiles at home to his journey as a maker, Cyrus Dan indulges Metro.Style in a Q & A:
1. How did you get into surface design?
I've always been fascinated with colors and shapes. As a kid I doodled a lot. That hobby carried on to this day. A few years ago, I wanted a black and white pillow for my then minimalist and modern Scandinavian inspired room but all the pillows I saw at the market was either not right for my room or too expensive so I decided to make my own pillow. I was pleased with the result! I still have the pillow with me. I lovingly called it pillow zero, the one pillow that started it all. But more than being pleased with the result, I enjoyed the process of making it. I find painting so therapeutic that the following weeks turned into a painting pillows frenzy. Before I knew it, I was already devoting a huge amount of my time designing and painting pillows! And I haven't stopped since.
2. What inspires you? Do you have other textile references?
A lot of things inspire me—nature, films, poetry, textiles, art, another makers' art, etc. But I've always been an old soul so the past is always a source of inspiration for me.
3. Please describe how you incorporated your pieces at home.
It might not be obvious but I'm a big fan of symmetry—my kind of symmetry at least. I like things to be balance so no matter how busy the space looks with all the shapes, textures, and colors you still get that feeling of balance.
4. What is your look?
I'm having a hard time describing my look because it changes very often based on my mood or whatever influences me at that time. I get bored easily as well so I tend to look for new inspirations for my new collection. But in all of these, a few things always stay: it's highly visual, vintage and lived in, and it has to reflect my love for traveling. My friends and some clients call my look tribal, bohemian, or eclectic but I prefer to call it: earthly or earthly chic if I'm going to be cute about it!
5. What tips can you give on incorporating local textiles in a home?
As cliché as it sounds it really starts by buying things that you love and that sparks joy to you. Everything you put into your home should have a meaning or at the very least makes you happy. It should reflect your true self. Make it personal. Otherwise everything you see is just clutter. It's the same with textiles, buy the textiles that you love and then marvel at the potential of that textiles. Mix and match them with other textiles or art pieces. A yardage of textiles can go a long way. It can function as a tapestry, pillow covers, bed spreads, etc… You should also take time to learn more about these textiles to appreciate their value.
6. What's next for your collection?
I have two collections coming up! The first one is for a collection of pillows featuring weaves from India, Sri Lanka, Nepal and the Philippines of course. I will be releasing it soon hopefully before the month ends. The next one, which I have yet to start, will be a collection of ottomans, trunks, two-seaters, pillows, etc. True to my core this collection will feature vintage weaves, it will be highly visual and insanely colorful!
7. Who are your design heroes?
I was influenced by a lot of people. In college I became a cinephile and became a big fan of auteurs such as Wong Kar Wai and Pedro Almodovar. After I college I discovered the joy of traveling so marveling at architectural buildings and heritage houses inspires me to this day. And then of course there's our very own Pacita Abad and Arturo Luz. I've always regarded Frida Kahlo as my muse. Lately, I've been learning a lot about Charles and Ray Eames and some other midcentury modern designers.
All photographs courtesy of Cyrus Dan Cañares