Like A Good Pair Of Jeans, This Denim Wear Designer's Home Fits Him To A "T"
It's a house that responds to the pandemic through design and reveals the secret to a lived-in space
"This place is customized for me, in the same way that my jeans are customized to fit," says the home owner, a denim wear designer.
His house, situated on the high altitudes of Antipolo, has recently been painted black. It used to be stark white with a lot less plants. These design decisions are all directed by his long stays at home during the lockdowns. He painted his exteriors black because he noticed that dirt from the roof would trickle down his white walls. Plants played an important role during the pandemic for this house.
"My partner and I felt like we were on vacation because our house was filled with plants. Plants have the same effect on us as our pets - they're very rewarding," he explains
Sliding glass doors open to a separate entrance that leads away from the original structure of the house and into the newer annex that is home to the owner, his partner, 8 rescued cats, a dog and a parakeet. A small hole in the wall allows the cats to freely go in and out of the cat room.
The flooring and walls are mainly in polished concrete leaving a blank canvas for the owner's penchant for found objects and eclectic collection of furniture. The dining area has a metal table with a frame in the shape of a house. It is surrounded by a colorful collection of chairs - a Chair One in red designed by Grcic and a black Ellan Rocker by Ikea is in company with an orange Uratex monoblock chair with backrest and even a small foldable, aluminum step stool. This confidence in being able to put this variety of chairs together says a lot about its owner. For one, it can mean that he thinks that everyone deserves a seat at the table, but definitely it's his style philosophy, "I like mixing high and low and different brands together. It creates a more layered look. You don't need to spend a lot of money for style. I don't believe that good material needs to be expensive. It's how you use it."
This space makes one think whether they're really indoors or outdoors. A canopy shades the space and allows wind and sunlight to come through allowing for plants to thrive around the table. A yucca tree fills one corner while giant tree ferns, Jose Buono philodendrons and variegated peace lilies fill one wall. The natural ventilation in the room makes this space a perfect place to entertain friends. The owner says, "We don't fear inviting guests here because it's open air."
Compared to the rest of the house, the kitchen is quite minimalist with only the essentials out on the counter - an espresso machine and a KitchenAid mixer (the owner's partner is fond of baking garlic cheese bread). A far wall holds a shelving unit in the shape of a skull. Each compartment holds a memento from a European country the couple visited together several years ago.
A flight of stairs above the dining area is the newly constructed studio area where the owner likes to paint. Previously, this area was an open roof deck that went through several incarnations - a cat playground with bermuda grass and even a bamboo forest. Now it is fully encased with a full wall of jalousie windows and breeze blocks. The room contains a black chair designed by the owner's architect friends Jagnus Design Studio and a reupholstered bench found at a Japan Surplus. A large, retro-styled letter "V" that the owner designed hangs on one wall. "I collect typography. The black letter 'M' here in the studio was an old rejected Mcdonald's logo in Jeddah. They were going to throw it out, and I just asked for it."
Artwork displayed along the concrete shelf on one wall are all gifts from artist friends, namely Jason Montinola, Igan D'Bayan, Bree Johnson, and Jason Moss. Many of the artwork displayed throughout the house include the owner's pets. One painting by Marlon Lacanilao in the TV room features the lone dog of the house and a cat.
The primary bedroom contains a bath tub under a vertical garden with a cantilevered bed against wood panels. The room's walls are a lot less busy than the other rooms save for a bull's skull. "I used to be a lot more minimalist than I am now. I think am more balanced now. I like some walls to be full, but when your eyes get tired, there should be a wall with less going on," the owner explains.
While sitting on the red Grcic chair that he purchased for his Podium store more than 15 years ago, he reveals the secret to making a house a home, "You will know if the owner had a hand in designing a room. Designing should be personal. You should have a personal attachment to the objects you place in your house. It should have heart."
Go on a full home tour through this gallery: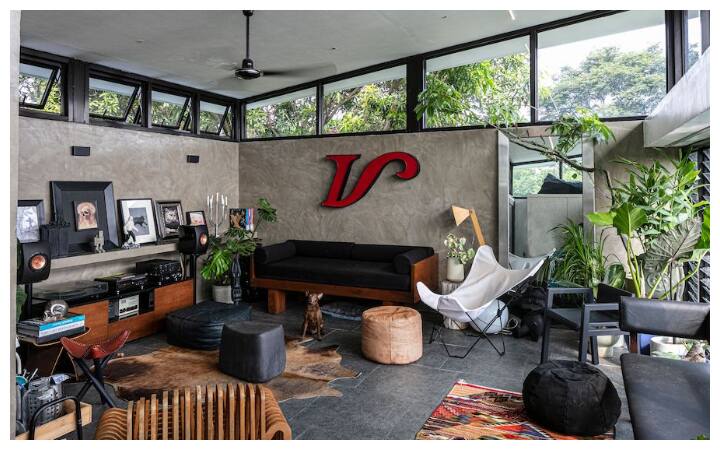 Photo Gallery
Photo Gallery
All photographs by Jar Concengco