Tour A Dubai Apartment Where The Colors Speak For Its Residents' Personalities
International interior design studio, BConnected, proves that the candy color spectrum is not just for children
There's no doubt about it: Dubai is one of the most luxurious cities in the world! There's just a little something extra in this city where true superlatives exist... The best of the best are in Dubai, and interior design is no exception.
Take, for example, this vibrant apartment designed by the Mallorca-based BConnected trio, Christine Leja (CEO and Architect), Monica Cernich (Visual Merchandiser and Manager) and Marie-Luise Leja (Interior and Graphic Designer). Together, these pros create worlds that are visualized in 2D, 3D and even 4D, bringing to each project the richness and passion of a multi-cultural design practice.
The designers' scope of work included the master bedroom, children's room, living and dining areas, as well as family room. This project tells the most picturesque story ever, serving a purpose for every person living in this house. "Each room has a different purpose, but they all have a conversation together and in this conversation they proudly show each other and share their particular personality," says Christine Leja.
Characterized by the predominance of color, Christine Leja afirms that "color is of the utmost importance in life, whether we are aware of it or not. In this particular case we had the privilege of having a client that [not only] relishes our designs, [but also] gives us "carte blanche." Being it a very large family and a very lively one, the colors we chose are the physical expression of each member's smiles, laughs, thoughts and essence of life. In this project, our client allowed us to go to our own playground and simply enjoy and go the full length of our vision."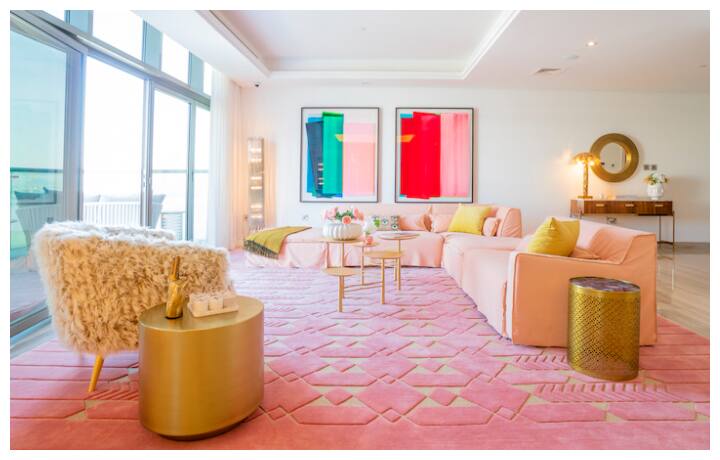 Photo Gallery
Photo Gallery
BConnected's selection of home décor and furniture contribute to bringing this home to life. Some of these were sourced from luxury design purveyors, DelightFULL and Essential Home. When asked to name their favorite pieces, the team declined, out of regret for leaving any piece out, as all are significant players in completing the design scheme.
The bedroom is a true example of this, with the lighting by DelightFULL in a very colorful and childlike rendition. In addition, in the living room, the beautiful peach Gable chair from Essential brings all the necessary comfort to this area. Its curved low back has stitched seam accents that give it a sartorial look. It features a round polished brass swivel base that contrasts with the dreamy cotton velvet.
A vigorous blue reigns in the master bedroom. Standout furniture pieces are the dream bed and the Minelli night tables. The Monocles dressing table from Essential Home completes the glamorous bohéme look.
Indeed, for BConnected, the home is a place where we should feel our best. The team strives to enhance their clients' way of living through design.
Photographs courtesy of Essential Home, BConnected and Alexandra Raynaud