The "Equilateral House" Is A Vessel For Unexpected Surprises
The Architect of this house admits to getting lost in his own plans making this intricate home where jutting concrete volumes meet each other but don't touch
"I wanted to go a little bit off grid to liberate circulation of the 90 degree grid," explains Jorge Yulo in an episode of the new Youtube channel Uncommon focusing on architecture and design, "So that the movement would be anthropomorphic - less calculated. I thought that was something that made you appreciate the house long term."
As most homes are built on a square or rectangular footprint, the Equilateral House designed by Jorge Yulo Architects and Associates allowed the land's shape and orientation dictate its plan. This is precisely how Yulo works. "I don't usually have a design process. I usually come up with my ideas serendipitously. It's never the same source. After I get a project, I tend to absorb and incubate all the information. Somewhere along the way, there will be an intellectual reaction to it and I try to document that."
The house's name is actually a pun on two things. According to Yulo, "One, it's based on an equilateral triangle grid. And it's also in an area that's close to the equator so cooling would be one of my challenges."
Using an equilateral triangle grid as the home's plan has allowed for unexpected surprises within the house. Jutting concrete volumes meet each other but don't touch. Hallways made with large slabs of dao and wood from an old bowling alley run diagonally. "I wanted a continuous sense of discovery. With the way the world is put together, you can pretty much walk around a house blindfolded. So I wanted to liberate the users from that. So when they walk around this house, it's like walking around a forest or a field rather than a built structure. It just makes for an interesting set of experiences even if you're walking around the same space over and over," Yulo adds. "I guess that points back to the materials used here. I have a lot of respect for nature - like wood and stone. I feel like there's history there."
Yulo likens the home to a "museum of wood" as it uses about 10 types of different wood. The dining room table is made from African Bubinga - known to be one of the hardest woods in the world. "I was lucky enough to work with a stockpile of wood that were collected over twenty years," Yulo reveals. "It's like living with a lot of history."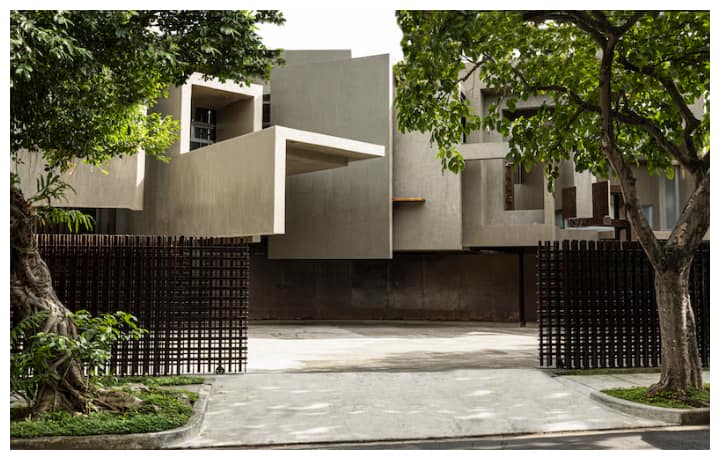 Photo Gallery
Photo Gallery
The ceilings also received the Yulo treatment with elaborate geometric patterns made of wood. "The ceilings were made to be ornate and aesthetically pleasing. They also help with the acoustics. They also save you from buying a chandelier!" Yulo laughs.
Yulo has a penchant for natural materials. The stairs are made from steel from railroad rails from 1880. "I try to use materials that have its own color - devoid of paint - so the colors would be the way the material honestly appears. And it's usually a little more subdued."
The lanai area is tiled with a mesmerizing pattern of black and white cubes mirroring the light installation of cubes on the ceiling. An oculus opens up to the sky. "I always marveled at the Pantheon in Rome. It has the original oculus. I love the way light penetrated the oculus and the projection of the sun throughout the building. And when it rained it rained straight down and left a circular wet spot. I thought that the Philippines would be the proper climate for such a building because it would be a good way for heat to escape. It was a good way to passively cool the building," Yulo explains.
The lanai sat by the swimming pool and the garden. Ceiling fans helped circulate the cool temperature of the water throughout the house, helping to maintain a pleasant climate. The home's massive volumes slanted towards each other have also contribute to the cooling of the house. "The juxtaposition of volumes in an angle creates wedges and that creates a Venturi Effect that helps distribute air around the house," Yulo mentions.
Merging indoors and outdoors has become popular during the pandemic. "For the owners of this house, I wanted to provide a lot of outdoor spaces but within the comfort of their urban environment," according to Yulo. Apart from the lanai, the roof deck also provides opportunities for its residents to bask in the outdoors.
"Designing off the 90-degree grid has its repercussions. I get lost in my own plans. I don't suggest all houses be designed off the 90-degree grid. That would make this house a lot less significant, but it is definitely a bountiful source of experiences," Yulo concludes.
Hear the architect talk about this masterpiece in this video: