Step Inside Erich Gonzales' Cozy Modern Nest
She bought it at age 22, completed it in 2014, and designed it herself
Many people dream of having their own home—and for Erich Gonzales, she was lucky that she was able to start building that dream at a young age of 22.
We can remember that Erich won the second season of Star Circle Quest back in 2005, at age 15. That started her successful career in the industry from Mga Anghel Na Walang Langit to her biggest break in Katorse, to bigger roles in movie and TV.
She was just 22 years old when she bought the lot, but after saving up her fees from acting gigs and commercials, two years after, she was able to start the construction of the house itself. The construction took a year and in 2014, their family was able to move in.
"I really fell in love with the view," says Erich about why she decided to build their home in the lot. "'Yung view doon sa lanai area, I have the same view sa room ko. Imagine lang waking up to that every day. I feel like I'm super close to nature, kung maririnig niyo 'yung chirping ng birds. Makakakita rin kayo ng iba't ibang kulay ng butterflies and caterpillars."
Inside the house
The moment you enter the house, the high-ceiling living room greets you. Muted tones dominate the living room, complimented by the glass chandelier perched at the top of the high ceiling. Erich says that the sofa set was customized to fit the needs of the living room.
The set surrounds an oversized ottoman, instead of the usual coffee table. Erich says that this choice was made deliberately so she can turn the sofa into a lounging area. Just push the ottoman towards a nearby sofa, and you can then turn the sitting area into a sleeping area.
Near the living room is the powder room, with a couch at the end of the hallway leading to it. Erich jokes about the number of couches in her home: "More more couch, more more chances of sitting!"
Erich also takes us to one area of the house where two La-Z-Boy-type chairs are placed beside a console table. This area is where Erich stays when she needs to bring her A-game—a.k.a. when she wants to play Call of Duty: Mobile on her smartphone.
The console is beautifully designed with dried roses; preserved everlasting, eucalyptus, and gypsophila; and a painting of her sister. In front of this area is an enormous mirror wall, which helps simulate spaciousness in the area.
The first thing you'll notice about the areas in Erich's home are its clean lines and minimalist color palette, dominated by neutrals. The celebrity takes pride in having designed her very own home.
"Very simple lang. Wala kang makkitang anu-anong abubot kasi ayaw natin ng clutter talaga kasi nakaka-affect sa mind natin 'yung kalat. And it's just my personality talaga, 'yung pagiging OC ko siguro?" Erich says.
Further inside Erich's home is the dining area, complimented by two distinct potted plants: a yellow orchid that Erich calls "Orchidia" and a palmera plant which she says is a gift from Lola Fe.
Across the dining area is the kitchen, equipped with a bar that seats three. Erich says this is where she eats breakfast, takes her coffee, and bakes.
Two vases filled with preserved lavender bring a touch of femininity in the area. The lavender, Erich says, is her favorite.
More curtains, again, frame the dining and kitchen area. Erich shares that this was intentional because there's nothing like the proper window treatments to make a space feel like home. "I like it! Iba 'yung feel niya, very homey. 'Pag may kurtina, feeling ko bahay na bahay talaga."
Apart from the more photogenic kitchen, they also have a dirty kitchen, where most of the cooking is being done. Erich, however, emphasizes that "it's clean naman, it's not dirty!"
A home surrounded by nature
Erich's favorite part of their home is the lanai. She says: "Dito ako madalas nagse-stay kapag gusto kong magmuni-muni or magbasa-basa ng books. 'Yung mga friends ko rin, dito din nila gusto mag-chill or magtambay. Super aliwalas, super presko, lalo na 'pag gabi."
One of the reasons, too, why Erich loves this area is because it's surrounded by plants. It's evident that Erich loves nature because the whole house is essentially surrounded by a weaving garden. When you go down the lanai stairs, you'll end up in one part of the garden that's filled with plants, flowers, and a growing calamansi plant that Erich promises she will prune soon.
Apart from the garden that wraps around the home, they have a spacious backyard that will soon be filled with herbs, spices, and vegetables for that farm-to-table effect.
Check out this gallery for more photos of Erich's home!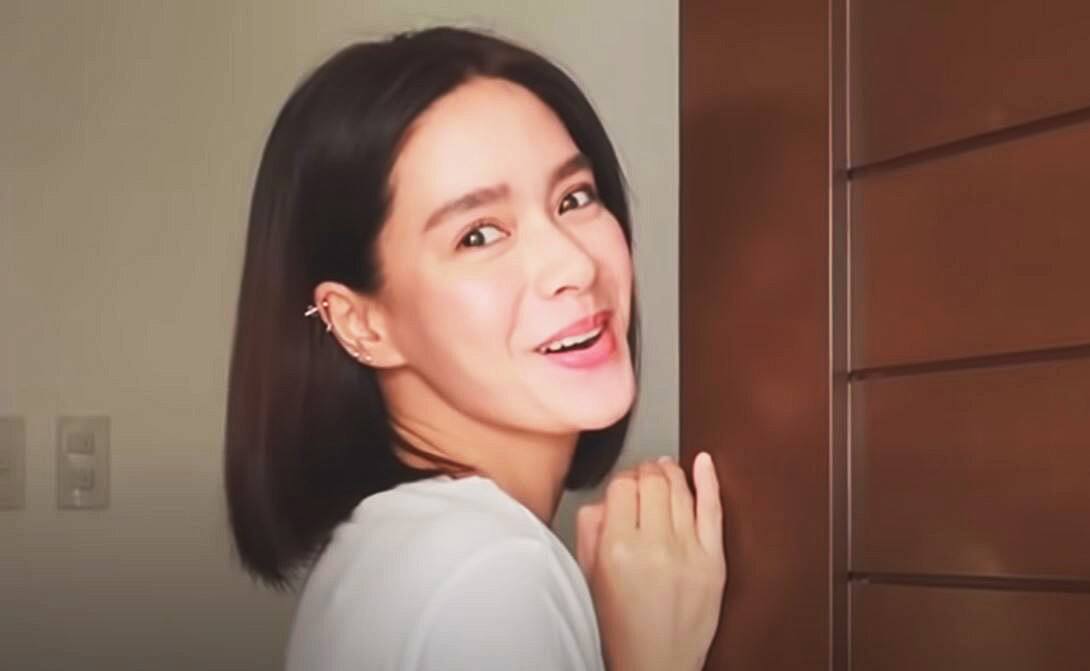 Photo Gallery
Photo Gallery
You can also watch the full video of the house tour below.