WATCH: Issa Pressman's Bedroom Is Paradise—Boho Style!
A dedicated space for yoga, mementoes from her travels, crystals, and personal art work make this space special
Issa Pressman takes viewers into her bedroom, a space enveloped in texture and soft colors. "It actually took me five, six, seven paint jobs before I actually got this color or decided that I like this color," she says. Peppered with a chockfull of mementoes from her travels, personal art work, crystals and plants, her favorite space shows that Issa prizes objects for their personal relevance.
The young actress-model shows a grouping of objects in the room that share a circular theme. "This is very important because I like circular stuff. It's more relaxing for me," she says, referring to the shape's ability to convey a continuous flow of energy. One of the pieces featured in her circle-themed vignette is a relief from Mexico. "Almost all of my décor here at home are from different countries just so I get to take a piece from them," she shares. With these are an art piece she made in a circular canvas form, the image of the yin and yang (TIP: check-out Issa's art works at @issaartpiece).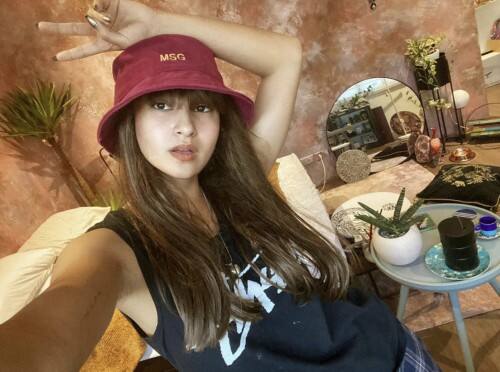 Issa Pressman's Bedroom
Issa Pressman's Bedroom
By her bedroom is a bedside table where she like to keep books that keep her company before bedtime. Another occational table is positioned at the foot of her bed, for her tea and other creature comforts.
Other areas of Issa's bedroom boast a 90-year old mirror that she restored and upcycled. In this area are pages of recycled books and magazines used as posters on the wall. On a corner shelf are more mementoes from travels: a skull from Mexicola, souvenirs from Amsterdam, Germany and Macao, and her dad's photo. A bamboo rain stick and a bamboo coin bank are also part of this vignette. A scent table holds incense, scented candles, and accessories for these home fragrances. A dedicated space for her crystals is also a feature of the room, as well as a work area.
Watch the tour here: