WATCH: John Herrera's Sitting Room Is A Cozy Shelter
In this safe haven, the fashion designer reflects on creativity and what keeps him grateful during the pandemic
London-based Filipino fashion designer, John Herrera takes viewers to his sitting room in this episode of Metro.Style's Favorite Spaces. The COVID-19 epidemic has taken a toll on so many all over the world, and London is no exception. "We are here in our flat in London, and things haven't been very good here… The last time I checked the news this morning, it was 14,000 casualties and over 100,000 cases, which is very scary, so I don't leave the house," the designer says.
His refuge has been his light-filled sitting room which affords him a pleasant view of the street outside and the foliage that signals the spring season. A shelf where John keeps various memorabilia and books on art dominates the room. Calling this a "cabinet of curiosities," John pulls out a book from his sizable collection, "Of the books that I have here, the ones that I have been reading right now are actually not fashion books. I'm actually looking at the history of art in general," he says, referring to one of his sources of inspiration.
Sitting on this shelf is the designer's sewing machine which he has kept running, even through the pandemic. He shows a denim jacket that he recently made, fashioned from jeans that were given to him just before the lock down.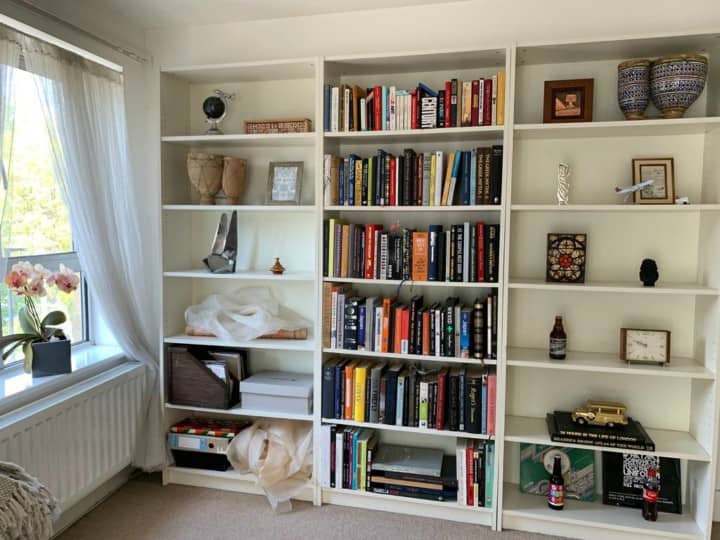 John Herrera's Safe Haven
John Herrera's Safe Haven
Aside from steeping in art history and honing his creativity through designing and sewing, John has also been painting in isolation. Showing "Fashion Forward," a watercolor piece on paper that the prolific designer painted, he says that it is a commentary on fashion, specifically "the effects of fast fashion on our culture, our environment and the fashion industry in general."
"Keep yourself working, moving, reading and inspiring yourself," this award-winning designer offers.
For more of this, plus a peek into his safe haven, watch the tour of his sitting room here: