Step Inside Julie Boschi's Dramatic Monochromatic Dining Room
Harlequin tiles, a hand-painted mural and encounters with serendipity make this space memorable
"There were three things that we really wanted," Julie Boschi says, giving Metro.Style a tour of her favorite space at home, the dining room. "One is the flooring that we really loved, but we never used. The other is the wallpaper… and we wanted this shared space to be multi-functional. We found out over the years that even if we have other shared spaces with our family: their rooms, outside, we stay the longest in the dining room," she continues. The harlequin floor pattern was inspired by the rooms she has seen in her travels. "Every time we travel, and we see a room with it, we fall in love with it," she reveals.
Anton Barretto, host of Metro Home, who is also part of A Design, the team that helped Julie design her home, gives insight on how these particular floor tiles were sourced. "[The] challenge was actually finding the [specific] black and white tile. [While] there were so many black or white [tiles in the market], but no one had a match in texture, hue and size," he shares. They finally ended up with tiles sourced from Living Innovations.
The mural on the wall is another showstopper in this room. "We wanted this certain wallpaper from a company in France. We ordered it already, and of course, we measured the space, and then we realized that when it gets here, we [would have had] to install it locally. We were not sure if we could do it properly" Julie discloses. This snag led her to Tara Soriano, the painter who created the mural on site, who serendipitously had the perfect study waiting to be executed. Anton Barretto relates the story, "I met Tara thru her cousin and we discussed the concept - she had a study that she had been keeping and hoping to one day paint. When I explained the concept and she showed me the study it was like we planned it together. It was the perfect match! Then Julie requested for some objects and elements to add to the landscape like animals, fruits, and objects that are meaningful to her and her family. Tara then incorporated them."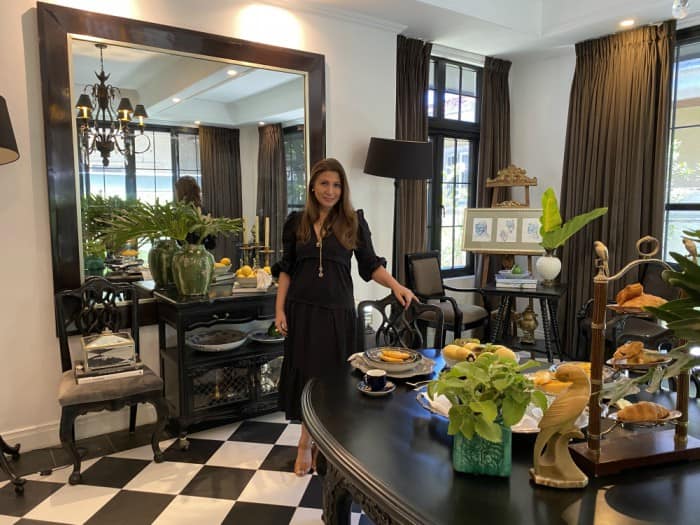 Julie Boschi's Dining Room
Julie Boschi's Dining Room
Completing the room are a mixture of furniture finds from estate sales and upcycling. The sideboard, for example, was an existing piece that benefitted from a coat of black paint. While retaining the solihiya elements, Julie and her team finished it with gold leaf, dressing the piece up to stand out against her monochromatic scheme.
Crowning the space is a chandelier that Anton was able to source from Aristocrat lamps. On a trip to ABS-CBN, he spotted the Aristocrat store on EDSA, stopped, and found the piece. "We did not want anything too grand and or too simple...we had tried some options...it was on my way to ABS that I chanced upon Aristocrat. I saw a sale sign so I detoured and went up to quickly look, I had sent Julie 4 photos, and she and I met there the next day to decide . [We ended up with] the chandelier was the second photo I sent her," he shares.
Not unlike many successful home projects, Julie's dining room is a happy result of strong aesthetic preferences, outside-the-box solutions and divine providence, giving her and her family a room to enjoy for many years to come.
Watch the tour of her dining room here: